The popular New York City food truck gets a bricks and mortar home where you can find all their decadent Belgian waffles.
By Chris Cockren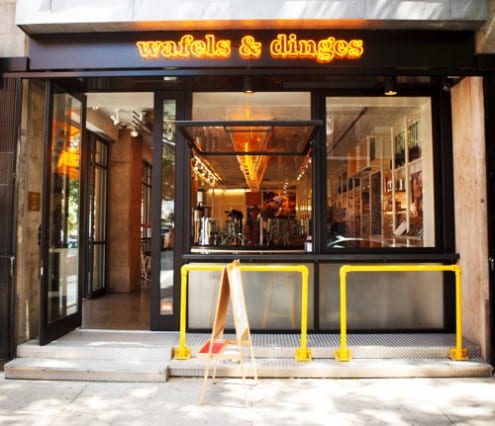 No longer will it be necessary to check twitter in order to try to find the moving target that is the massive empire of mobile Belgian waffles… err, excuse me, wafels. Wafels & Dinges officially has a permanent home! The surprisingly spacious real estate on the corner of Avenue B and 2nd Street in the East Village has a modern, clean, and inviting look. And it smells delicious.
My standard Wafels & Dinges order is de Throwdown Wafel, titled as such following its victory over Iron Chef Bobby Flay in his Food Network show, Throwdown with Bobby Flay. A liege wafel, topped with speculoos and whipped cream.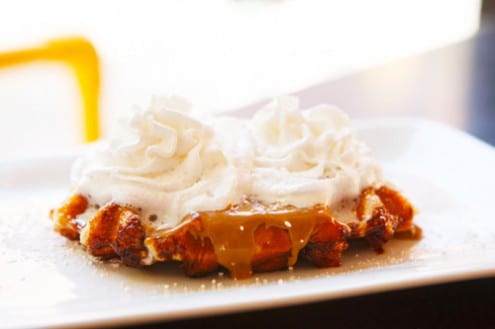 Although they do technically serve two types of wafels, they really only serve one: the liege. It's soft and chewy, with lots of caramelized sugar goodness.
The secret is in the special Belgian pearl sugar. It's the same sugar that Asheley and I totally stockpiled during our day trip to Brussels last year on our honeymoon. We literally walked into a grocery store and cleaned out their supply of pearl sugar and speculoos. The cashier was beyond confused by our seemingly erratic purchase.
As the dough hits the hot cast iron waffle iron, the pear sugar dissolves, caramelizes, and gives the dough a rich, sugary flavor that will put all other waffles to shame.
Speculoos. Or spekuloos, as they spell it. It's basically legalized culinary crack in a jar. It's got the look and consistency of peanut butter, but the flavor of slightly caramelized and finely crushed up almost-but-not-quite gingerbreadish shortbread cookies.
It's a necessity on wafels, and if you're Asheley, you also dip animal crackers in them for sport.
Head on down to Wafels & Dinges. Word has it they have a new speculoos shake, which you can only get here. That sounds glorious. I need one.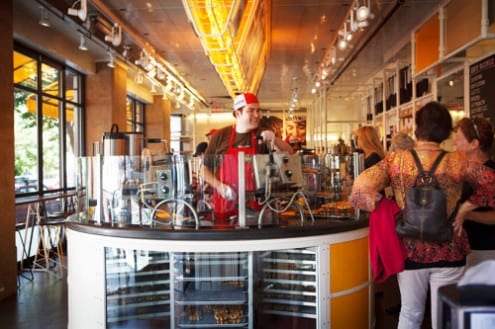 Wafels & Dinges
15 Avenue B
New York, NY 10009
646-257-2592
Chris Cockren
Chris is a New York based food blogger that loves bringing friends and family together through food. On his blog, Shared Appetite, Chris chronicles his culinary adventures of eating his way in and around NYC, as well as cooking and entertaining at home.