Traditionally fried, this favorite dish is reinvented with less mess by broiling the shrimp for a crispy texture with its spicy flavor.
By Lan Pham Wilson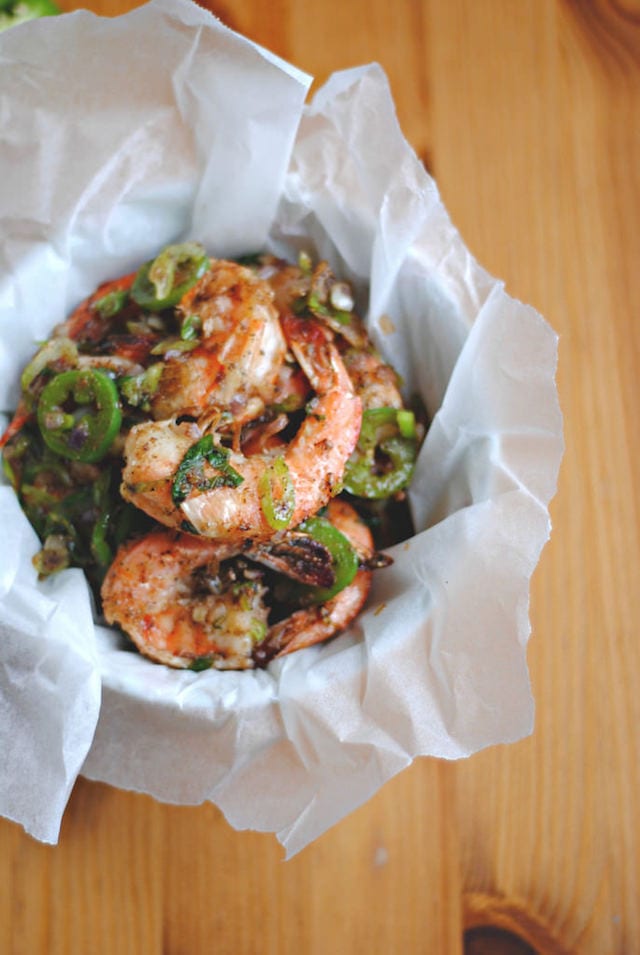 my grandfather appreciated food.
likely, too much.
upon further reflection
i cannot decide what he loved more:
the sweet or the savory.
let's say he liked both,
and the everything in between.
he enjoyed all the bad things that caused
his cholesterol to spike:
sunny side up eggs
liver, specifically my grandmother's homemade pâté
seafood, in particular fried and heavily salted
gpa loved him some spice and salt.
more often than not
my memories of him are about food.
in memory of him,
i made one of his favorite dishes,
a dish we grandchildren would sneak to him
as it was something gma would expressly forbid him from having.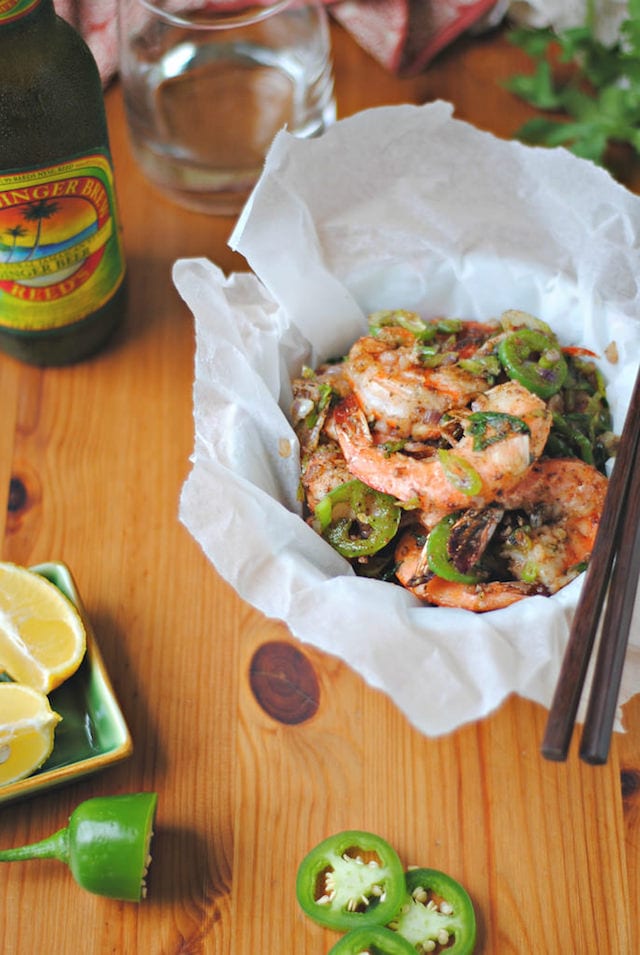 Print
Vietnamese Salt and Pepper Crispy Shrimp
Traditionally fried, this favorite dish is reinvented with less mess by broiling the shrimp for a crispy texture with its spicy flavor.
Author:

Lan Pham Wilson

Category:

Main

Cuisine:

Vietnamese
1/2

lb prawns (with head on, or in our case, large shrimp, cleaned/deveined, careful to keep shell on)

2 tsp

kosher salt

2 tsp

fresh ground pepper

1 tsp

five spice powder

1 tsp

sugar

1/2 cup

give or take corn starch or potato starch

3

cloves of garlic (minced)

1/2

jalapeño (sliced)

1/4

red onion (diced)

2

green scallions (sliced on the diagonal)
drizzle of oil
lemon or lime wedges (optional)
Instructions
first, preheat oven to highest it'll go, broil or in my case, 550F.
next, prep everything and have all the ingredients ready to go. clean/devein the shrimp. there were some shrimps that lost their shell because i was a little indelicate but it was a price i was willing to pay to not eat poop. wandering chopsticks has a pic tutorial you can refer to. pat dry the shrimp.
dry roast the salt, ground pepper and 5 spice powder. (NOTE: you will not be using ALL of the blend in this recipe). set aside to cool. when cool, mix in the sugar.
line a shallow cookie sheet with foil or parchment paper. if using foil, oil it. dust the shrimp with potato or corn starch. or you can do it my lazy way, holding by the tail, dip the shrimp into the starch and shake semi-vigorously to let loose excess powder. lay on the prepared sheet. broil in oven for TWO MINUTES.
meanwhile, in a frying pan, heat up a drizzle of oil on medium high. sauté the garlic, onion, green scallions and jalapeño. you're aiming for fragrance, not so much burning or caramelization. this can be anywhere from 3-5 minutes. which means, in the middle of this sautéing you're doing, you need to take the shrimp out of the oven. make haste. set aside the shrimp. when the onions and garlic have softened, add in the shrimp. WORK QUICKLY. sprinkle the shrimp with a few teaspoons of the salt/sugar/pepper/five spice mixture. (i ended up using 3 teaspoons, season to your taste). gently mix everything, heating the shrimp through. REMOVE from heat. this step should take 2 minutes, 3 minutes TOPS.
the end result should be on the dry side, unless you're like me and gpa and got a little generous with the drizzle of oil.
serve with lemon or lime wedges.
Notes
*note: this is inauthentic, in that i did not deep-fry the shrimp. click on the link if you want to make it the "correct" way. i broiled them super quick in the oven. to keep the shrimp on the side of under-done, i worked quickly, make sure your mise-en-place is done accordingly.
**note: also, this dish is best with head on but the local Whole Foods doesn't carry it. asian markets will carry head on prawns, but it's not guaranteed organic and/or sustainably caught.
***note: this is a finger food, meant to be consumed in a group, with ice-cold beers and plenty of napkins. which is why, i eat it with a side of carrot+celery salad and brown rice, with chopsticks.
Lan Pham Wilson
A disproportionately large amount of my day is spent eating (or thinking about eating).