With his sight set on expanding his culinary horizons, superstar chef Diego Muñoz embarks on an international exploration of the different cuisines of the world.
By Daniel S. Bahrami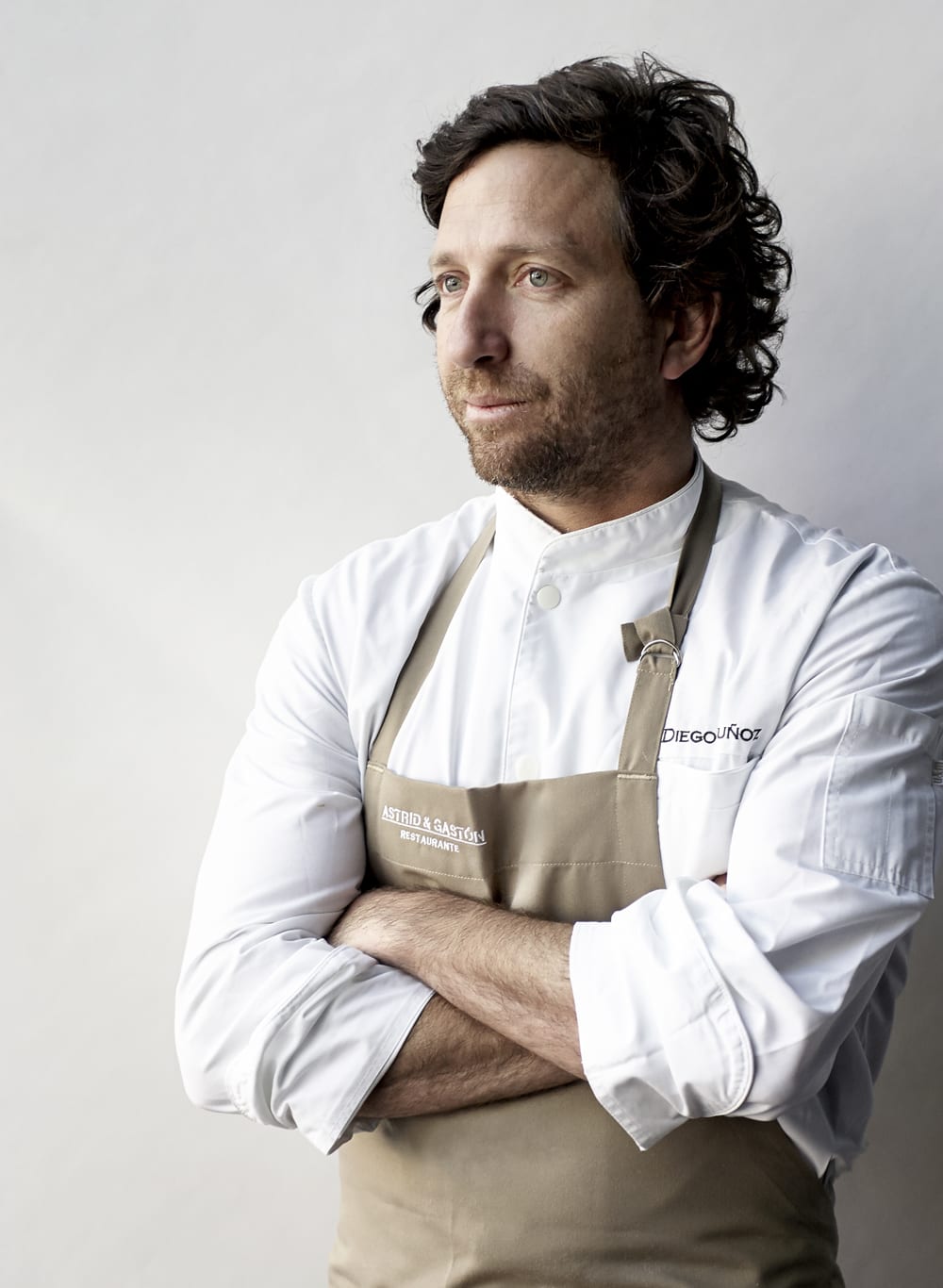 Photo: Maria Nguyen/The Art of Plating
You've probably noticed the increased popularity of the Peruvian cuisine within the last few years, with signature dishes like ceviche being interpreted in restaurants all over the world. One of the leaders of this culinary revolution is Diego Muñoz, who, with an education from the esteemed Le Cordon Bleu and a stint at El Bulli and Mugaritz, has headed the kitchen at Lima's Astrid y Gastón for the past four years.
The rise of Peru on the culinary world map comes as no surprise to Diego Muñoz, who cites Astrid y Gastón founder, Gastón Acurio, as the primary force behind the Peruvian food-revolution.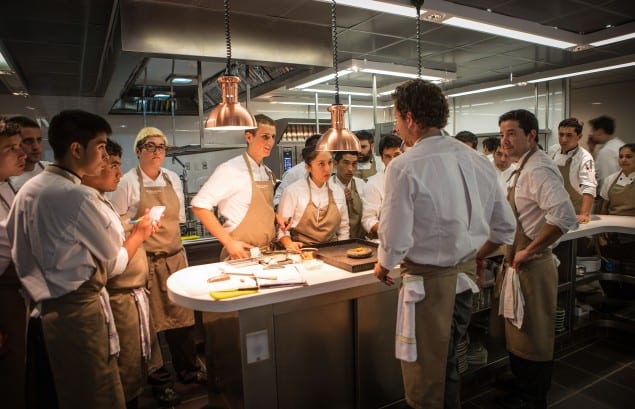 Photo: Ines Menacho
"It's the diversity of the Peruvian kitchen that makes it stand out. Our source of produce is large and diverse, and the cuisine is both modern and traditional at the same time. The key to making a successful dish is having ingredients of high quality, and with the selection here in Peru, it's a lot easier to play around with your creativity", says Diego Muñoz, who's white fish and apple ceviche has been named his standout dish by food connoisseurs around the globe.
"Peruvian kitchen is like a melting pot of different cultures over a thousand years. You see influences from China, Japan and Spain. It really has the richest cultural diversity and biodiversity", says Diego Muñoz. He adds that the Peruvian culture and history is so perplex, that one of his personal goals is to learn more about the way Peruvians used the produce before it was mixed with the different cultures.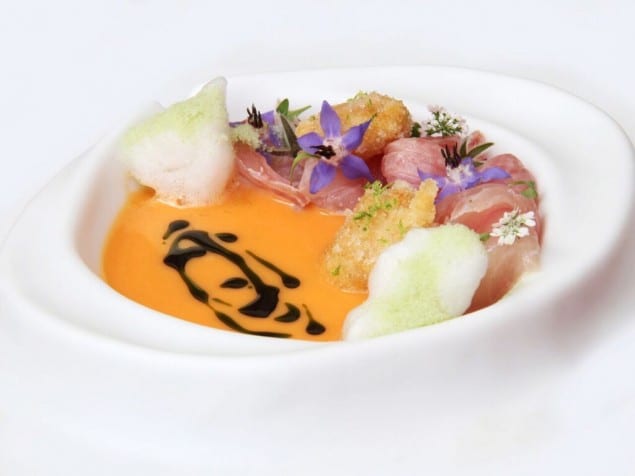 His renowned apple ceviche. Photo: Luis Alejandro Delgado Tomatis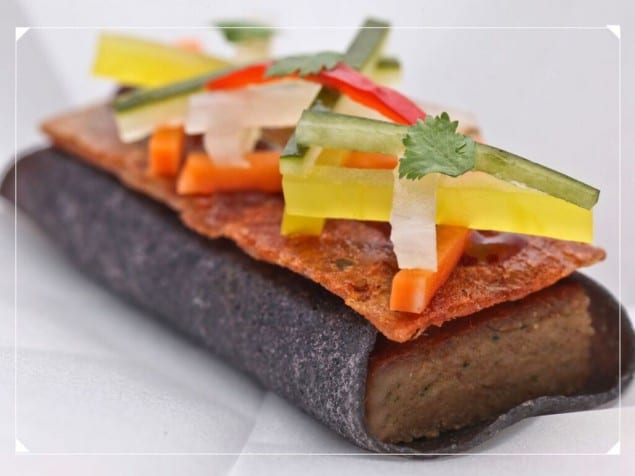 Peking Cuy (made with guinea pig). Photo: Luis Alejandro Delgado Tomatis
Three weeks ago Diego announced his departure from the popular Peruvian restaurant, which he helped elevate from #42 to #14 on San Pellegrino's list of The World's 50 Best Restaurants. With experience spanning several continents, and such a creative approach to fine dining, foodies all over the world are eager to find out exactly what this Peruvian master chef will do next.
One thing is for sure. It wasn't the lack of love for the Peruvian kitchen that triggered Diego to leave Astrid y Gastón. Rather it was the passion to explore areas of international cuisine that will push his creative boundaries.
"Each country and culture has their very own approach to cooking and I'm looking forward to diving into these new environments, and hopefully get inspired to create new dishes. I think it really nourishes your creativity when you take yourself out of your comfort zone", Diego says, and adds that he looks forward to not being limited to a single kitchen, but being able to explore one international style after another.
As it looks now the 39-year-old chef will have plenty of opportunity to experiment with the different ingredients from around the world. Barely into the new year, he has already planned culinary expeditions to Panama City, Miami, Oslo, Edinburgh, Wachau, Vienna, Zurich, Ibiza, Moscow, Myanmar, Bangkok and Macau, where he will be collaborating with local chefs and restaurants, at resorts, in trains, on a boat and share his Latin American expertize and know-how to create one-of-a-kind dining experiences for guests lucky enough to snag a seat at the sought after events.
If you know anything about Diego's modus operandi, you'll know that he does not only cater to the taste buds. When creating dishes Diego focuses on each ingredient separately, while harmonically matching them together in a way that caters to almost all the senses.
(Left: Memoirs of Cantalloc. Right: Orc, lamb and sage. Photos: Luis Alejandro Delgado Tomatis)
His way of mixing the traditional with the modern also creates a backstory for many of his dishes. Like his Memoir of Cantalloc aperitif, that uses the water gathering ability of the ancient aqueducts used by the Nazca civilization, to create an experience both intriguing to the eye and taste, while giving diners a taste of the rich Peruvian history.
Although he's only touched the tip of the proverbial iceberg, when it comes to Peruvian kitchen, Diego has already set his eyes on new exciting continents to embark on his gastronomical quest.  "I've always been intrigued by the Asian kitchens and Japan in particular. I think there are so many things to learn from their way of cooking, but with the use of ingredients and the way they prepare them. I have never been to Japan, but I have heard and read so much about it, so it definitely tops my list of countries I'd like to explore", he says and adds that India and Thailand are two other favorites.
Don't anticipate the opening of a Diego Muñoz restaurant in the east anytime soon though, only partnerships. Diego ensures that a future restaurant will be located in Peru, due to his love of the country and because of his family, who are based there. Other than that, Diego is pretty open to exploring the different types of kitchens and would not reject the idea of opening a small bistro, gourmet sandwich bar or a modern food truck if the opportunity presented itself.
"Eventually I would like to go back to Australia though, but for now we are staying here".
Photos: Ines Menacho)
Even with all these accolades in his culinary basket, Diego still is able to remain humble and grounded. Where other chefs might consider Barack Obama, Madonna or Cristiano Ronaldo as the supreme guests to have sitting at the chef's table, it remains clear whom Diego's ultimate dinner party would consist of.
"My parents, because of their unconditional and undying support of me. My wife, because when I look at her I always see true happiness and joy. And Ferran Adria (of El Bulli fame) and director Luis Garcia, as both of them inspire me to perform at my very best. I have tremendous admiration for both them.
Daniel S. Bahrami
Daniel S. Bahrami is a Barcelona based writer with a background in digital communication and journalism in Copenhagen, Denmark. He has been part of the editorial staff of the biggest Danish fashion magazine, Eurowoman, and has worked freelance for several other publications as well as experience in fashion and gastronomy PR.