A delicious dish to use the bounty of summer beans. It all combines for a sweet-salty-sour-spicy Asian palette together with the gamey lamb for an amazing, flavorful meal.
By Bowen Close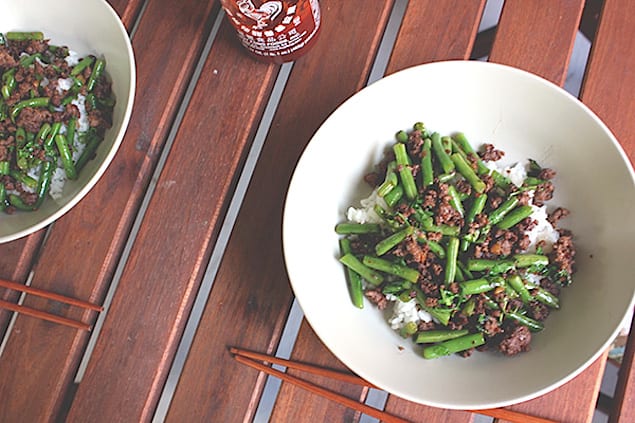 The markets around here are pretty astonishing, these days. I'm amazed at what new bounty there is each week, and how quickly things come in and out of season, and how frantic I sometimes feel about taking full advantage of everything while it's around. When we lived in Southern California it always felt like I had plenty of time to get my fill of various items – but here, seasonality is accelerated. February doesn't seem that far away in either direction, and it's astonishing how different the produce landscape is now compared to the other side of the year. So each time, I leave the market barely able to carry my load, and we spend a few days puzzle-piecing together menus to use it all up.
This was one of those dishes, chosen to use up a rather large bag of green beans. I'd bookmarked the lamb-broccoli stir fry in Nigel Slater's Tender from the first moment I opened it, and I could tell it would be the sort of dish to fit into my strategic summer menu-planning sessions. And on that point, not that just as I used green beans instead of the broccoli from the original recipe, this dish can readily accept most any vegetable-like thing you have. Just pay attention to the fact that the vegetables only go in the pan briefly at the end of cooking, so blanching or otherwise par-cooking is necessary unless you like quite a bit of crunch.
I loved this dish because it was delicious, but also because it was interesting – you don't see a lot of lamb in stir-fries, or at least I don't, and I certainly haven't had a lot of lamb with Southeast Asian flavorings. The end result was a fairly strong lamb flavor, which I loved, but which also made it clear to me how some people find lamb to be a bit too much for their tastes. But I found the combination of the sweet-salty-sour-spicy Asian palette together with the gamey quality of the lamb to be quite nice, and I'd be interested in try it again with thinly sliced lamb filet instead of the ground meat.
Print

Vietnamese Lamb Stir-Fry with Green Beans
---
Author:

Bowen Close

Yield:

2

-4

1

x
Description
A delicious dish to use the bounty of summer beans. It all combines for a sweet-salty-sour-spicy palette together with gamey lamb for a flavorful meal. Adapted from Nigel Slater
---
3 Tbsp

. vegetable, peanut, or other high-temperature cooking oil (not olive oil)

2

–

3

green onions, chopped finely

4

cloves garlic, chopped finely

2

serranos or

3

thai chilis, deseeded and chopped finely

1

lb. ground lamb
Green beans, trimmed – about 2/3 lb., or a few large handfuls

1 1/2 Tbsp

. lime juice

1 1/2 Tbsp

. fish sauce

1 1/2 tsp

. sugar
Handful fresh basil leaves, roughly chopped
Salt, as needed
Chili sauce, as needed and/or for serving
Large handful fresh cilantro leaves and stems, roughly chopped
Cooked rice, for serving
---
Instructions
Stir-fry flavor base and lamb Heat oil over high in a large wok or shallow pan until very hot and shimmering. Add green onion, garlic, and chilis and cook, moving them around the pan, until they've softened but not browned. When they just start to brown at the very edges, add the ground lamb. Use a wooden spoon or spatula to break up the meat into clumps (and continue to do this as it cooks). Cook until the lamb is quite browned, continuing to break it up into small pieces – you don't want clumps of meat, but more like pea-sized pieces. Cook it until it starts crisping at the very edges, deepening in color and looking more and more delicious. Depending on the fat content of your meat, it may begin to let loose an impressive amount of grease – don't worry; you can drain it off later.
Meanwhile, blanch beans Either plunge the green beans into boiling water and remove after 45 seconds or pour a kettle of boiling water over beans in a large bowl and let sit for a few minutes before draining. Set blanched beans aside.
Also meanwhile, make sauce Whisk together lime juice, fish sauce, and sugar in a small bowl. Set aside.
Drain oil If needed, you can drain oil out of the lamb pan and discard of it in the same way you do bacon grease (in our house, that means save for future cooking uses). You want to leave enough that the pan is slick on the bottom, but not unappetizingly greasy.
Add sauce, green beans, and herbs With the pan still on high heat, add the basil and stir into the lamb. Let cook for a few moments, then add the green beans and the sauce. Let it sizzle, scraping the bottom of the pan to incorporate any delicious browned bits or gooey spots. Turn off the heat. Taste for salt and chili sauce and add if desired. Before serving, toss in the chopped cilantro.
Notes
Storage/making ahead: Leftovers will keep in a closed container in the refrigerator for up to 5 days, though lamb may lose a bit of crispness. Cilantro can be mixed in before storing or when eating.
Category:

Main

Cuisine:

Vietnamese
Bowen Close
Bowen Close believes that food should make people happy and healthy, and loves bringing together people with creative, delicious food made from the heart. She loves making farm-inspired, flavorful dishes with sustainable ingredients - whether that's a big plate of roasted veggies, a towering chocolate layer cake, or a cocktail utilizing backyard ingredients - and collects recipes and other food-related stories on her website, Bowen Appétit. She is a chef, cooking instructor, and food writer living in Southern California with her husband and fully stocked pantry.