Black beans and cannellini combines with fresh cilantro, cumin, and jalapeño for a light soup that is a great first fall chili.
By Katherine Sacks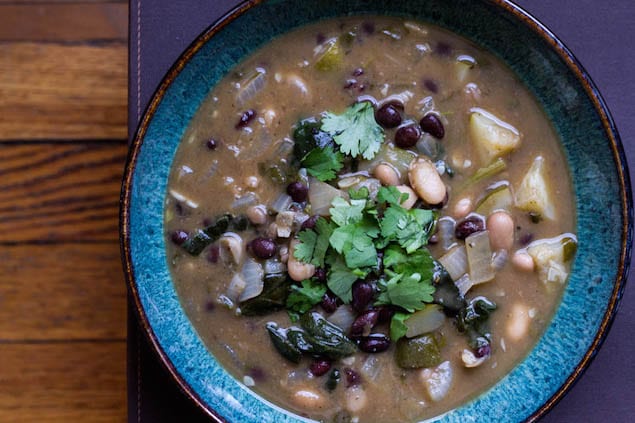 It's certainly isn't winter or fall yet, but it is still nice to cozy up to a bowl of light white bean chili on a sunny fall day. This is a spicy, tangy soup called chili but instead of being a stew-like combo of beef and beans, it's a brightly spiced green vegetable soup. And it comes together in just 30 minutes, a simple recipe for a quick and delicious dinner.
The combination of cumin, oregano, fresh cilantro, and lime really seals in the tangy kick. The result is delicious and just feels good eating. For a little more texture, serve with toasted tortilla slices. Enjoy!

Vegetarian White Bean Chili
Black beans and cannellini combines with fresh cilantro, cumin, and jalapeño for a light soup that is a great first fall chili.
Recipe Type:
Main, Soup, Chili
Ingredients
¼ cup olive oil
2 small zucchini, cubed
1 large onion, chopped
1 jalapeño chile, seeds removed, minced
2 garlic cloves, finely chopped
2 teaspoons ground oregano
2 teaspoons ground cumin
4 cups vegetable broth
1 15-oz. can cannellini beans
1 15-oz. can black beans, rinsed well
Salt
Black pepper
3 cups fresh spinach
1 bunch fresh cilantro
2 tablespoons fresh lime juice
Lime wedges
Instructions
Heat the oil in a small stockpot over medium heat. Add the zucchini, onion, and chile and cook, stirring often, until vegetables are softened and translucent, 8 to 10 minutes. Add the garlic and continue to cook until it becomes fragrant, about 2 minutes more. Add the oregano and cumin and cook for another minute. Add in the vegetable broth and beans (with white bean liquid) and bring to a simmer. Season with salt and pepper and cook, covered, until the vegetables are tender and liquid is slightly thickened, about 20 minutes. Stir in the spinach and a handful of chopped cilantro to wilt, then season with lime juice and more salt and pepper. Garnish with additional cilantro and serve with lime wedges.
Katherine Sacks
Katherine Sacks is a Berlin-based freelance writer and recipe developer specializing in travel, food, lifestyle, and health topics. A graduate of Drexel University's culinary arts department and Northwestern University's Medill School of Journalism, Katherine combines seven years of restaurant experience with her reporting and editing background. Her work has appeared in Chicago magazine, the Chicago-Sun Times, and FoodandWine.com, among other publications. She also contributes to culinary trade publication StarChefs.com, Forbes Travel Guide, and Snooth Eats, and blogs at LaVitaCucinare.com.