Here's a vegetarian version of a dish that is mostly done with meat and seafood. The Louisiana classic, Gumbo.
By Pallavi Gupta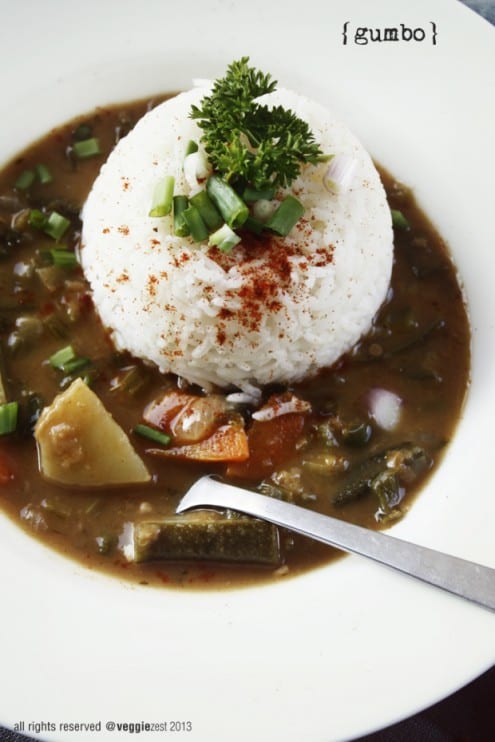 Gumbo is basically vegetables, meat and/or seafood cooked in a Roux sauce with some seasoning. Roux is made by cooking flour in some kind of fat – vegetable oil in this recipe, till it turns a really dark shade of brown.. almost like dark caramel. The key is to cook the roux on low heat while stirring it continuously but gently. It is the most important and the most time consuming step in making any kind of gumbo. You could try making the roux sauce in advance and store it in the fridge, but I am not sure how much will it effect the taste of the dish.
Print
Vegetarian Gumbo
Here's a vegetarian version of a dish that is mostly done with meat and seafood. The Louisiana classic, Gumbo.
Author:

Pallavi Gupta

Prep Time:

20 mins

Cook Time:

30 mins

Total Time:

50 minutes

Yield:

2

1

x
1/2 cup

+

1 tbsp

all purpose flour

1/2 cup

vegetable oil

4 1/2 cups

vegetable stock (room temperature)

1 cup

okra, cut into rounds or

1

inch pieces slit in half

1

medium carrot, sliced or diced

1

sweet potato, diced

1

leek, finely chopped

1/2 cup

celery, finely chopped

1/2 cup

red onions, finely chopped

1/2 cup

green bell pepper, finely chopped

1/2 cup

scallions, finely chopped

4

cloves garlic, finely chopped

1 tbsp

oil

2

bay leaves

2 tsp

smoked paprika

2 tsp

ground cumin

1 tbsp

tabasco sauce

1/4 cup

parsley, roughly chopped
salt & pepper
Instructions
For the Roux:
In a deep heavy bottom pan heat oil slightly on medium heat.
Add 1/2 cup flour and mix with oil using a whisk. There should be no lumps and the mixture should look like a sauce and not like lumpy wet flour.
Turn the heat to low and continue to whisk and cook till the sauce turns a dark caramel color – for about 20 minutes.
when the flour turns dark add 1 tbsp of flour and continue to cook for another minute.
Adding 1 cup stock at a time and whisk to form a lump free sauce. Mix the entire stock.
Turn the heat off. keep aside.
For the Gumbo:
In a large deep pan heat oil.
Add the onion, celery, bell pepper and bay leaves. Sprinkle a little bit of salt and cook till the vegetables start to sweat.
Add okra and cook for another few minutes – till the slimy threads starts disappearing.
Add the rest of the vegetables and continue to cook for another 3 minutes.
Add the seasoning (cumin, paprika and black pepper) and mix well. Add parsley.
Add the roux sauce and mix slowly.
Turn the heat down to low and let the gumbo simmer (half covered) till the vegetables turn tender.
Add tabasco and scallions and stir gently.
Let the gumbo rest for a few minutes before serving. Garnish with some scallions and parsley.
Serve over steamed rice or with a french baguette.
Pallavi Gupta
Pallavi is a vegetarian globetrotter, who currently lives in the southern part of India. Past ten years of her life includes living in six cities in three different countries. It has added to her vast exposure of cuisines from different parts of the world which is now reflected in her cooking. She shares her knowledge of vegetarian and vegan recipe from around the world via her blog Veggie Zest. When not cooking or photographing, she does graphic design.