This no-bake, dairy free sweet will be a summer favorite. Green matcha combines with creamy coconut and a touch of sweetness to be a cool treat.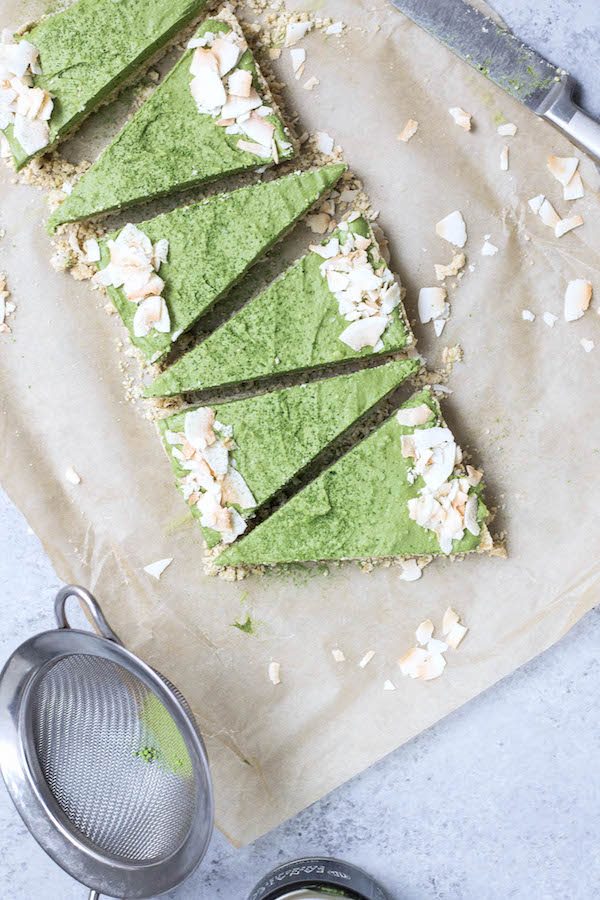 Matcha Powder is a pure leaf version of your average green tea meaning you get all the health benefits this mighty leaf has to offer. Rich in antioxidants, matcha provides protection from harmful free radicals, which are the molecules responsible for aging, tissue damage and even some inflammatory diseases. The antioxidants found in matcha are also known to increase metabolism, control blood sugar and lower cholesterol. The caffeine level in matcha is much less than that of coffee and because of all it's health properties, there is no jitter or crashing like with coffee. Just a clean, focused energy – without the cortisol response that can mess with our adrenals and stress our body. If all of that's not enough – no doubt you've heard that matcha can aid in: digestion, weight loss & metabolism and natural detoxification. Read more here!
Just for you: 15% off Panatea Matcha
My friends at Panatea Matcha have extended a 15% discount for you!
Use: FOODBYMARS15 when placing your order online.
I love this brand and it's been the only one I use. I first bought the ceremonial set which is my favorite (and makes a great gift). If you love the ritual of a morning drink like coffee, you'll love whisking up your matcha with this. I also highly recommend the Instant Matcha Bag for your travels or to take with you to the office – it dissolves in water and you instantly have your cup of matcha ready! To cook with, they have a culinary grade matcha for baking and cooking. Since this recipe is raw, you can use either this or the ceremonial grade you drink – I've tried both.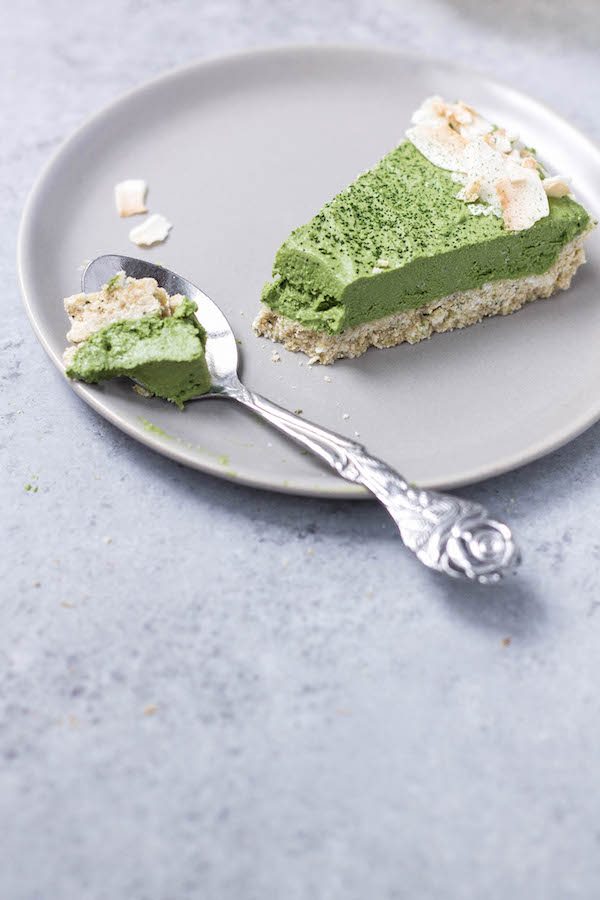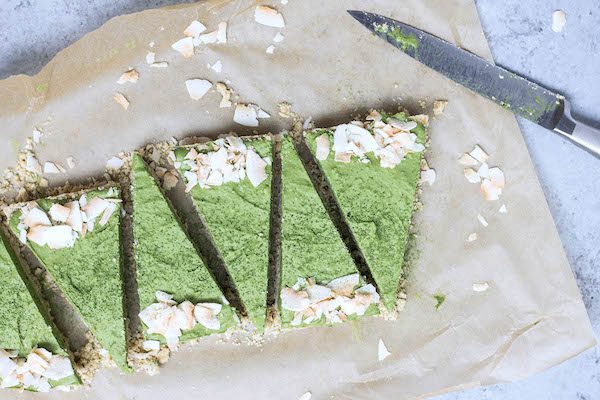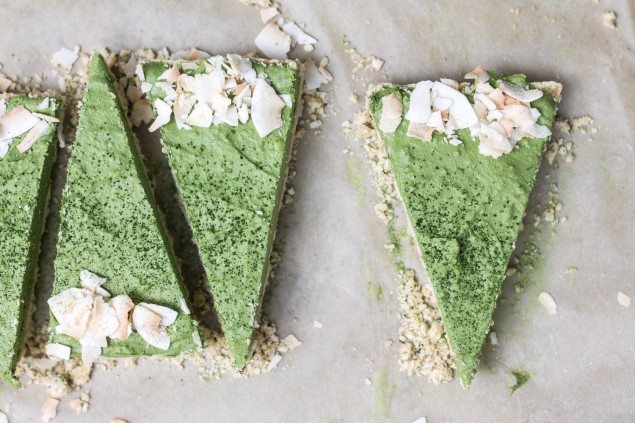 Matcha is a huge part of my morning drink rotation. When I drink it, I love using coconut milk to froth and make a latte with or in the summer – iced matcha is where it's at!!!! Click here for the latte recipe.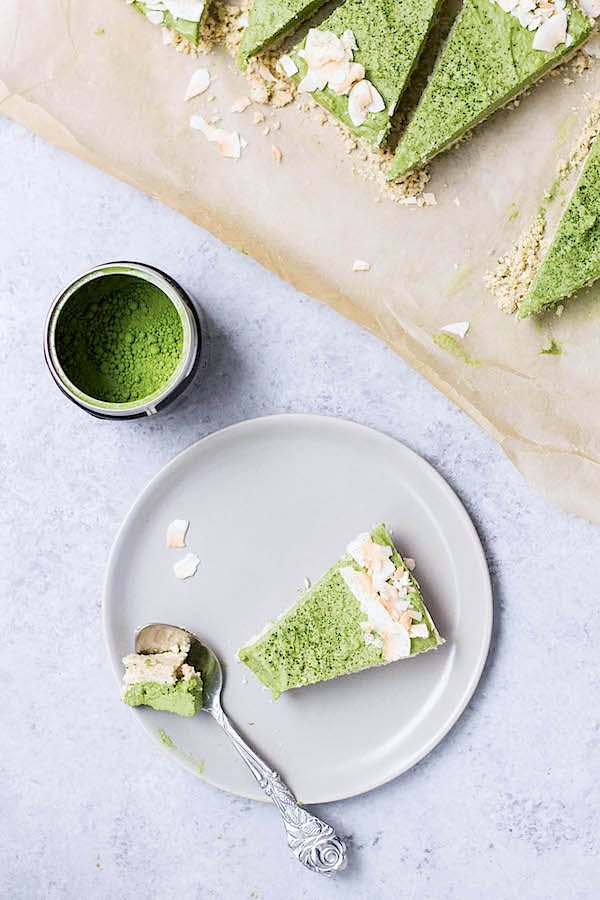 Vegan: No-Bake Matcha Coconut Cream Pie
This no-bake, dairy free sweet will be a summer favorite. Green matcha combines with creamy coconut and a touch of sweetness to be a cool treat.
Ingredients
1 full fat coconut milk can
1 Tbsp matcha powder (culinary grade or ceremonial)
1-2 Tbsp sweetener (raw honey or maple syrup)
2 tsp vanilla extract
½ cup coconut flour
½ cup unsweetened shredded coconut
¼ cup hemp seeds
2 Tbsp coconut oil
1 Tbsp sweetener (raw honey or maple syrup)
Instructions
Line a loaf pan (8x6) with parchment paper.
Mix crust ingredients together in a food processor: flour, coconut, seeds, oil and sweetener (last 5 ingredients listed above).
Dump the crust mixture into your lined loaf pan and using your hands, press the crust evenly on the bottom of the pan. You can stretch the crust to slightly come up on the long sides of the pan, but should keep it pretty flat.
Place the pan in the freezer while you make the filling.
To make the filling, blend the first 4 ingredients together (coconut milk, matcha, sweetener and vanilla) until you have a smooth mixture.
Take the pan out of the freezer and pour the filling over top. Spread evenly with a spatula. Add back into the freezer and let set for at least an hour.
When ready to serve, simply use the parchment paper to lift the pie out of the pan and slice in triangle pie slices after letting sit for 10 minutes or so to soften a bit. Optionally garnish with sifted matcha powder over top and flaked coconut on the edges. Serve!