Valentine's Day Brunch: Eggs and Toast with Creamy Spinach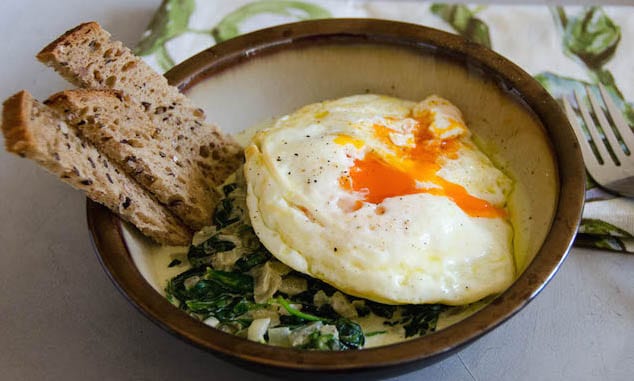 Simple to make, easy to impress, and hearty enough to keep you sustained for the day, these are perfectly flavorful with a hint of spice.
By Carolyn Cope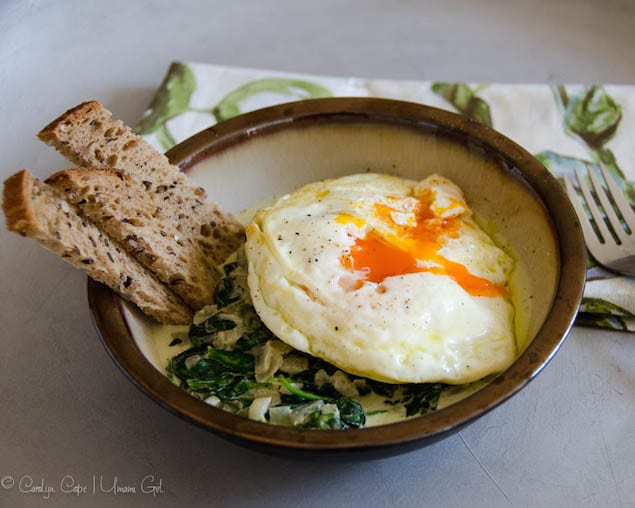 Simple to make, easy to impress, and hearty enough to keep you sustained for the day, these are perfectly flavorful with a hint of spice.

Valentine's Day Brunch: Eggs and Toast with Creamy Spinach
Simple to make, easy to impress, and hearty enough to keep you sustained for the day, these eggs are flavorful with a hint of spice.
Ingredients
2 tablespoons olive oil, divided
1 medium yellow onion, diced small
2 garlic cloves, minced
10 ounces baby spinach
Pinch of ground nutmeg
Pinch of cayenne pepper flakes
2 tablespoons heavy cream
2 tablespoons cream cheese
Plenty salt and pepper, to taste
4 eggs
Toast
Instructions
Heat one tablespoon of the olive oil over medium heat in a nonstick or well-seasoned frying pan. Add the onion and cook, stirring occasionally, until starting to soften, about 5 minutes. Add the garlic and cook for one minute more.
Add the spinach, in batches if necessary, and cook until wilted. If there's a lot of liquid in the pan at this stage, you may wish to pour it off. (Sometimes there is, sometimes there isn't -- depends on the spinach.)
Add the nutmeg, cayenne, heavy cream, cream cheese, and some salt and pepper. Stir to combine well. Simmer until the sauce is reduced enough to mostly cling to the spinach. Taste for salt and pepper and divide between two shallow bowls.
Wipe out the frying pan. Add the remaining tablespoon of olive oil. Fry the eggs in the pan to your liking, and slide two eggs into each bowl. Cut the toast into strips ("soldiers," as the English call them) for dipping into the yolk and cream, and garnish each bowl with a few. Serve immediately.
Carolyn Cope
Carolyn is the voice behind the popular blog Umami Girl and writes frequently for other food-related publications. Equal parts live-to-eat and eat-to-live, she holds certificates from both the French Culinary Institute and the eCornell Plant-Based Nutrition program. Carolyn has lived and worked in New York and London and currently resides with her husband and two daughters in a sweet little seaside town in New Jersey.