Vada: Savory Fried Cabbage Rings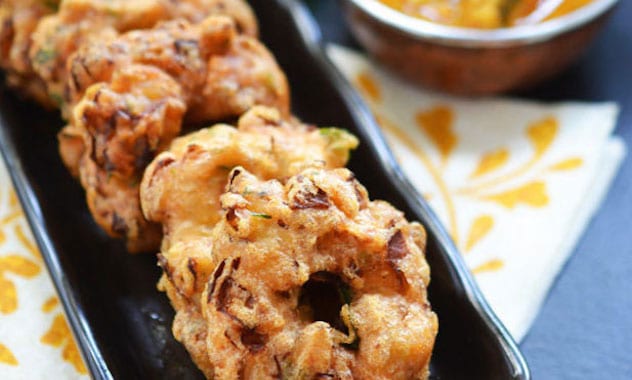 This fun savory fried snack uses cabbage instead of the tradition onions in the batter. Enjoy while still warm with coconut chutney or sambar.
By Priti S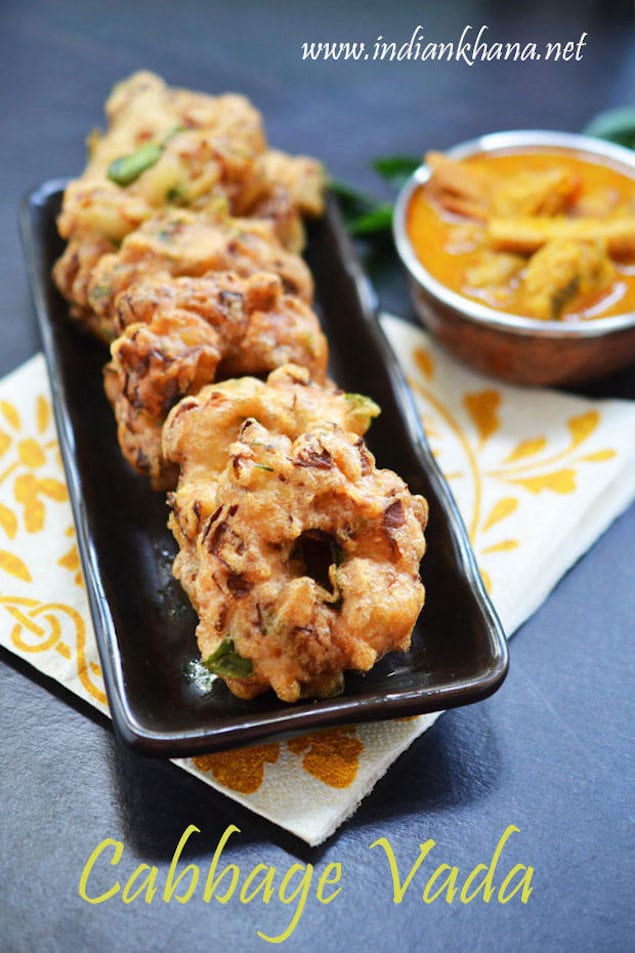 Cabbage Vada is medhu vada made with cabbage instead of the regular onion. Cabbage vada is made with urad dal batter and deep fried into delicious vada or vadai. Like Medhu vada or urad dal bada cabbage vada is made in similar way with just extra addition of finely chopped cabbage but the taste differs a little due to cabbage.
Finely chop cabbage to get perfect or decent shape vada. But the taste is just wonderful in any case so do not worry too much about the shape. Serve with coconut chutney, sambar or just with a cup of tea/coffee and enjoy this yummy snack.

Vada: Savory Fried Cabbage Rings
This fun savory fried snack uses cabbage instead of the tradition onions in the batter. Enjoy while still warm with coconut chutney or sambar.
Ingredients
½ Cup - Whole White Urad Dal
1 Cup - Finely Chopped Cabbage
1 tsp - Grated Ginger
3 - Green Chilies
2 tbsp - Chopped Coriander Leaves
8 to 10 - Curry Leaves
½ tsp - Cumin Seeds (optional)
A Pinch - Asafoetida/Hing
To Taste - Salt
To Deep Fry - Oil
Instructions
Wash and soak urad dal for 2-3 hours in ample of water, rinse one more time and grind into smooth thick paste, use 1-2 tbsp of water if required to grind in mixer.
Finely chop cabbage, green chilies, coriander leaves, curry leaves, grate ginger and mix with urad batter. Add salt, asafoetida, cumin seeds and mix well.
Heat oil for deep frying in kadai (wok). To make vada/bada wet hand in a bowl of water, take little batter and make smooth ball, make a hole in middle using thumb and carefully drop this in hot oil, make sure not to get your hand burnt (I am not very good in making perfect vada shape which you can see, so so try doing it one day eventually we will get the perfect shape, if you are like me now)
Add 3-4 vada in a batch (add more if using big kadai) and fry in medium flame both sides until nice golden brown, drain in tissue paper once cooked and repeat same for rest of batter.
Serve hot with coconut chutney, sambar. I served with dahiwale kaduu, jimikhanda, kochai sabzi, it makes wonderful combo.
Notes
inely chop cabbage, I didn't chop the cabbage finely as I was doing multiple things this time.
Try to use less water while grinding urad dal, if not vada will absorb lot of oil while cooking.
If you not good in making vada shape, then just roll into ball and flatten them, deep fry like we do for masala vada.
Always add salt before making vada.
You can add ½ to 1 tbsp of rice flour to make this vada extra crispy.
#mc_embed_signup{background:#fff; border: 3px double black; clear:left; font:14px Georgia,serif;  width:635px;}
/* Add your own MailChimp form style overrides in your site stylesheet or in this style block.
We recommend moving this block and the preceding CSS link to the HEAD of your HTML file. */