These soft peanut butter cookies filled with an irresistible peanut butter butterscotch filling.

Sure, they might look ordinary on the outside, but trust me on this one. Just one bite, and you are sure to fall in love.
Not to sound conceited or anything, but I think I may have created the holy grail of peanut butter cookies.
I mean, guys…just look at that glorious eruption of rich and silky truffle filling.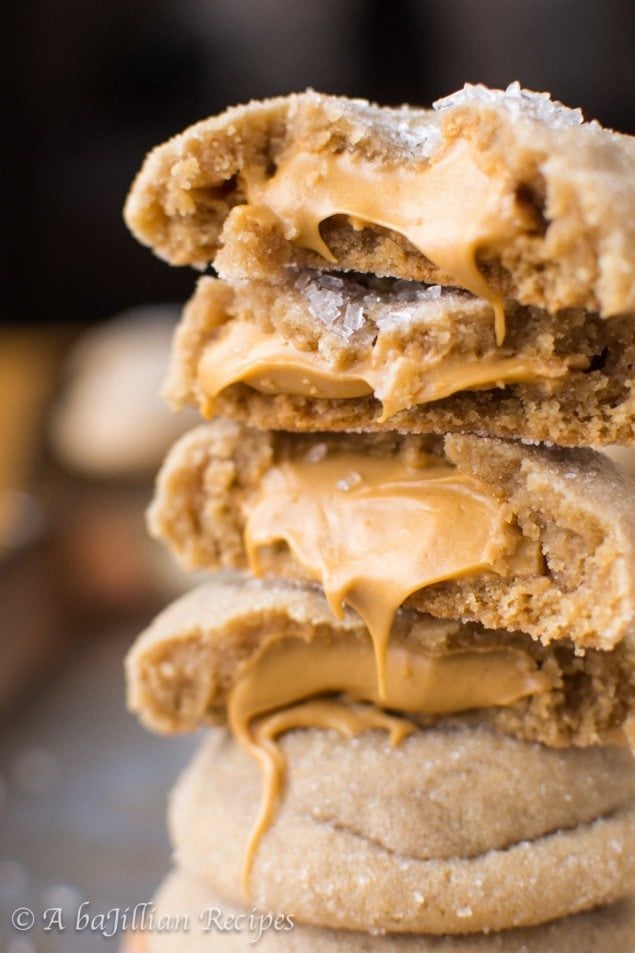 You don't even have to be a peanut butter fanatic to fall hopelessly in love with these cookies. Chances are, if you have tastebuds, you will LOVE these cookies. However, if you have a peanut allergy, I would like to send out my sincerest and deepest condolences…
Because these are definitely the best peanut butter cookies in the entire universe.

In my opinion, the best peanut butter cookies are soft and chewy, not brittle and crumbly. Biting into one of these is pure soft-baked heaven. And with an entire cup of peanut butter baked into the dough, you'll undoubtedly be blissing out over how lusciously peanut buttery this cookie is. Not to mention, the extra 1/4 cup in the truffle filling.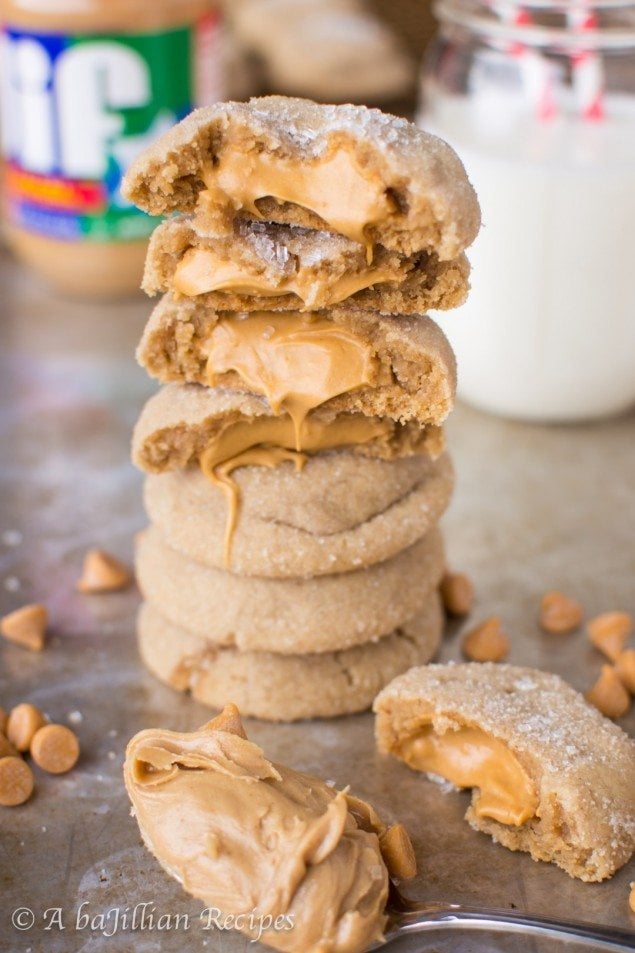 Check out my how-to video here. They're easy to make!
Print

The Ultimate Peanut Butter Filled Cookie
---
Description
These soft peanut butter cookies filled with an irresistible peanut butter butterscotch filling.
---
Peanut Butter Truffle Filling:
1 cup

butterscotch chips

1/4 cup

creamy peanut butter
Cookies:
1/2 cup

unsalted butter (softened)

1 cup

creamy peanut butter

1 cup

brown sugar

1

egg

1 teaspoon

vanilla

1

and 2/3 cup all-purpose flour

1 teaspoon

baking soda

1/2 teaspoon

salt

1/4 cup

granulated sugar
---
Instructions
Make the truffle filling:
Line a baking sheet with wax paper; set aside.
Place butterscotch chips and peanut butter in a microwave-safe bowl. Heat in the microwave for 1 minute; stir until smooth. Refrigerate for about 10-15 minutes, stirring every few minutes, until mixture is thick enough to scoop.
Scoop mixture into roughly Tablespoon-sized balls and place onto prepared pan. Refrigerate until ready to use.
Make the cookies:
Preheat the oven to 350F degrees and line a baking sheet with parchment paper.
In a large bowl using a hand-held mixer or a stand mixer fitted with the paddle attachment, cream the butter, peanut butter, and brown sugar together on high speed until lightened and fluffy. Beat in the egg and vanilla until combined.
Add the flour, baking soda, and salt, and continue to beat on low until mixture forms a dough.
Assemble:
Place granulated sugar in a small bowl. Use your hands to scoop out about 2 Tablespoons of dough, flatten, place a peanut butter truffle in the center, wrap the dough around the truffle, then roll into a ball, making sure that the dough is fully sealed around the truffle.
Place on the prepared baking sheet, and flatten cookie slightly. Roll in sugar. Repeat with the remaining truffles and dough.
Bake cookies for 9-10 minutes, or until cookies look puffed and edges are set. Allow to cool on the baking sheet for 10 minutes before transferring to a wire rack to cool completely.
Notes
*As the cookies cool, the filling will thicken up. If you want super ooey gooey drippiness, heat in the microwave for 5-10 seconds!
Jillian Hatsumi
I'm Jillian, the writer, baker, chef, recipe creator, and amateur (very amateur) photographer of A baJillian Recipes. Though I'm not a classically trained chef, I like to think I know my way around a kitchen pretty well. Aside from baking, cooking, and EATING, I also enjoy acting, couponing (I LOVE saving money!!), running, working out, photography, and playing with my little fluffernutter, Olivia. She's a dog, if you're wondering...