This post is sponsored by Cavit. Inspire your pairings and recipes with new wine ideas.
April 12 is Grilled Cheese Day. What better way to celebrate than with extreme, loaded grilled cheese sandwiches and perfect wine pairings with Cavit wines?!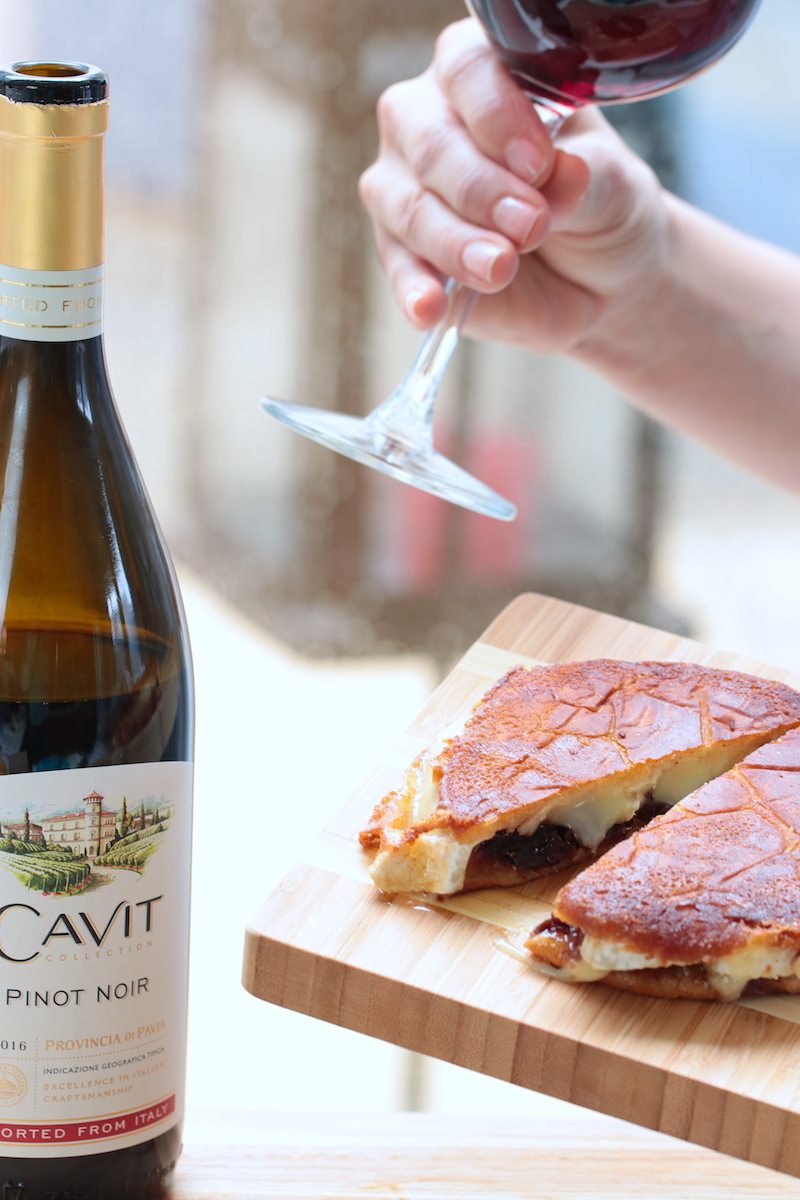 Brie and Bacon Grilled Cheese with Pinot Grigio
Salty fried bacon and creamy rich brie cheese will make one of the best grilled cheese sandwiches of your life. And the best wine pairing? A glass of Cavit Pinot Grigio. The bright, cool, citrus notes of this white wine are the perfect refreshers to the rich, salty cheese and bacon combo.
Mushroom and Gruyere Grilled Cheese with Cabernet Sauvignon
Earthy mushrooms with the creamy, nutty flavors of melted gruyere will make you rethink why you ever ate a grilled cheese with individually packaged American slices as a kid. Good thing you are now an adult and can properly enjoy this sandwich with a glass of Cavit's Cabernet Sauvignon. Its oak aging makes it the perfect wine with enough body and character to be paired with rich mushrooms and a beautiful cheese.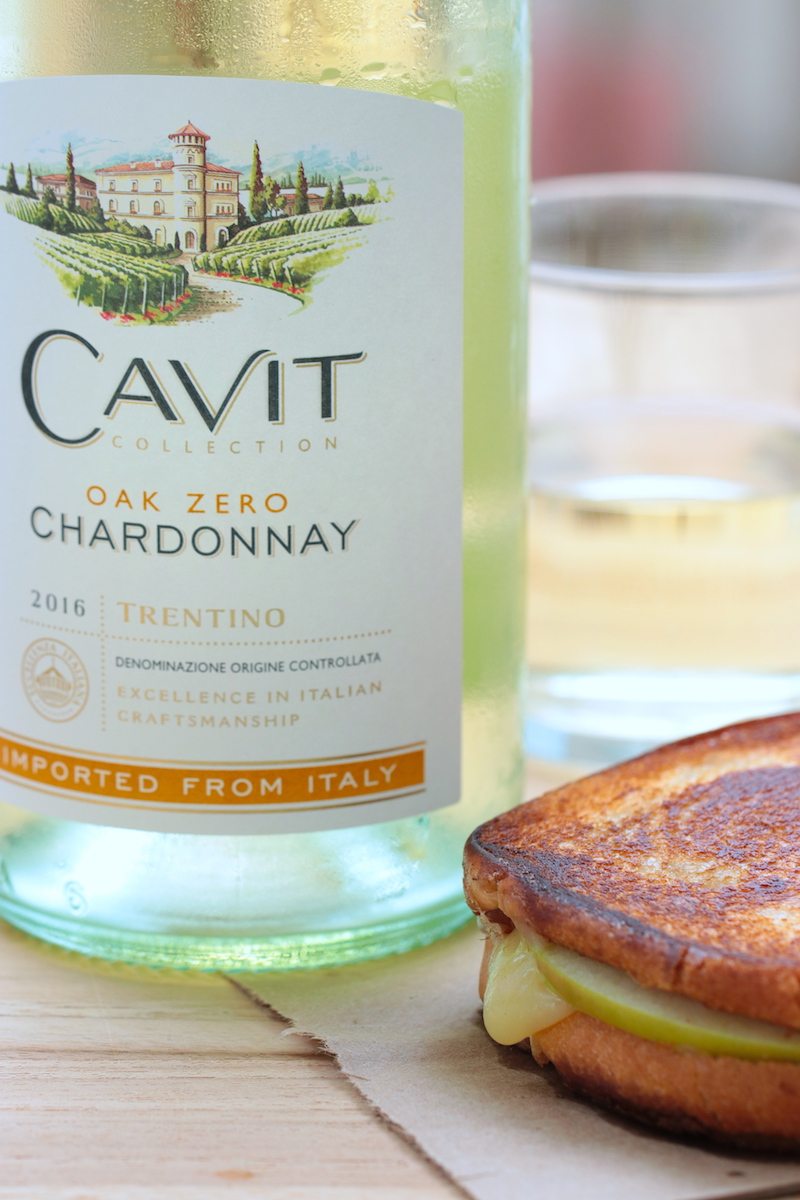 Cheddar and Green Apple Grilled Cheese with Chardonnay
Be it sharp or sophisticated and aged, a cheddar grilled cheese with tart green apples paired with an unoaked Chardonnay is a mouth-watering experience . Cavit's Oak Zero Chardonnay has a body big enough for a quality cheddar and all the tropical and fruit notes that will highlight that tart Granny Smith apple.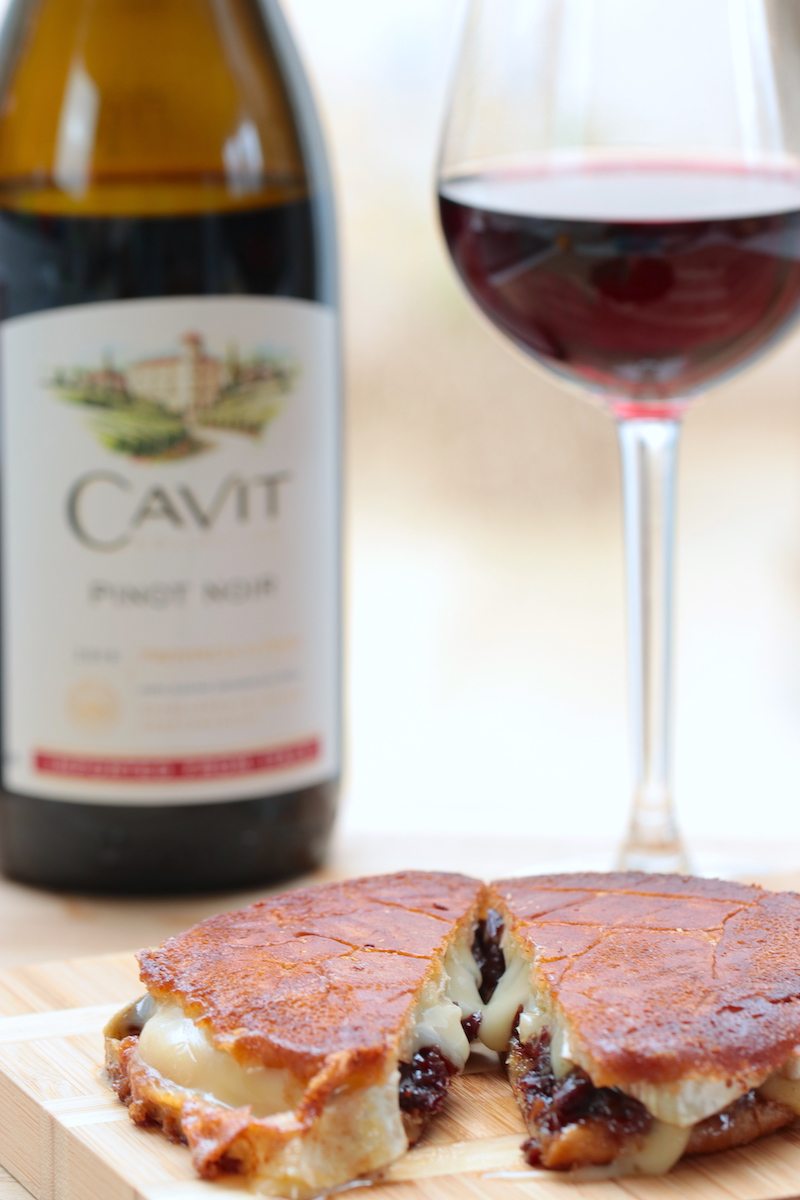 Fig Jam Grilled Cheese with Pinot Noir
Whether you're using brie, goat or cheddar cheese, kick things up a notch with sliced figs or a slightly sweet fig jam. We love this vibrantly fruit-forward Pinot Noir with the the flavorful fig and the savory cheeses.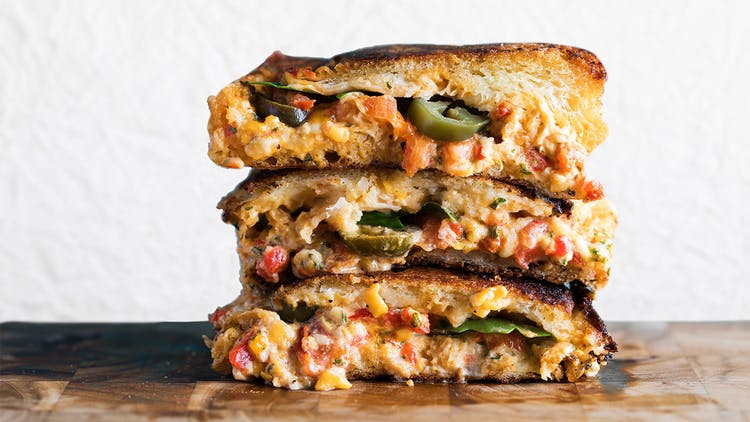 Rachel Vanni/Tasting Table
Spicy Pimento Grilled Cheese and Moscato
Take a page out of the cookbooks of the south and whip up some homemade pimento cheese. Spice it up with jalapeños and then cool things back down with a sip of this sweet Moscato.
Steak and Pepper Jack Grilled Cheese with a Red Blend
There is no better way to repurpose leftover grilled steak than to use it in a grilled cheese. Add some spice with pepper jack cheese and watch the smoky, spicy flavor play beautifully with this Italian Red Blend.
Blue Cheese and Prosciutto Grilled Cheese with Riesling
With a mixture of cheddar and blue cheese and perhaps even a layer of prosciutto or your favorite ham, a grilled cheese can go from basic to fabulous. For the bold blue cheese flavors we found the perfect match with this sweet Riesling that has notes of ripe stone fruits.
Ricotta and Fresh Strawberry Grilled Cheese with Rosé
While ricotta won't have the same melting effect of most cheeses, it is so delightful when served warm between grilled, buttery bread with slices of sweet-tart fresh strawberries. Feeling bold? Add a few leaves of fresh basil. We love this dry Rosé (link to be added once bottle is live on the site) with berry notes to pair with the creamy ricotta and fresh fruit. It's a match made in heaven and best enjoyed on the patio.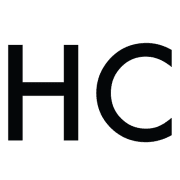 Honest Cooking
The Honest Cooking editorial team handpicks inspiring culinary stories to share with you that we think are beautiful. As an international online culinary magazine with the ambition to truly change the face of online food media we hope to create an inspiring place for serious culinary debate, salivating recipes, interesting food news and international food-fun.