Think Austrian food is just fried wiener schnitzels and dumplings? Think again. Check out these recipes from Austria.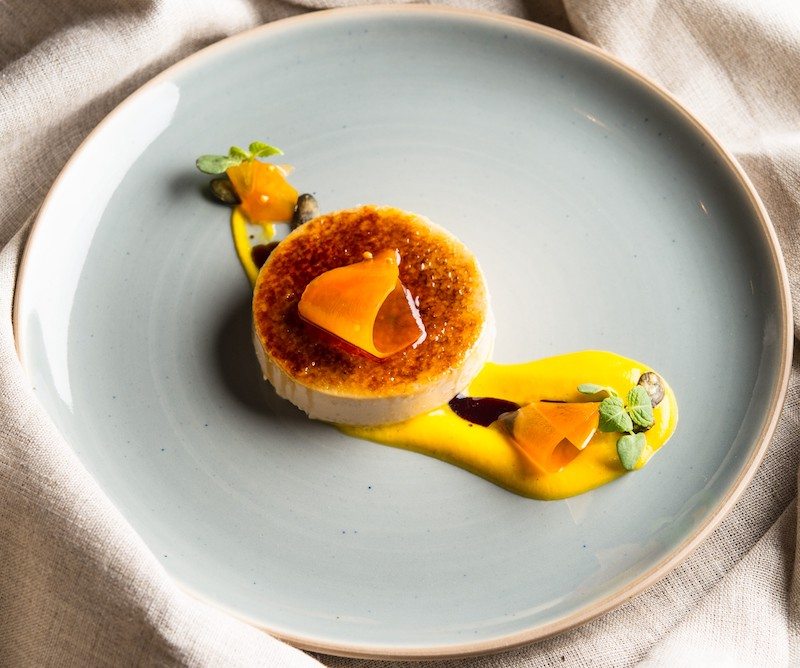 The team at Hotel and Restaurant Blaue-Gans in the heart of Salzburg are changing the way Austrians eat – but you can also expect some classics there too – no one can have TOOO many Schnitzels when in Austria
Here are two recipes to try at home:
Creme brulee of goose liver with mustard carrots
Grilled heart pin with potato gnocchi, Tropea onions and Gremolata
TOP TIP
The best way to travel around Austria is with a car – you find some family-run hotels and restaurants which do not break the bank and offer delicious hide-aways for self-professed gourmets
I walked away very satisfied, even if my tummy was begging for mercy at the end of my summer Vacation in the Austrian country-side. Loved it!
For more great places to visit, check out a truly authentic collection of gourmet hotels
Schlosshotels and Herrenhäuser – you really can not go wrong with any of these family-run places
This is a starter and a main dish:
Creme brulee of goose liver with mustard carrots
Grilled hanger steak with potato gnocchi, Tropea onions and Gremolata
All information for 4 persons
Crème brûlée of goose liver
125 g cream
125 g milk
65 g fresh foie gras
65 g butter oil
3 egg yolks
Salt, pepper, cinnamon stick 1 3 cm long, 2 allspice, rosemary
Reduction:
700 ml of port
200 ml cognac
Boil for the reduction of port wine and brandy and boil reduce to half. Cooling down.
Boil milk with the spices and let cool, then strain.
Foie absorb about 5 minutes in a pot of steaming and smooth mix in the Thermomix with the butter, then add milk and egg yolk and mix about 10 minutes at 50 degrees, then enter the cream to it. Allow the mixture to stand overnight to allow air to escape. Into rings or ramekins and fill dampen about 20 minutes at 80 degrees (or in the water in the pipe). Let cool and chill in the refrigerator.
Before serving, sprinkle with sugar and caramelize this with a Bunsen burner or under the hot grill.
Mustard Carrots:
½ kg carrots, planed with a vegetable peeler into fine strips
12 g of mustard powder
100g sugar
1 dl water
1 dl vinegar
1 dl white wine
All marinate overnight and the next day boil slowly until the carrots are soft.
****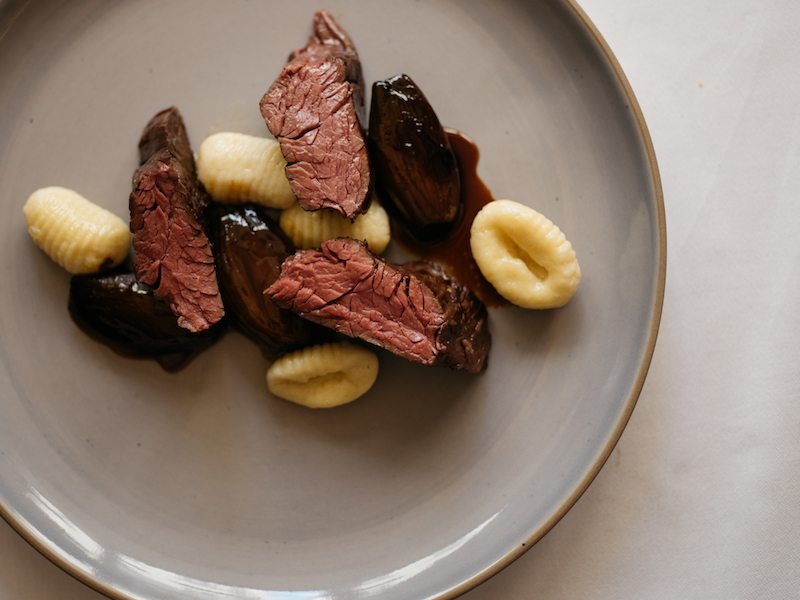 Hanger Steak
1 whole hanger steak
sea-salt
pepper
olive oil
Season the hanger steak with salt and pepper and drizzle with olive oil. Infuse 1 hour in the oven at 60 degrees. Allow to take the BBQ from both sides color. Leave to rise again for 10 minutes in warm pipe rest and cut into fine strips.
gremolata:
5 g lemon zest
5 g lime abrasion
1 g Knoblauch
5 g parsley
1 tablespoon olive oil
Very finely chop all the ingredients and mix to a smooth paste. Turn with 2 teaspoons dumplings.
gnocchi:
250g floury potatoes, cooked and passes
2 egg yolks
300 g Mehl
Salt, pepper, nutmeg
Press boiled potatoes through the press and let cool briefly. Stir egg yolk with the warm mass and fold the flour, condiments. Process to a smooth dough and let rest for 1 hour.
Roll out roll with about 5cm thickness and dumplings pull the trigger, possibly flatten with a fork to leave a pattern. Share to moderately salted boiling water and let stand.
When the gnocchi float to the surface, they are done. Pivot in brown butter with a little rosemary.
Sweet Red Onions:
10 small Sweet red onions (Tropea onions)
2 shallots
35 g ginger
350 ml of port
750 ml of red wine
1 star anise
3 peppercorns
1 clove
Shallots and ginger into small pieces and fry in butter. Add the remaining ingredients except the onions and boil down by half.
Then add the onions cook until soft and glaze with 10 g butter.
To serve: on a plate, draw a line with Tropea onions, arrange the cut in strips of meat on it, create a few gnocchi and crowned with a cam gremolata.
Michelle Tchea
Michelle Tchea is a 4-time bestselling author. Her books include, Building a Perfect Meal, My Little SoHo Kitchen, Signature Dishes (Australia's Best) and Chefs Collective. Her work can be found in other leading luxury travel and food magazines including Travel+Leisure Asia, SMILE, NUVO Magazine and The Telegraph