Sponsored Post – Whether you already love Italian wine or are just getting your feet wet, Santa Cristina is a highly acclaimed winery sitting high on a hill in Tuscany that you must try. Made in the region for over 65 years, Santa Cristina has become a benchmark Italian wine. Here are fun ways to feature their bottles.
This Kale Caesar Salad is topped with crispy chicken, quick-pickled radishes and almonds for added crunch. Pair with this Italian Rosato Toscana wine for a perfect duo.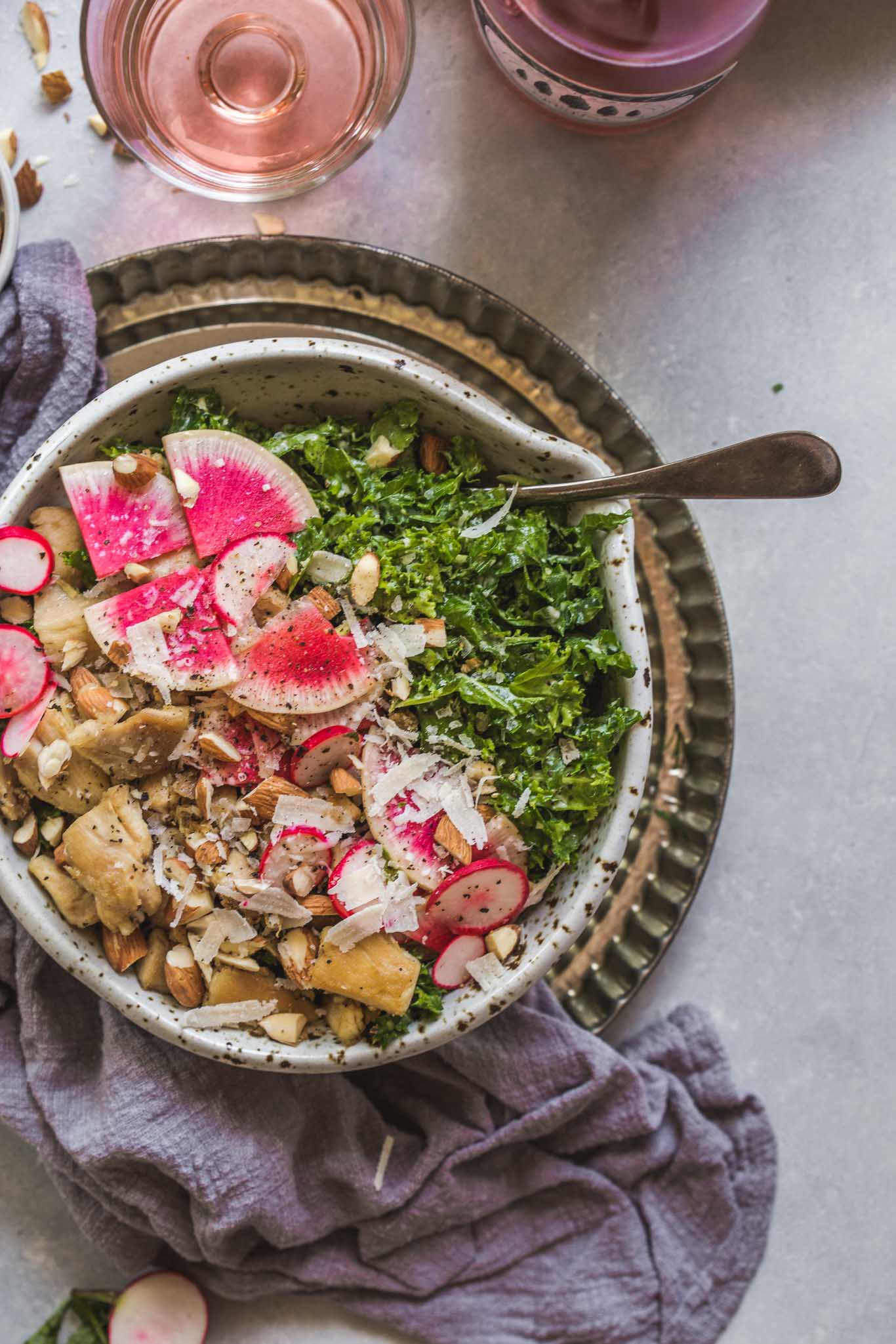 This Kale Caesar Salad is topped with crispy chicken, quick-pickled radishes and almonds for added crunch. Massaging the creamy garlic dressing into the kale makes it extra tender and delicious.
Am I the only one who's popping a bottle of rosé at least once a week in the summertime?
I love a dry rosé because it's refreshing, easy sipping and perfect for pairing with a variety of foods. From grilled meats to salads, I've found that it can compliment almost any dish.
And while rosé has become my go-to summertime wine, this Kale Caesar Salad with Chicken has become my go-to salad this summer. And the two go perfectly together!
Recently I picked up a bottle of this Rosato Toscana from Santa Cristina. It especially peaked my interest since it's a rosé made in Italy, and I figured it would fit with the theme of my Italian caesar salad perfectly.
Santa Cristina makes Italy's top selling red wine, and has been producing wine in Italy for more than 65 years. But I hadn't yet tried their rosé until I paired it with this salad. With aromas of strawberry, stonefruit and tart cherries, but with a soft finish, it was the perfect balance to the salty acidity in the dressing and the creamy parmesan cheese.
Are you a rosé lover? If so, I definitely suggest trying out a bottle of Santa Cristina for yourself! And then, be sure to make this amazing Kale Caesar Salad with Chicken to go alongside it.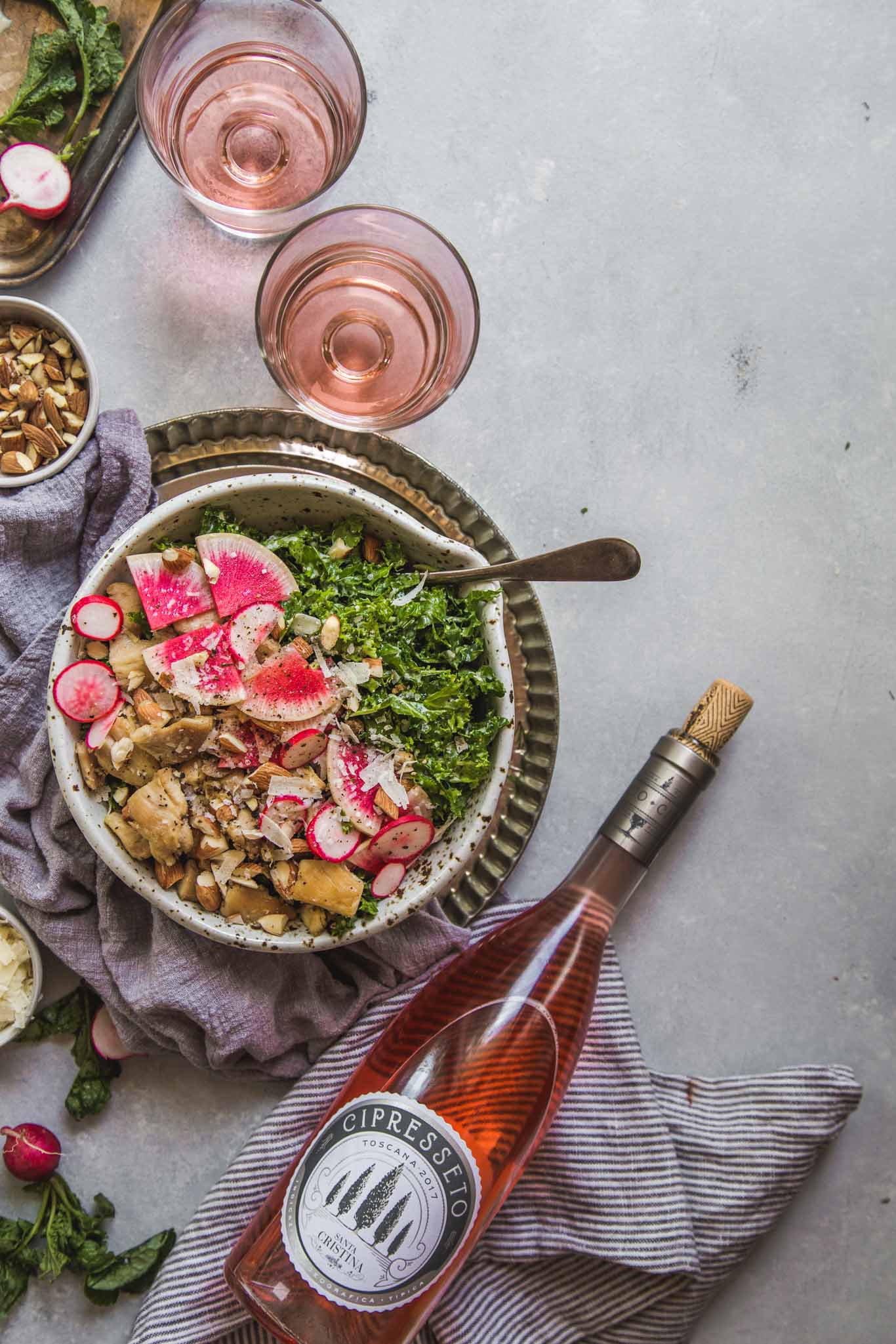 Here's why I love this salad so much:
First, I love that the chicken is just lightly breaded, and then quick fried.
It's juicy and tender, and those little golden bits are almost like chicken croutons or little chicken nuggets. Honestly, it's a miracle that any of them even find their way onto my salad, because I tend to like snacking on them straight out of the pan…
And second, those gorgeous watermelon radish slices that make it this Kale Caesar Salad just so irresistibly pretty.
I'm constantly on the lookout for watermelon radishes. They're so pretty with their green skins and bright pink interiors. Unfortunately, I'm not always lucky enough to find them. So, I'll often use the regular variety in this salad too.
I find that the watermelon radishes are much larger in size. So, while this recipe calls for six radishes, if you're using the watermelon radishes, you'll only need about two. I used a combination of both on this particular day and I used three regular radishes and one watermelon radish.
But regardless of which radish variety you use, the key here is quick-pickling them. A quick 10-minute pickling in a blend of red wine vinegar and olive oil makes them really pop against the creamy caesar dressing. They add a nice bit of acidity and crunch to the salad.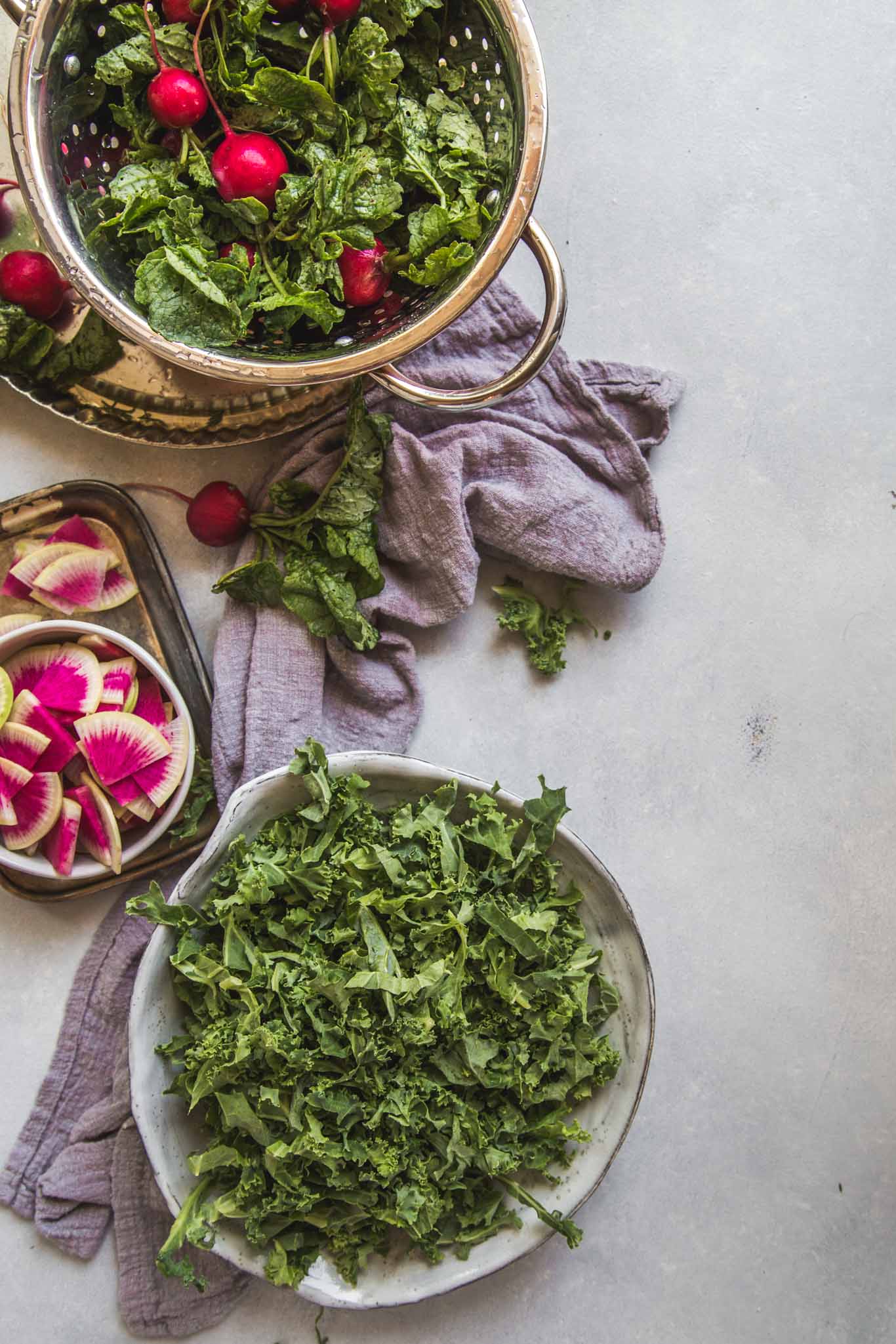 The final star of this Kale Caesar Salad is the dressing.
I'll call the dressing for this salad "caesar-like" because it's not really traditional in that it doesn't have lemon juice or anchovies. Instead, this dressing can easily be made with ingredients you probably already have on hand – Garlic, red wine vinegar, olive oil and mayonnaise.
It's creamy and tangy with a nice pungent bite from the garlic. I've even made this salad with just the kale and dressing – It's flavorful enough all on its own, without any additional fancy ingredients – It's simple, but really delicious.
See Also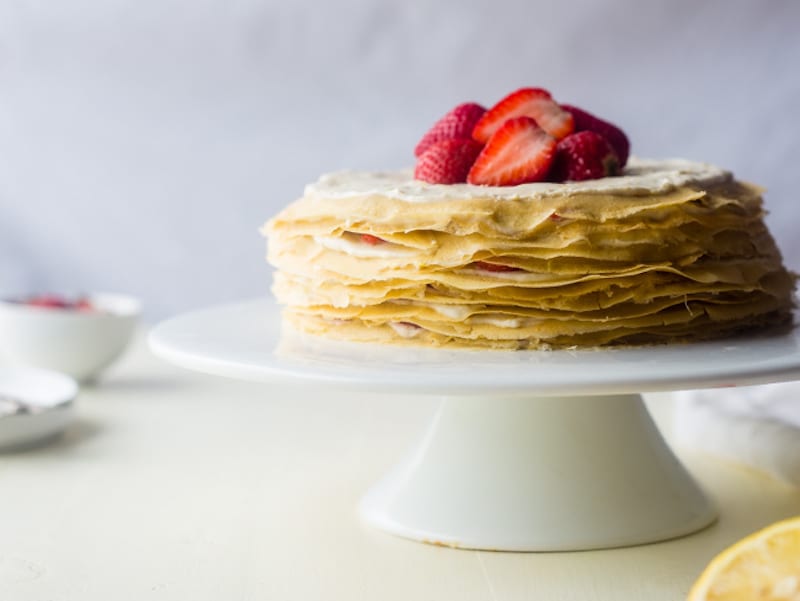 But only if you take one final step…
Massage the kale.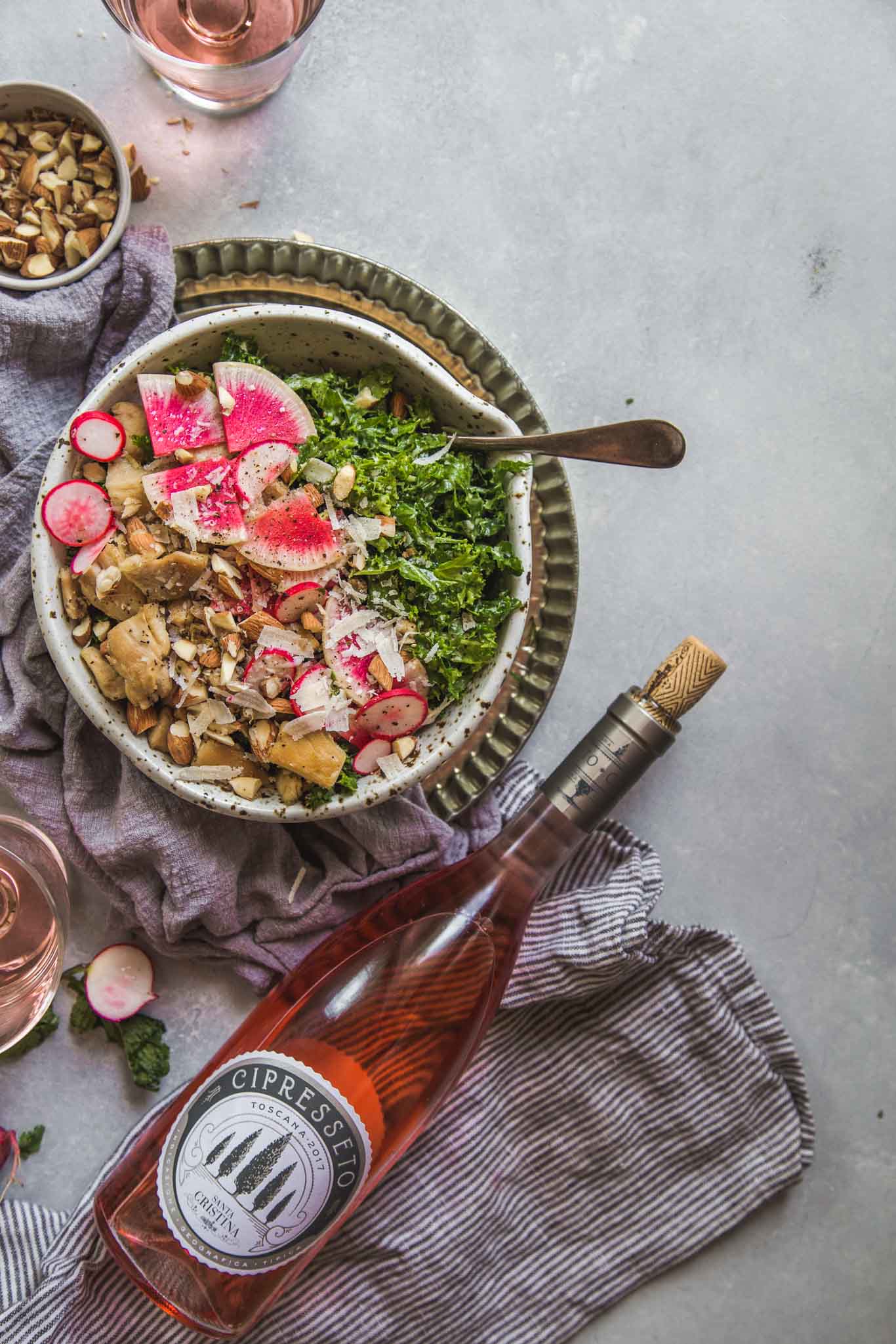 I always feel a little guilty when I make this salad. First, because Rick doesn't like mayonnaise, but he loves this salad (I haven't told him it's in there yet). And second, because the kale gets a really good massage… We're talking a deep, vigorous massage for at least a few minutes – Rick only gets one when we go to the spa for a couples massage.
The massaging of the kale is what makes it nice and tender – It turns the kale from something you have to almost gnaw at, into a more delicate texture, much more similar to traditional lettuce, and all those flavors from the dressing really get worked into every little crevice, ensuring that each bite you take is super flavorful.
As an added bonus, that olive oil and mayonnaise really gives your hands a nice moisturizing. Again, something that only happens at the spa…
To finish things off, I gave these Kale Caesar Salads a sprinkling of chopped almonds and a little extra parmesan cheese. The result is a crunchy, creamy, tangy salad that's so good, you'll want to eat it for both dinner tonight and lunch the next day.
The good thing is that it is a possibility because the kale holds up really nicely for a couple days, it doesn't get soggy like lettuce or spinach. I always like to make a bit extra just for that reason.
Print

Tuscan Kale Caesar Salad with Italian Rosato Toscana Wine
---
Author:

Erin Rebecca

Total Time:

30 minutes

Yield:

4

servings

1

x
PICKLED RADISHES:
6

radishes thinly sliced

2 Tablespoons

red wine vinegar

1 Tablespoon

extra virgin olive oil

4 Tablespoons

almonds chopped
CAESAR DRESSING:
1/3 cup

mayonnaise

2 ½ Tablespoons

red wine vinegar

2 Tablespoons

extra virgin olive oil

2

cloves garlic finely minced or zested

1/2 teaspoon

black pepper

½ cup

grated parmesan divided
KALE SALAD:
2

bunches kale tough stems removed and roughly chopped

6

chicken thighs boneless and skinless

4 Tablespoons

flour
Olive oil
Salt and pepper
---
Instructions
In a bowl, combine the radishes, vinegar and olive oil. Season with salt and pepper and toss to coat. Let marinate for at least 10 minutes.
In a separate bowl, combine mayonnaise, vinegar, olive oil, garlic, black pepper and half of the parmesan cheese. Whisk to combine.
In a large bowl, combine the kale and dressing. Using your hands, firmly massage the kale for 3-4 minutes, until tenderized slightly. Season with salt and pepper, to taste. Set aside.
Cut the chicken into 1-inch pieces and place in a large Ziploc bag along with the flour and a pinch of salt and pepper. Seal the bag and shake to coat the chicken pieces evenly.
In a large nonstick pan, heat a thin layer of oil on medium-high heat until hot. Add the chicken in a single layer and cook, turning occasionally, until golden and cooked through, 8-10 minutes. Transfer to a paper towel lined plate.
To the bowl of dressed kale, add the cooked chicken, marinated radishes (drained), almonds and remaining cheese. Toss gently to combine and serve.
Notes
Inspired by a recipe from Blue Apron
Prep Time:

10 minutes

Cook Time:

20 minutes

Category:

Main
Erin Rebecca
I'm Erin - a self-taught weeknight cook. I occasionally like to delve into the more complicated recipes, like homemade pasta, Cioppino, and boeuf bourguignon. But for the most part, I work full-time, come home, pour a glass of vino and start cooking away.