This perfectly cooked egg adds another incredible layer to the garlic-chive yogurt and Aleppo chili butter to create an out of this world dip.
By Danguole Lekaviciute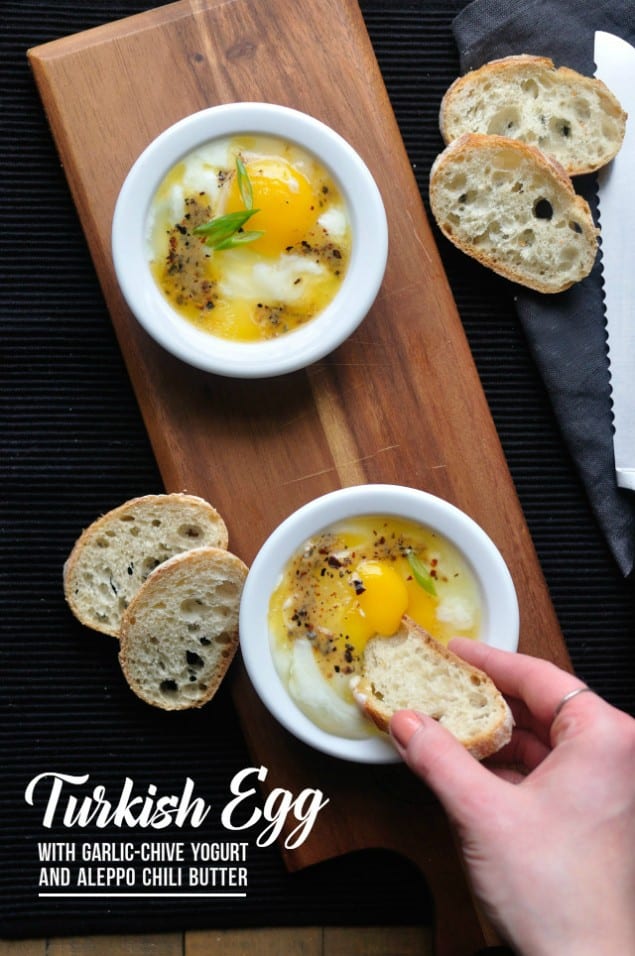 We all know how to cook an egg, but for being such a universal skill, it's pretty difficult to do well. The very concept of non-runny whites and so-very-runny yolks, while utterly delicious, seems to go against everything nature (and chickens, maybe) intended. Then there are omelets: A perfect, custardy omelet, glistening  and evenly yellow without a single browned spot, attempted by many, achieved by few. It's not child's play, and if you can pull off a perfect omelet on the regular, I hate you in the friendliest, most loving way possible. (Also, apologies to any child-aged omelet prodigies out there. Carry on with your precocious selves, and stay in school, yeah?)
So what exactly are we doing here, today? Well.  A very, very softly cooked egg, on a creamy pillow of savory chive-dotted yogurt, topped with spicy Aleppo chili butter, and served with a slice of baguette (the only utensil you need). It's a  favorite of mine, and in a way, this speaks volumes about the art of cooking. Do a simple thing extraordinarily well, and people will lose their minds over it.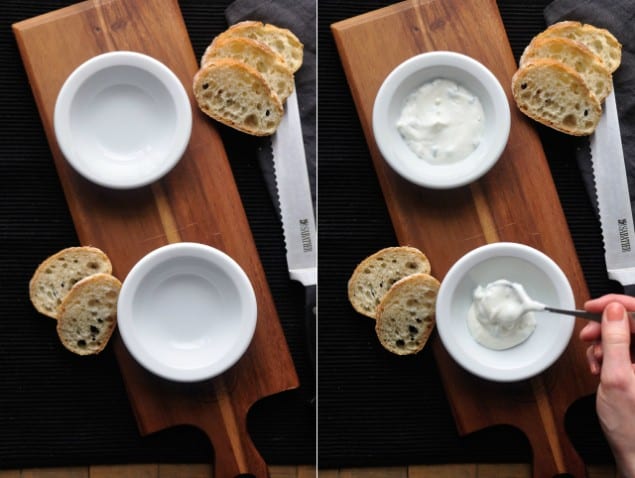 The professionals usually cook these type of eggs in a sous vide precision cooker, at a very specific temperature for a very specific time. Naturally, the home cook doesn't normally have this kind of technology. It's true enough that there are some things you should leave to the professionals, but I have a thing for impractical challenges, you see.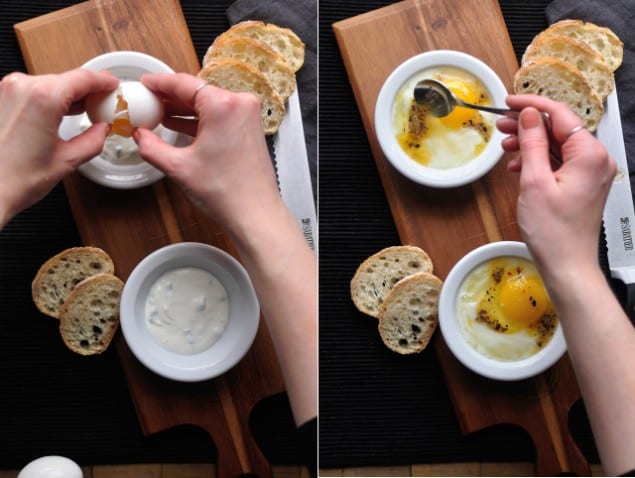 I boiled (or rather, hot-tubbed, as the temperature was nowhere near boiling) some eggs in a temperature range kept constant by scooping out hot water and adding cold. It took many experiments, leisurely spread over the course of a few months.  Eventually, I zeroed in on 25 minutes at 140-150 degrees. Obviously, you'd need a sous vide precision cooker to really nail this every time. Controlling temperature for 25 minutes is actually no easy feat, and your results will vary depending on the freshness of the eggs, too. What I'm saying is: It may take a few tries to figure out what works for you. As for my method, 60%* of the time, it works all the time.
(*Actually higher, but, ya know. Jokes, etc.)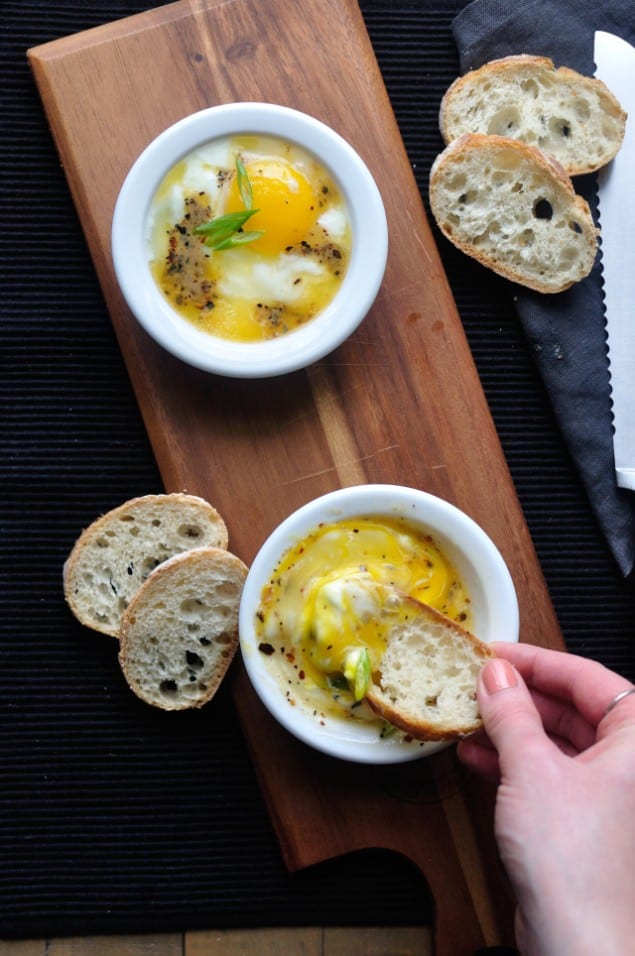 See Also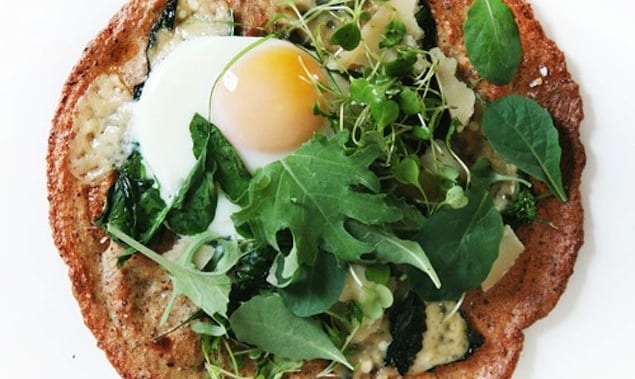 The hot butter is also no afterthought — should there be any uncooked egg white bits, it'll finish the job. I love me some functional butter.
And that's really it.
Cheers,
-d.
Turkish Egg Dip
This perfectly cooked egg adds another incredible layer to the garlic-chive yogurt and Aleppo chili butter to create an out of this world dip.
Ingredients
2

eggs

1/2

cup

Greek yogurt

at room temperature

1

teaspoon

minced fresh chives

1/2

clove

garlic

minced

2

tablespoons

butter

1/2

teaspoon

dried Aleppo chili pepper

Kosher salt to taste

Baguette slices

for serving
Instructions
Mix together the Greek yogurt, chives, and garlic. Season to taste with salt, divide between two small ramekins and set aside.

Fill a medium saucepan 3/4 full with water and insert an instant-read thermometer. Bring temperature to 145 degrees Fahrenheit, then carefully submerge the eggs into the water and start a timer for 25 minutes. Keep a mug of cold water nearby — you will constantly be adding cold water and removing warm water from the saucepan. As soon as the temperature hits 150 degrees, add a bit of cold water. Ladle out hot water as necessary to make room for cold water. Keep cooking the eggs this way, constantly keeping the temperature between 140 and 150 degrees Fahrenheit.

When eggs are nearly done, heat up the butter and Aleppo chili in a microwave or on the stovetop.

When timer goes off, crack the eggs carefully onto the Greek yogurt and spoon hot chili butter over the top. Serve immediately alongside baguette slices. Serves 2.
Danguole Lekaviciute
A Portland-based eater, drinker, food blogger, writer, and photographer with capital-f Feelings about good, adventurous food, interesting cocktails, stinky cheeses, hot sauce, whiskey, and carbs. I'm trying really hard to like mushrooms. My food blog is 10th Kitchen, where you will find an inordinate amount of ice cream recipes. The heart wants what it wants!