Amber Massey decides to create a healthier Sloppy Joe, featuring veggies and turkey.
By Amber Massey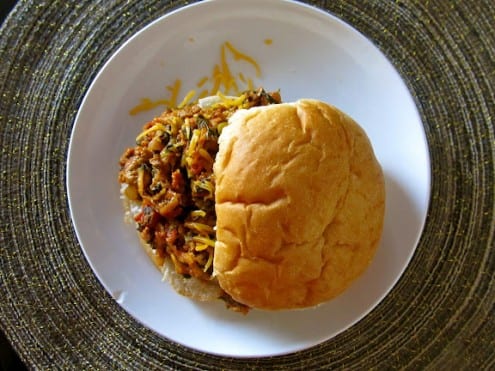 Sloppy Joes aren't a regular in our house. Not for any particular reason- I've made them a couple times.. or just once.  I think I have refrained from making them at home beause my Fireman has them frequently at the fire station and every time he mentions how miserable they make him.
Now.  My sweet darling– do they make you miserable because of the fact that:
A.) over eat..
B.) the sauce comes out of a can..
or C.) (unless you happen to be doing the cooking that night) the heart of the Joe is 80/20 ground chuck…?
Whatever the issue is with the Sloppy Joes a la Fire Station, he pretty much can count on being close to the bathroom for the next two days or so.  Sorry, Fireman.  TMI, I think.  But, I feel it necessary to disclose- really helps my CB readers understand my case to why I don't make Sloppy Joes often.. or ever.  
I'm scared of them. So – how do I go about making a Sloppy Joe healthier, leaner, and especially with a non-tummy-grumbling sauce? 
Healthier.  I'm totally adding some summer veggies. Fiber, vitamins and minerals to boot. So easy to throw in there, and particularly affordable this time of year. With the temps reaching over 100 these days, a traditional Joe may be too heavy in my book. Zucchini, sweet onion, and spinach are some easy fillers.
Leaner.  Skip the ground chuck and go for the sirloin, ground chicken breast, or how about lean ground turkey?  I'll do that. 
Now for that dadgum sauce. The most nerve racking part, I say. Well, easy – skip the canned variety. 
But what goes into a traditional Sloppy Joe sauce? Not quite rocket science – but I did my research. I learned that the sauce is typically tomato based, but I added a twist and subbed out crushed fire roasted tomatoes and a kick of heat from red pepper flake. Since becoming pregnant its like I want that kick even more so than ever. I like the spice. 
To round out my sauce I added in some brown sugar and Worcestershire sauce.  I intended on cutting the sweetness of the sugar with red wine vinegar, but realized I was out. Apple cider vinegar worked well as a last minute substitute.
After making this, and enjoying my first few bites beyond expectations, I halfway kicked myself for not figuring this out sooner. 
First of all. If you want easy – this is your meal.  I actually timed my process expecting it to take a bit longer, but I was done from start to finish in about 15 minutes. 
I must say, my Sloppy Joe phobia is cured.  I have a feeling this will go into a regular rotation due to the simple fact that these two babies in my belly allow me little energy in the evenings – and the words 'whip together' have been  practically thrown out of my vocabulary. 
Makes me tired.
Print
Turkey & Veggies Sloppy Joes
---
1

large yellow onion, chopped (about

1 1/2 cups

)

3

garlic cloves, minced

1

(10-ounce) package frozen chopped spinach, drained and squeezed dry

1

(20-ounce) container lean ground turkey (93/7) (such as Jennie-O)

4 tablespoons

tomato paste

1

(14.5-ounce) can fire roasted crusted tomatoes (such as Muir Glen Organics)

1

large zucchini, grated

1 tablespoon

red wine vinegar (apple cider vinegar works, too!)

1 tablespoon

dark brown sugar

1 tablespoon

Worcestershire sauce

1/4 teaspoon

crushed red pepper flake

1/2 teaspoon

kosher salt

1/2 teaspoon

black pepper

1 cup

shredded reduced fat sharp cheddar cheese

8

whole wheat hamburger buns, split
---
Instructions
In a large non-stick skillet, heat olive oil or medium high heat.
Add in onion and spinach, saute until onion is just softened, anout 4 minutes.
Crumble in turkey, garlic, and tomato paste- stirring to combine.
Next, stir in crushed tomatoes, grated zucchini, vinegar, brown sugar, Worcestershire sauce, red pepper, salt, and pepper.
Bring to a low boil; cover and reduce heat- simmer for 10 minutes, stirring occasionally.
Spoon 3/4 cup turkey mixture onto each bun half; top with 2 tablespoons cheese.
Enjoy open-faced or top with the other half of the bun.
Nutrition
Serving Size:

1 sloppy joe (bun, 3/4 cup turkey mixture, & 2 T cheese

Calories:

320

Fat:

9 g

Carbohydrates:

34 g

Fiber:

5 g

Protein:

24 g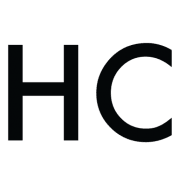 Amber Massey
Amber Massey is a southern-raised, food-loving, registered dietitian focusing on the culinary world of dietetics. Personal chef, author of her blog, Chocolate Broccoli, and accidental lover of food photography, Amber takes pride in healthy recipe development as well as culinary and nutrition instruction through personal and public cooking classes, public speaking, and media outlets. Amber can be seen in print for her nutrition expertise, as well as multiple magazine publications for her culinary creations, including Taste of Home, Healthy Cooking, Simple and Delicious, and Country Women's Magazine.