These delicious carrot and pea samosas are quite easy to make with the help of a pasta machine.
By Priya Mahadevan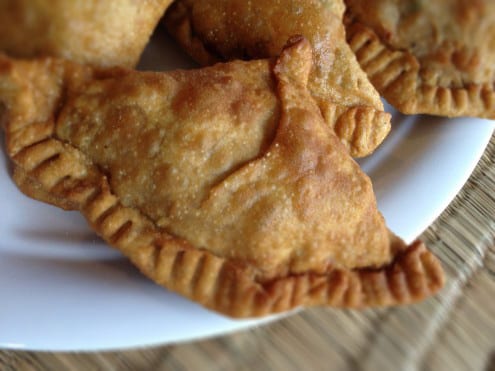 Poorimosas - Carrot and Pea Samosas
This title is based purely on how this dish tasted - I have, as some of you may know, bought a pasta maker and I've been trying different kind of things with it - yes, like a child with a new toy, I have been playing with it quite a bit. This machine is also perfect for making samosas - Since I used whole wheat for this preparation, the cover of the samosa ended up tasting a lot like pooris - and it was like we were having stuffed pooris which my daughter cleverly called Poorimosas - I loved the name.
Ingredients
Ingredients for cover shell
2 cups of chakki atta
1 handful of sooji or cream of wheat
1 cup of very warm water
a dash of salt (optional)
Oil for frying
For the stuffing
Carrots
Peas
onions
green chilies
1 cup of grated paneer
Instructions
Add the ingredients for the dough
Knead and make a firm dough, like you would for chappatis (indian flat bread) or Pizza.
This dough does not require to rise - and actually works better when rolled out fresh
I used my KitchenAid Pasta maker to make flat lasagnas. This can be accomplished just as well by rolling the dough out on a flat surface, dusted with flour
I started at one end by placing the stuffing and then overlapping the corners to form the triangle.
Then cut at the bottom giving enough room to roll it in and make a wedge. I flattened and patterned it with a fork.
Then heat up the oil and fry to a golden brown
Notes
Make sure the ends are well pressed it and fully overlapping - else you could have the stuffing burst out, causing a mess by splattering hot oil, not to mention physical harm should your hand be close enough - It is extremely safe if instructions are followed.