Tuna and Cantaloupe Sashimi over Ponzu Soba Noodles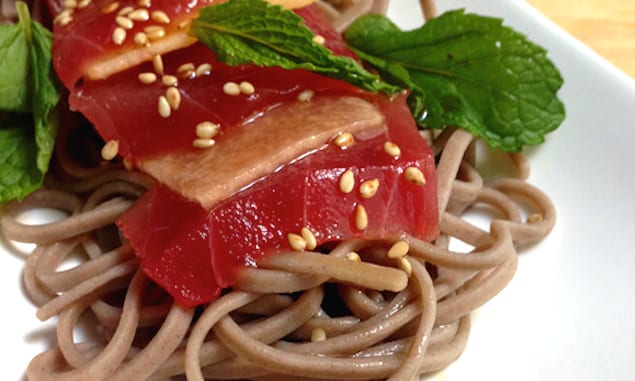 Citrusy ponzu sauce and sesame seeds lay over thinly slices ahi and melon sashimi. A fresh, light meal made complete with buckwheat soba noodles.
By Tian Lee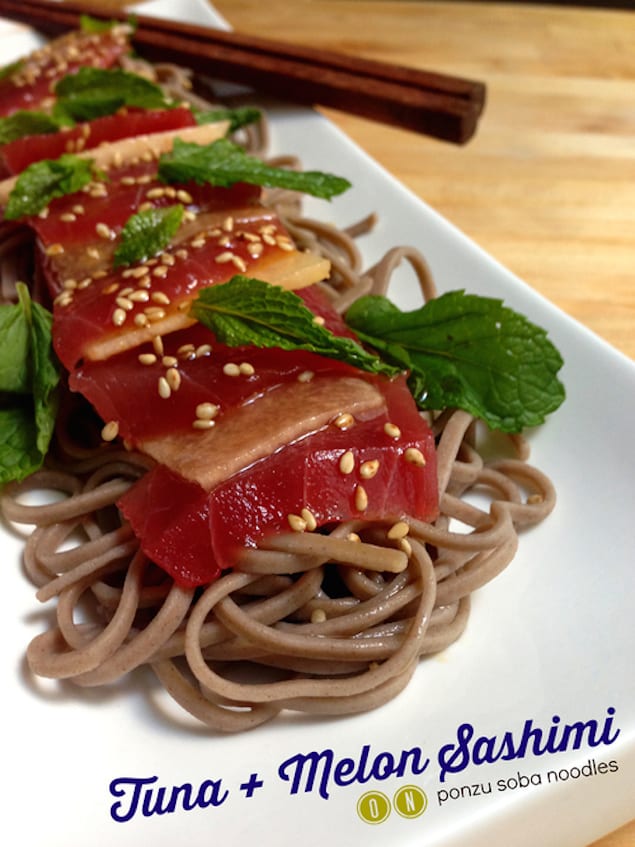 Even though I am not gluten-free…I do enjoy delicious healthy meals. If you've heard of soba, you've probably heard that it's pretty good for you. Why? Apparently it's made out of buckwheat, and the Japanese eat it. Everyone knows that if there's any one ethnic group whose figured out the key to living a long healthy long life, it's the Japanese! I mean, have you seen Jiro Dreams of Sushi? Or heard of the world famous "Okinawan Diet" – a diet from a Japanese region that is known for having the most people live to 100+. Somewhere between maintaining a good quality of life, living with purpose, and eating the right foods, I think they've got something figured out for sure.
So when you're trying to buy soba, and you care about getting your whole grains, and also eating a gluten-free diet, make sure the back of the package in the ingredient list names "Buckwheat flour" ONLY. The amount of buckwheat in soba varies from 40% to 100% and it gives the noodles their characteristic dark color and rich, nutty taste. So if the list also contains "wheat flour" in addition to buckwheat… you'll know it will contain some percentage of regular processed wheat flour, making it not gluten-free, and also not as nutritious as if it were fully 100% buckwheat. The noodles also cook up firmer and more al dente when it's 100% buckwheat, so I personally spring for the more nutrient-dense version (but fair warning: it's pricier than the hybrid version).

Tuna and Cantaloupe Sashimi over Ponzu Soba Noodles
Citrusy ponzu sauce and sesame seeds lay over thinly slices ahi and melon sashimi. A fresh, light meal made complete with buckwheat soba noodles.
Ingredients
2.5 ounces fresh maguro or ahi tuna (make sure this is 'Sushi Grade,' meaning it is ok to eat it raw. You can typically find this at your local Japanese market or the seafood section of your supermarket)
1 piece of ripe cantaloupe (3 inch x 3 inches)
Fresh mint (the baby leaves)
2.5 ounces soba (1/3 of the bag shown above)
2 tablespoons ponzu sauce
Drizzle of sesame oil
Sesame seeds (garnish, optional)
Instructions
Take your sharp butcher knife to the tuna and slice each piece as thinly as possible without breaking it - ¼ inch (width) rectangular pieces do well.
Slice your cantaloupe to a similar thickness (1/4 inch)
Boil a pot of water and put 2-3 ounces of soba into the pot or (1/3 package); boil until it texture is nutty, soft but still firm (~5-6 minutes). Keep an eye on on it though. When ready, put noodles in colander and run it under cold water to stop the cooking process. Drain and set aside.
Arrange soba noodles on plate. On top of the noodles, arrange maguro tuna slices, melon slices, alternating each component.
Place small mint leaves on top.
Drizzle with ponzu & sesame oil. Garnish with toasted sesame seeds if you'd like)
Tian Lee
I'm author of The Juicy Peach Diaries. I believe that being healthy can taste delicious and be awesome. I am not strictly gluten-free, diary-free, or meat-free. I believe we can get all of the nutrients we need from a variety of foods, and that life is all about joy & balance. When I'm not blogging, you'll likely find me on a kayak, in new countries & tasting foods I've never had, or hand-picking fruit on a farm.