The creaminess of the risotto is complimented by the crispness of the roasted carrots, made even tastier with porcini salt and the aroma of truffles.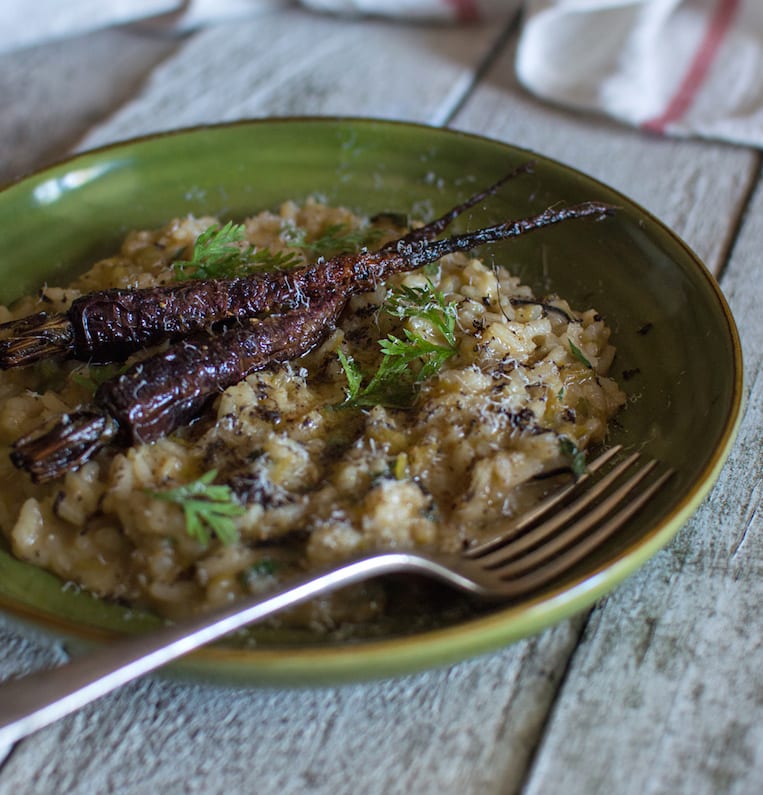 Having a black truffle and not using its aromas for other dishes can almost be considered a waste. Yes you can grate, shred and shave it over and into a dish, but allowing it to sit with fresh eggs or rice is another way to bring that glorious flavour to your plate.
I did consider the egg method but I decided to bury the fresh truffle in a sealed jar of arborio rice for several days. The rice actually mimics the soil that the truffle came from, slowing down the drying out process and, at the same time, infusing the rice with its aroma.
For the risotto itself, I've kept it quite simple. I could have introduced a variety of mushrooms, even pancetta, but I wanted the risotto to be all about that gorgeous little nugget of black fungus.
Ok, perhaps the duck fat roasted heirloom carrots I garnished it with brought some root vegetable love as well – made even tastier with a dusting of porcini salt I whipped up in the spice grinder.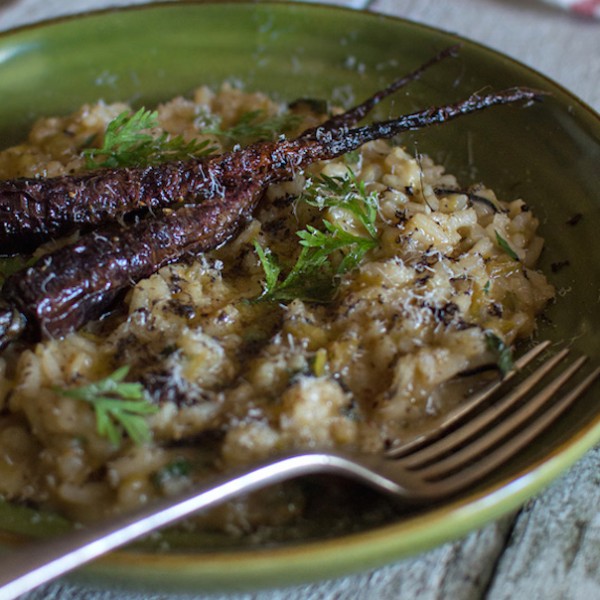 John Bek
Ingredients
Roasted Carrots
160

g

5.6 ounces baby carrots, washed & unpeeled

1½

tbsp

duck fat

Freshly milled black pepper

Porcini salt*
Risotto
1

litre

4.2 cups vegetable stock

2

tbsp

butter

1

tbsp

olive oil

1

leek

100 g thinly sliced

2

cloves

garlic

finely grated

1

cup

truffle infused arborio rice

? cup white wine

15

g

1/2 ounce Pecorino, finely grated

5

g

1/4 ounce truffle, thinly sliced – plus extra to garnish

1

tbsp

butter

¼

cup

carrot leaves

roughly chopped

Virgin olive oil

to garnish
Instructions
Roasted Carrots
Preheat oven to 200°C (390 F)

Place the duck fat into an ovenproof dish big enough to hold the carrots in a single layer. Place the dish into the oven for 2 minutes to melt the fat. Remove the dish from the oven, place the carrots into the dish and turn to coat in the fat. Season with black pepper and roast in the oven for approximately 40 minutes, turning once during cooking.
Risotto
Pour the stock into a small saucepan and heat to a very gently simmer.

Heat the butter and olive oil in a large saucepan or skillet over medium heat. Add the leek and garlic and sauté for 3 minutes, or until soft. Add the rice and sauté for 3 minutes, stirring frequently. Pour in the wine and stir until all of the liquid has been absorbed.

Add a ladle (or ¾ cup) of the hot stock to the rice and stir continuously until most of the liquid has been absorbed. Continue adding the stock one ladle at a time, allowing each to be absorbed by the rice, as you continually stir. When all of the stock is used, turn off heat and add the Pecorino, truffle, butter and carrot leaves. Stir to combine.

Garnish with the roasted carrots seasoned with the porcini salt. Finely grate over a little more Pecorino, truffle and drizzle over some virgin olive oil. Serve immediately.
Notes
* To make the porcini salt – place 15 g dried porcini mushrooms and ¼ cup sea salt into a dry spice grinder. Pulse until very fine. Store in a jar.
John Bek
John Bek is a trained chef that decided to throw in his professional apron and move into retail management. He's the guy behind heneedsfood.com - a platform that showcases recipes that cover the likes of everyday cooking, use of native Australian ingredients, as well as Croatian creations that come from his heritage. John also writes about where he's travelled around the world as well as any farmers markets he's visited.