New year, new menu, same culture – the neighborhood favorite Tribeca's Kitchen returns.
After a long closing due to the pandemic, and the sad passing of its founding father last year, son Andy Koutsoudakis Jr takes reign as Tribeca's Kitchen's new owner. Working to persevere his father's legacy, operating safely and welcoming guests to a renewed yet familiar dining experience, Koutsoudakis Jr. doesn't do it alone. He brings a team who shares his vision on board to aid in rebuilding the great dining culture NYC is infamous for.
Tribeca's Kitchen's revival starts with its Executive Chef Jack Logue. A culinary talent who worked with Chef Carla Aradelli's Michelin Starred Riva and Daniel Boulud, helping the team elevate to from 2 to 3 Michelin star. Then later took the helm as the Executive Chef at Betony and The Clocktower. Now he heads Tribeca's Kitchen where he works to develop his team and the diner's exquisite menu.
Following Executive Chef Logue, another great addition to the eatery's talent roster includes Beverage Director Tom Garvin. The creative mind behind the drinks Leaves in the Hail. Recommended having when the weather transitions from Winter to Spring. Or the Belly Warmer, where every sip is like "licking a thousand oranges," says Garvin.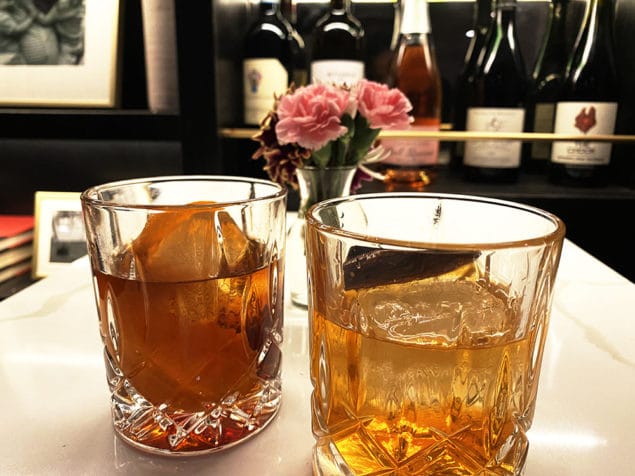 Located on the corner of Church and Duane street the diner is centered around its core values that include philoxenia, impeccability, and growth. Chef Logue says his goal is to revitalize the food business and views dining as a way for people to escape. Hoping Tribeca's Kitchen can become a destination where people can feel togetherness and normalcy again.
Tribeca's Kitchen Menu
Since reopening, the creative menu offers both brunch and dinner options. The dinner menu is divided into four sections: to start, for sharing, mains, sides, sweets. With smaller dishes competing with larger dishes in terms of what tastes the best. Among the offerings the dinner menu highlights include: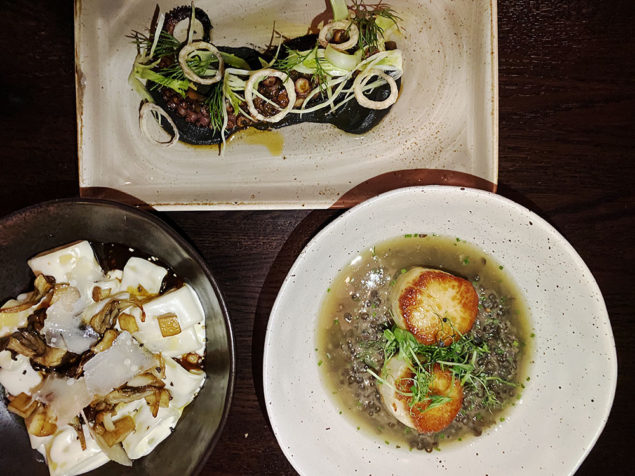 Tavern Mac and cheese (to start) — an artsy display of al dente creamy calamarata scattered with braised ox cheek and royal trumpet mushrooms. The look is enchanting enough but the flavor profile will leave you speechless. Every bite was enjoyable enough to induce a couple of "mmmm" throughout the tasting.
Another prize on the menu is the Roasted Maine Scallops (mains). While scallops are wonderful on their own, these cling to the savory flavors of ham hock broth and lentils. The addition of cheddar boosts the dishes' comfort level.
Of all the dinner items offered the Tagliatelle is a must (mains). While the dish includes spicy lobster sauce it is not heated at all. The briny slightly sweet sea urchin sits on top of a pile of tagliatelle slathered with a creamy lobster sauce. It offered just a hint of sweetness with every bite and the use of bottarga over grated cheese brought this dish all together.
A noteworthy mention is the Toasted Ancient Grains salad – a hearty bed of grains, puffed rice with sprouts and tomatoes tucked in between. It's the type of dish to start with if you plan on ordering the Tagliatelle or the Tavern Mac and Cheese.
Another highlight and not listed on the menu is Chef's Logue's Tea Surprise. A gesture encompassing the contemporary eatery's 

philoxenia 

value. Chef Logue may surprise guests with a cup of tea, that you may expect to be English Breakfast. In fact, this is along the lines of miso soup and is great to dunk the complimentary focaccia bread into.
Despite the tragic loss of its owner and closing due to the pandemic, Tribeca's Kitchen perseveres. Entering a new chapter Tribeca's Kitchen reminds us for a brief moment what life was like before quarantine life.
Featured image courtesy Tribeca's Kitchen