A Bengali meal typically starts with something bitter. And this is in an accordance with ancient Ayurvedic practices. Neem leaves are delightfully bitter and make for a delicious summer eggplant dish.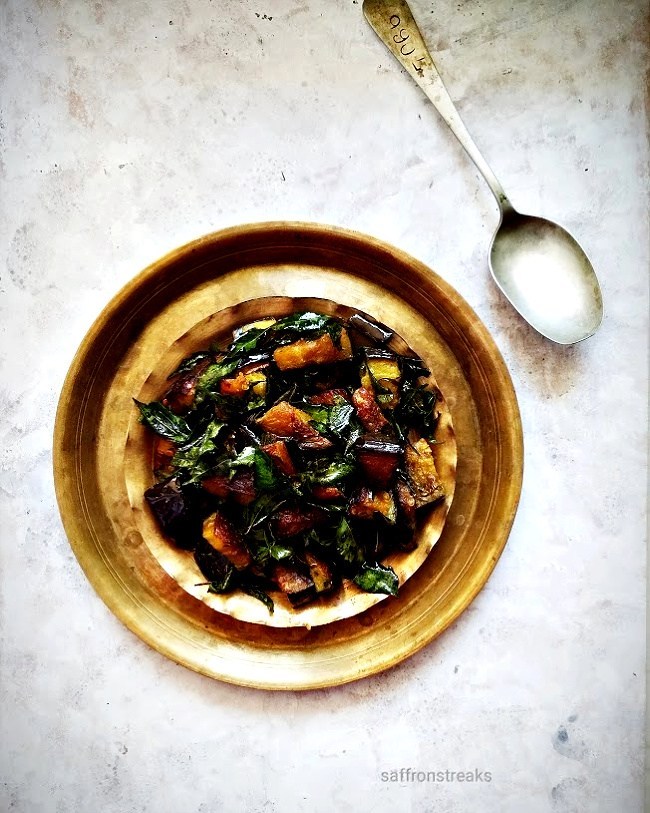 On much popular demand (as requested by many on Instagram), the summer food series is back this year with rural flavours of Bengal. These posts will give you a glimpse of rural Bengal and the taste that we urbanites are missing or lost today amidst the chaos of imported flavours.
Starting today with Neem Begun, the much famed bitter stories of Bengali's meal platter.
Neem Begun , an old school traditional Bengali dish, very ancient and very ethnic. A true spring detox recipe to cleanse out the system. Neem pata diye begun bhaja is nothing but crispy fried neem leaves with cubed brinjals. A Bengali meal typically starts with something bitter. And this is in an accordance with ancient Ayurvedic practices. A typical meal should starts with something bitter, followed by other tastes of spicy, pungent, astringent, sour and should ends on a sweet note. And our love for bitter food does not starts and ends with bitter gourd only. To begin with we have neem leaves and many more bitter flower and leaves that we regularly use in our daily meals.
Neem or margosa is known for it's medicinal properties since ancient times and is loaded with antiviral, anti microbial and anti oxidant properties that can boost our immune systems. So, eating neem-begun during the month of April-May highlights that very thought and philosophy of clean eating in accordance with Ayurvedic practices.
What kind of neem leaves are required– this dish is to be prepared fresh with tender neem leaves only, the one with slight reddish or pinkish tinge to it.
How to use the neem leaves in the recipe – neem leaves are usually fried here. Some deep fried them in the oil. I follows a simple different way of doing it. In a flat pan, smear it with oil, at least 2tbsp oil for a bunch of neem leaves ( 8-10 sprigs). Once the oil is hot enough, switch off the gas, toss the neem leaves in it and leave for few minutes. Tossing in between, till the leaves are all crispy.
Why eggplants – eggplants or brinjals are considered as cooling food, full of dietary fiber and low calorie but high nutritive value. And it taste way better with brinjals than with any other vegetables. In fact, I think the super bitterness of neem leaves are beautifully complemented by fried cubed eggplants.
But, Bong's undying love for potatoes has invented another similar recipe – neem aloo bhate. Whereas crispy neem leaves are crumbled and then sprinkled on mashed potatoes.
Mashed potatoes with bitter neem leaves ? Is something to ponder upon for those who are not familiar with this pairing. But to us, it's the ultimate summer comfort food.
Print

Traditional Bengali Summer Eggplant with Fried Neem Leaves
---
Author:

Sukanya Ghosh

Total Time:

30 minutes
Neem Leaves (Tender : 1 bunch (8-10 sprigs))
Eggplants / brinjals (cut into small cubes – 2 cups)
Salt and turmeric as required
Mustard oil for frying
---
Instructions
Wash and pat dry the tender neem leaves.
In a pan (preferably metal pan) smear it with 2 tbsp oil and warm it up. Once the oil is sufficiently hot, switch off the gas.
Spread the neem leaves evenly in the pan. Toss them few times to coat it well with the oil.
Leave it like that for 2-3 minutes. Toss it again and leave it again for 2-3 minutes. Do this till the neem leaves are fried and become crispy. If requires, instead of completely switching off the pan, you can keep the pan on lowest heat.
Neem leaves get burned easily. So do take care while frying or tossing them in hot oil.
Slot the neem leaves out of the pan and add some more oil in it.
Rub salt and turmeric over the cubed eggplants.
Fry them in hot oil till evenly browned and fried well.
Mix the fried neem leaves with the eggplants and serve warm with steamed rice.
Prep Time:

10 minutes

Cook Time:

20 minutes

Category:

Side
Sukanya Ghosh
Sukanya writes the blog Saffronstreaks, a food and travel blog where she experiments in the kitchen spiced up with interesting food stories and gourmet travelogues. She loves to cook with fresh produce, enjoy both spicy and sweet and her many dining out experiences become cherished memories. Sukanya is from India but now lives in North Carolina, USA.