Even if Italian basil isn't exactly common in Indian cuisine, SriVani Ganti successfully incorporates into this tomato chutney.
By SriVani Ganti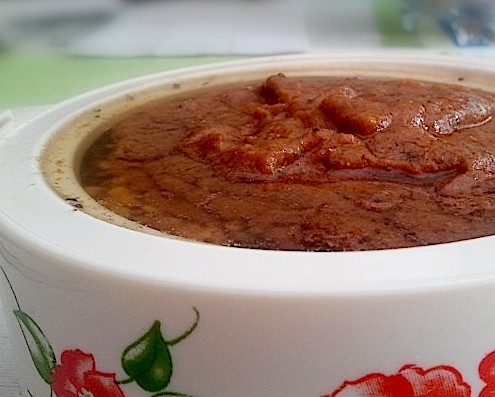 Tomato chutney is common in Indian cooking, but Italian basil is not. So I thought, why not combine both of them and create some magic!
How many of you are part of  a CSA, raise your hand? If you are kudos to you. My family and I are also part of a CSA and sometimes have too many vegetables to know what to do with. This week, we happily inherited some basil and weren't totally sure what to do with it. I thought would perhaps invent a chutney, where India meets Italy.

A great combination of Italian and Indian flavors
Ingredients
4 roma tomatoes
1 bunch of basil (stems included)
6 green chilies
3 tbs tamarind paste
1 tsp jaggery
2 tbs sesame oil (or canola)
Chutney Powder:
12 shelled pistachios
1 tbs cumin seeds
1 tbs coriander seeds
3 dry red chilies
½ tbs poppy seeds
Poppu Thadka
Mustard Seeds
Udad Dal
Chana Dal
Cumin Seeds
Hing powder
Instructions
Cut the tomatoes into a medium dice and roughly chop the basil
Heat the sesame oil in a medium size pan. Add the tomatoes, half of the basil, green chilies and 2 tbs tamarind paste.
While the tomatoes are cooking, add the ingredients for the chutney powder into a small pan and dry roast. Toast them until they are lightly browned.
Let the spices cool and then grind them into a fine powder.
Once the tomatoes are soft and sauce like, add the chutney powder and mix in. Add salt to taste.
Take the mixture off the heat and set a aside to cool for 5 minutes. Then place mixture into a blender.
Add 1 tbs of tamarind chutney, the rest of the basil and the jaggery powder. Then blend into a uniform mixture.
Once the chutney is blended, move it into a serving dish.
In a small pot, heat oil. When the oil is hot (and I mean hot) add the hing powder. When that sizzles, add the mustard seeds. When the seeds start to pop, add the rest of the poppu ingredients. Cook for 20 seconds and then add to the chutney. Mix.