This flavorful, toasted pudding is an easy sweet to keep in one's repertoire in case an unexpected guest were to ever drop in.
By Faith Gorsky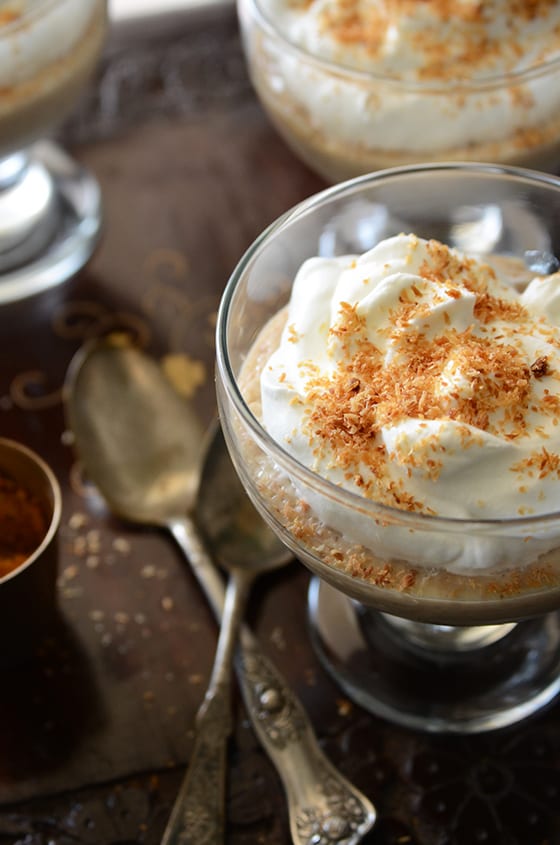 Toasted Coconut Cream Pudding
Ingredients
1½ cups (100 g) unsweetened, desiccated coconut
3 cups (710 ml) milk, divided
4 tablespoons cornstarch
5 tablespoons sugar
1 teaspoon vanilla extract
1 teaspoon coconut extract (or another 1 teaspoon vanilla extract)
½ cup (120 ml) heavy cream
1 tablespoon powdered sugar
Instructions
Preheat oven to 325F.
Spread the coconut out on a medium-sized baking sheet and toast until golden, about 8 to 10 minutes, stirring occasionally. Once toasted, transfer the coconut to a bowl to cool because it can scorch if you leave it on the hot tray; cool completely.
Measure out 4 tablespoons and set it aside for garnish.
Whisk together1/2 cup milk and the cornstarch in a small bowl and set aside.
Add the remaining 2½ cups milk and the sugar to a medium saucepan over medium heat. Bring to a simmer, stirring occasionally, and then once slowly simmering, whisk in the cornstarch/milk mix. Bring to a boil, whisking constantly, and then turn off the heat.
Whisk in the coconut (except the reserved 4 tablespoons for garnish), vanilla extract, and coconut extract.
Immediately pour the pudding into 4 individual bowls and cover the top of each with a piece of plastic wrap to prevent a "skin" from forming on top. Cool to room temperature, and then refrigerate to chill.
Right before serving, whip the cream and powdered sugar to soft peaks. Serve each pudding topped with whipped cream and the reserved toasted coconut.