Thyme, Pumpkin, and Potato Gratin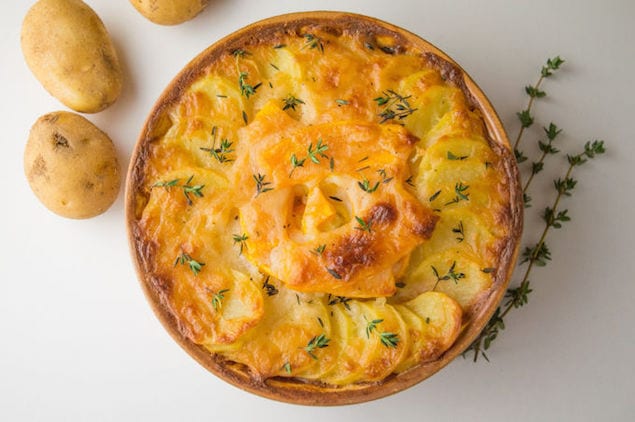 A take on the French gratin dauphinois, this dish is made with thinly sliced pumpkin and potatoes and baked with a rich béchamel and fresh thyme for a comforting autumn bite.
By Joana Oliveira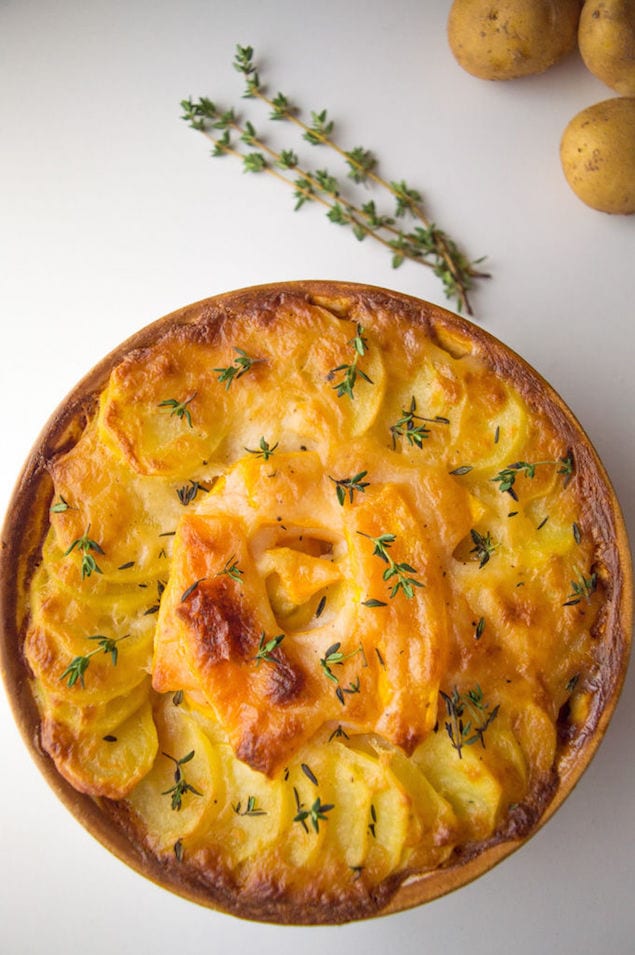 This recipe is inspired by the French Gratin Dauphinoise, typically made with thinly sliced and layered potatoes and cream. But the version I´ve created is instead made with the very famous French béchamel sauce.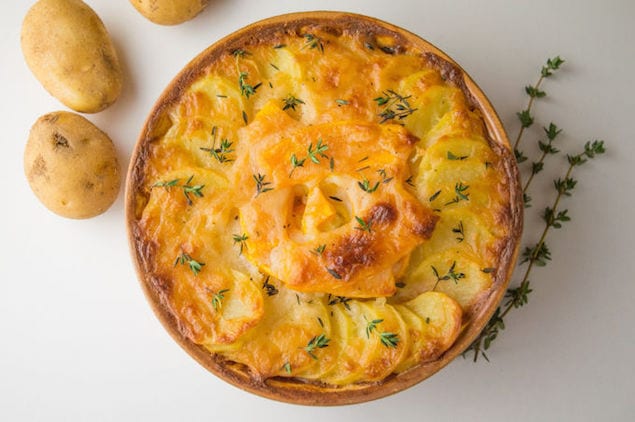 This potato and pumpkin gratin is the perfect autumn side dish and can also be served as a main dish. So comforting and yummy!

Thyme, Pumpkin, and Potato Gratin
A take on the French gratin dauphinois, this dish is made with thinly sliced pumpkin and potatoes with a rich béchamel and thyme for a comforting fall bite.
Ingredients
4 small / 244 gr. potatoes, cut in thin round slices
1 cup/ 120 gr. pumpkin, thinly sliced
2 tbsp lactose free butter
2 tbsp corn or potato starch
1 cup/ 200 ml lactose free milk
1½ tsp of salt
Pinch of nutmeg
Pinch of black pepper
Fresh thyme (optional)
Instructions
Start by placing the thinly sliced potatoes and pumpkin by layers in a gratin dish and set aside.
For the bechamel, use a medium saucepan to heat the butter over medium-low heat until melted. Add the corn starch and stir until smooth. Cook until the mixture turns light golden, about 5 minutes.
Meanwhile, heat the milk and add it to the butter mixture in three times, whisking continuously until very smooth. Bring to a boil. Cook 10 minutes, stirring constantly, then remove from heat. Season with salt, nutmeg and pepper, and pour it over the potatoes and pumpkin.
Preheat the oven to 350ºF/ 180ºC.
Transfer gratin dish to oven, and bake for 45 minutes to one hour.
Top with fresh thyme and serve.
Joana Oliveira
My name is Joana and I am a passionate foodie on a food sensitivities friendly diet. My Gut Feeling blog features mainly gluten free, dairy free and low FODMAP recipes. For more info please visit: