Made with apple slices, brown sugar, soy sauce, and cider, this chicken becomes tender, so flavorful, and the perfect fall dinner.
By Jocelyn Delk Adams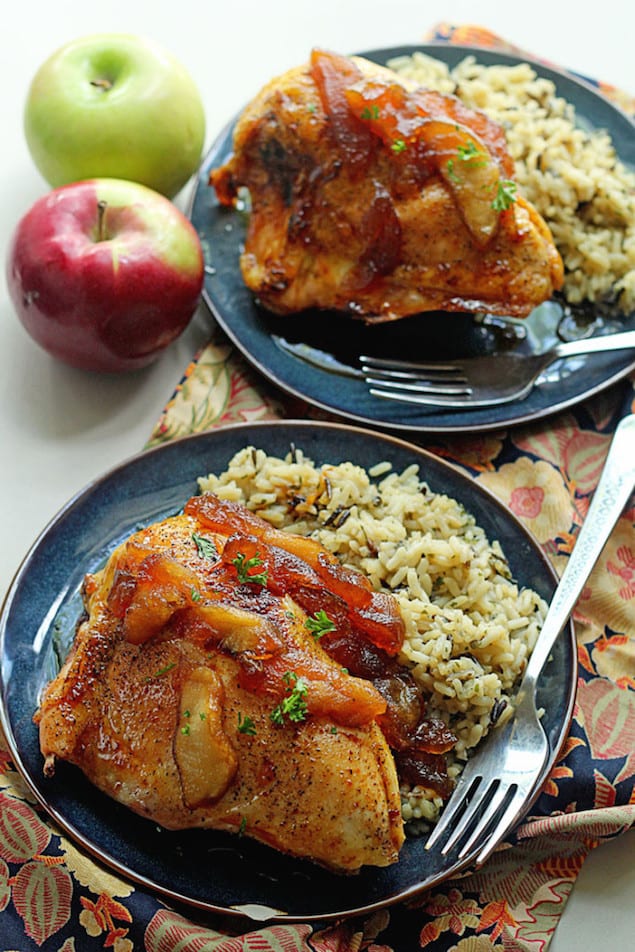 After this recipe, I am now convinced that apple cider and chicken belong together like peanut butter and jelly. They are a wonderful pair, those two. The acid in the cider makes the chicken so flavorful and moist in the most sensational way.
I remember my mother making baked chicken at least once a week growing up, and she makes it very simply with salt and pepper, some onions and a few other ingredients but it tastes like the best thing you have ever had in your life. Simple cooking really is the best.
I tried to honor my mom's cooking approach with this recipe. So I simply adding some apple slices and a hint of additional sweetness from the brown sugar and soy sauce to create a sensational dinner recipe that will make autumn that much better. So get this Apple Cider Glazed Chicken in the oven asap and let me know how it turns out for you!

Simple Apple Cider Glazed Chicken
Made with apple slices, brown sugar, soy sauce, and cider, this chicken becomes tender, so flavorful, and the perfect fall dinner.
Author:
Jocelyn Delk Adams
Ingredients
2 large chicken breasts with skin on
Salt and pepper to taste
2 cups apple cider
1 medium sized apple, cored, peeled and sliced
½ cup brown sugar
1 tablespoon soy sauce
Instructions
Preheat oven to 425 degrees.
Season chicken with salt and pepper to taste and add to a medium sized pan.
Spray the inside of the pan with non-stick spray and bake for 25 minutes.
While chicken bakes, add apple cider, apple slices, brown sugar and soy sauce to a medium sized pot over medium heat.
Stir together and allow to come to a boil. Once mixture has reduced by ½ remove from heat.
Pour mixture over chicken and turn to broil. Once mixture sticks to chicken and is done all the way through, remove and serve. This is great with a wild rice to soak up that delicious flavor.
Jocelyn Delk Adams
Jocelyn Delk Adams is the founder of Grandbaby Cakes, a food blog inspired by her grandmother devoted to classic desserts and savory recipes, modern trends and showcasing the pastry field in an accessible way. She is a brand ambassador and writer for top brands such as Pillsbury, Better Homes and Gardens, Parade Magazine, Safest Choice Eggs, KitchenAid, Dixie Crystals Sugar, Jif Peanut Butter, and many more. In the short span of 2 years, Grandbaby Cakes has been featured in Better Homes and Gardens, Ebony Magazine, The New York Times Online, Refinery 29, Cupcakes and Cashmere, The Kitchn, Fox News, WCIU, Chicago Social Magazine, the Chicago Sun-Times and Splash Magazine, among others. She is currently writing her first cookbook which will be published in Fall of 2015, and is the founder of A Charitable Confection, an annual anti-violence dessert fundraiser featuring the top bakeries in Chicago. Jocelyn hopes Grandbaby Cakes will inspire a new generation of dessert enthusiasts to learn to bake and not feel guilty about enjoying dessert.