Thyme and Garlic Roasted Sweet Potatoes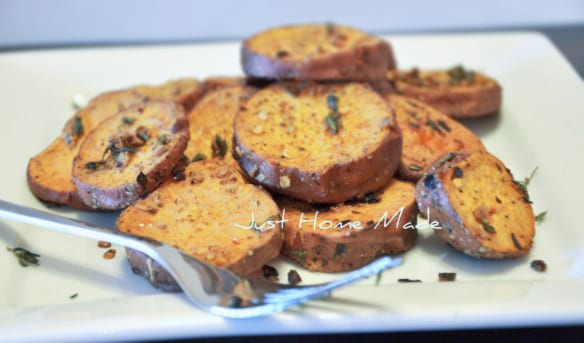 Luscious sweet potatoes, velvety on the inside with blistering brown outsides and delicious garlic herb flavors. Sweet potato and thyme in perfect harmony.
By Radhika Penagonda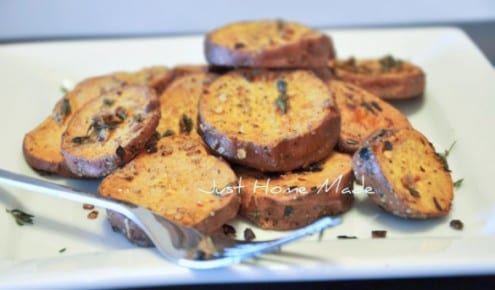 The sweetness of it balanced by a hint of the red pepper flakes at the back of the tongue. Very satisfying as much as it is filling, absolutely easy as much as it is delicious.
Thyme and Garlic Roasted Sweet Potatoes
Luscious sweet potatoes, velvety on the inside with blistering brown outsides and delicious garlic herb flavors. Sweet potato and thyme in perfect harmony.
Author:
Radhika Penagonda
Ingredients
1 large Sweet potato washed and cut into ½? thick rounds
2 big Garlic cloves, minced
5-6 sprigs of fresh Thyme
3 tsp olive oil
1 tsp crushed red pepper flakes / 1 sachet crushed red pepper (pizza accompaniment)
ground black pepper (per taste)
sea salt
Instructions
Preheat oven to 400°F. In a medium-size mixing bowl, add all the ingredients sprinkling salt and ground black pepper as per your taste and toss well to coat the spices and herb onto the sweet potato rounds.
On a large baking tray lined with quick-release aluminium foil, arrange the sweet potato rounds individually in a single layer. Oven roast the sweet potatoes placed on the top rack until tender and browned on top or about 40 mins. Check in between and more towards the end for otherwise burnt edges. Serve warm or at room temperature.
Notes
I have roasted at 350°F and 400°F. If you want the sweet potatoes to be soft and tender and lightly browned, bake at 350°F. Or, if you want it to be crisp on the outside and softer on the inside, go for 400°F. Just be sure to check often with 400°F as the sweet potatoes tend to get burnt on the outside and the same goes to the garlic and herb as well.
Radhika Penagonda
Radhika Penagonda is a vegetarian food blogger, ardent photographer and enthusiastic cook who loves to explore new ingredients and believes strongly in eating with our eyes first. Passionate about home-made food prepared from natural ingredients, minimally processed and close to nature, she shares through her blog how home style or not 100% vegetarian food can be lip smacking tasty and simply delicious.