Before you embark on baking any pie this Labor Day, find out the tricks to making the perfect pie crust.
By Jackie Dodd
Pie dough is the secret to any great pie. A backdrop that can land a pie on the list of Best Pie I've Ever Eaten or render it forgettable. The mystery is that nearly all pie dough is made with the same ingredients, regardless of the final results.
So why is it that a recipe that contains only a handful of ingredients: flour, sugar, salt, fat and liquid, can produce results that vary from flaky, tough, soggy, crispy or crumbly? Why do ingredients that can be counted, for the most part, on one hand come and together with largely the same steps produce such an array of results? The answers are in the science behind that food.
In 2007 the baking world was jolted by the publication of Foolproof Pie Dough, by Cooks Illustrated Magazine. While recipes have claimed infallible result in the past, this recipe actually FIXED issues with pie dough that had inadvertently altered the results. The two major inclusion being a food processor and a shot of vodka.
The hallmark issue with pie dough is combining the fat and the flour. Sound simple enough, right? However, don't mix it enough and your crust will form pockets of fat, and too leave much flour uncoated that will take on liquid, forming a tough leathery crust that will eventually grow soggy. If you over mix the flour and fat your crust will turn crumbly and cracker-like. Striking that perfect balance is difficult for even the most experience pie dough makers.
How does vodka and a food processor make a perfect crust every time? By combining about 2/3 of your flour and your fat in a food processor and actually over working your dough on purpose, you have made a new fat. A fat that will be easier to combine with your remaining flour making it will be virtually foolproof. And the vodka? By using 50% of your liquid as vodka, a liquid that cooks off almost completely, you nearly eliminate the formation of gluten, resulting in light flaky layers that won't grow soggy with a high moisture filling.
Back to those ingredients.
Fat is hotly debated in the baking world, with the leaders being butter, shortening and lard. Butter is the most commonly used, with a flavor that is reliable and superior to other fats. Shortening offers a wonderful flakiness and beautiful texture but lacks the taste of butter. Lard is the most inconsistent when it comes to taste, but creates very beautiful flaky layers. Unless you have access to high quality lard, most store bough varieties lend a meaty, savory flavor that isn't wanted unless a savory pie is being made.  Often, a mixture of butter and shortening lends the most consistent results, blending a balance of taste and texture. Also, any fat being used should be very cold while making the dough.
Flour is the sneaky culprit that tends to be overlooked when debating pie dough science. While recipes for pie dough always call for flour by volume, that volume can vary by as much as 50%. The solution for this problem is to weight your flour. When a recipe calls for 1 cup, that generally refers to 5 ounces (weight) of flour, however, 5 ounces of flour can be 2/3 of a cup or it can be 1 1/3 cups but it will always be 5 ounces. For the best results, flour should be cold as well.
As for the liquid, most recipes (outside our Foolproof vodka recipe) call for either water or milk. Either way you go, your liquid should be very cold.
Now that the science of pie dough has been explored, the steps and ingredients of this recipe are much easier to understand.
Foolproof Pie Dough

2 1/2 cups (12 1/2 ounces) unbleached all-purpose flour
1 teaspoon table salt
2 tablespoons sugar
12 tablespoons (1 1/2 sticks) cold unsalted butter, cut into 1/4-inch slices
1/2 cup cold vegetable shortening, cut into 4 pieces
1/4 cup cold vodka
1/4 cup cold water
Step one:
Combine ½ cups of flour, salt, and sugar in a food processor, pulse a few times until its combined. Add the butter and the shortening and process until it forms a ball around the blade, about 2 minutes.
Step two:
Add the remaining flour and process until well incorporated, about 1 minute.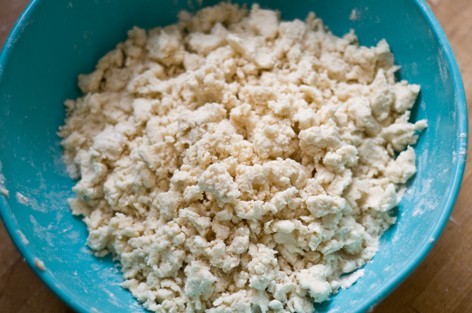 Step Three:
Move to a bowl and add the water and the vodka, combine with a spatula or wooden spoon.
Combining the liquid in the food process will destroy the effects of the vodka, and your hands may warm the fats too much. The dough will be very moist, but if it is too moist to stay together, add a little more flour.
Step Four:
Split into two equal sized portions and form into disks. Wrap the disks in plastic wrap and chill until very firm, about two hours. Because this dough is so soft, it is very important for the pie dough to be very cold and very firm.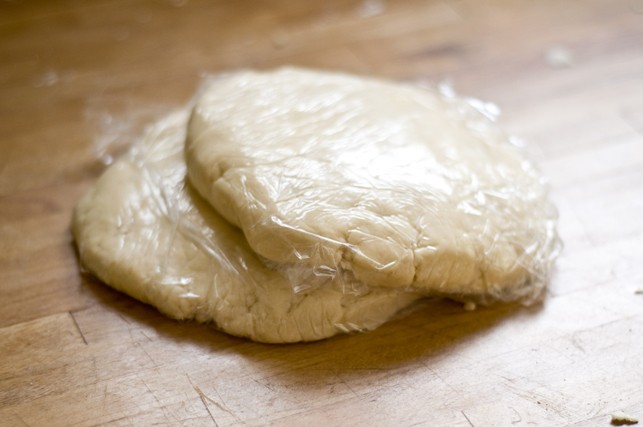 Step five:
On a very well floured surface, place one of the disks, add flour to the top of the disk as well.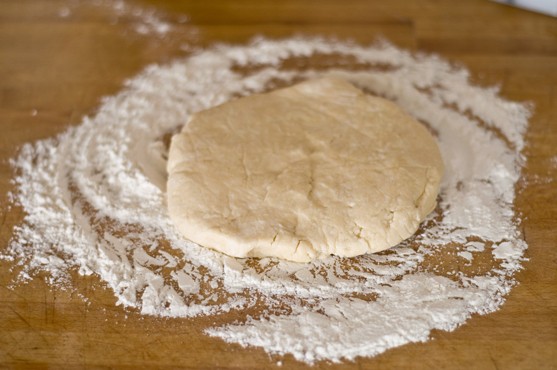 Roll out into an even thickness. Marble rolling pins are very cold and don't disrupt the fat inside the dough, making them an excellent choice for rolling pie dough. When you place your dough in the fridge to chill, add your marble rolling pin as well, allowing it to chill.
Step six:
This recipe is very soft and will fall apart while being rolled. Although some people like to use the rolling pin to assist with moving the dough from rolling surface to pie pan, it tends to fall apart too easily with this method. The easiest way is to fold the dough circle in half, then in half again, forming a triangle.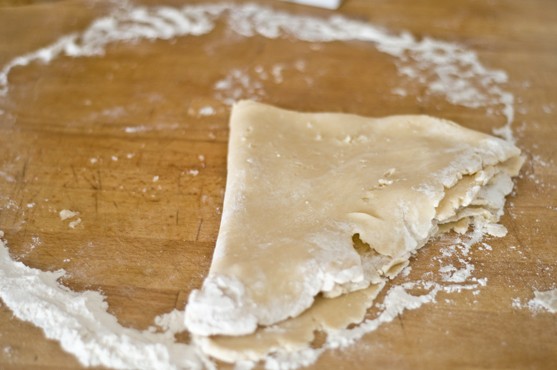 Place the point of the triangle in the center of the pie plate and unfold the dough.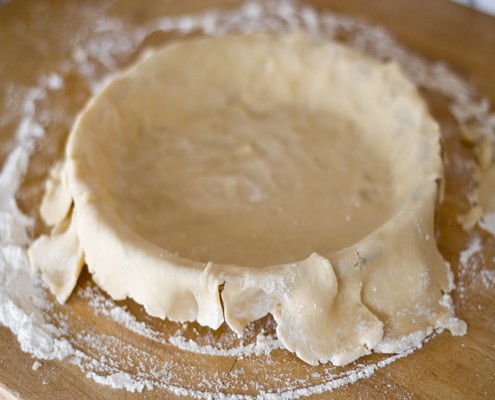 Trim the dough, leaving a half-inch overhang past the edge of the pie pan. Form a fluted edge around the top of the pie crust.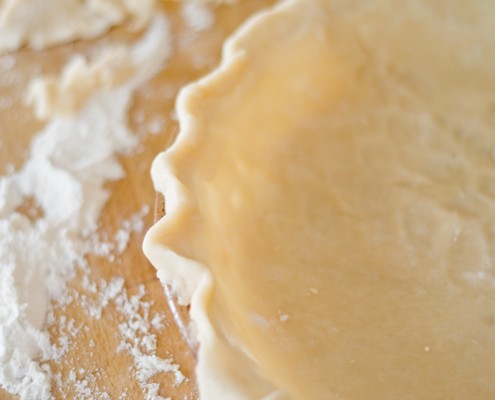 Baking:
If you want to bake this before it's filled, prick several holes in the bottom with a fork. Line the inside with parchment paper and fill with pie weights or dried beans.
This crust can also be filled and baked immediately, whichever your recipe calls for.
Jackie Dodd
Jackie Dodd is a California based food blogger who's passion for local ingredients began during her years growing up on farm in Eastern Washington surrounded by apple orchards and peach trees. She is now happy to focus on California produce, and has a passion for baking. Along with her websites, www.domesticfits.com and www.thebeeroness.com, she also writes a column for the Glendale Examiner.