Jonathan Berntsen is one of those chefs who made the most out of a terrible year for the culinary world. His Michelin-starred restaurant CLOU closed, but like the Phoenix, he rose bigger and stronger with a new idea. This is the age of The Samuel.
In 2014 it was awarded its first star in the Michelin guide: an accolade it kept for six years. It will also be remembered for its contribution to the acclaimed Copa Jerez competition in 2013, where it took home not only the grand prize, but also another one for best chef. CLOU reclaimed its status again in 2019 taking home the same two awards, as well as one for best wine/dessert pairing. And in 2016 CLOU was awarded as "Restaurant of The Year" by The Danish Dining Guide.
Although CLOU ended up as a small restaurant located in a renovated two-bedroom apartment in the center of Copenhagen, it's charisma and excellence reached beyond national borders. Chef owner Jonathan Berntsen asks you not to grieve the death of his former restaurant, but instead celebrate its life and achievements over the last nine years. If you wish to pay your respects, he invites you to visit the newly opened The Samuel, where a piece of CLOU also lives on.
When one door to a two-bedroom apartment closes, another to a big villa opens. And in the ashes of CLOU, The Samuel rises to much bolder and beautiful heights than ever. This is metamorphosis at its finest.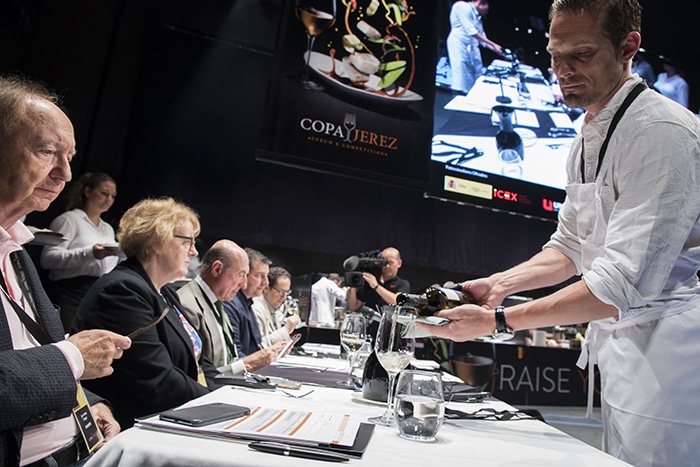 Fine Dining or Family-style
For Berntsen, the idea of The Samuel was something that had been lingering in his mind for some time. Although this is a rough time when most enterprises in hospitality are forced to turn the key and close shop, he was presented with an opportunity that he couldn't refuse:
"In early 2020 there was a COVID-lockdown for two months in Denmark. Most of us couldn't do anything, and it gave me the time I needed to think things through. The idea of the gourmet restaurant basically disappeared from one day to another," Jonathan says. These circumstances made him lean more towards opening family-style restaurants, and so he did.
Enoteca, in Holte, a very Northern suburb of Copenhagen, was the first one. The concept is completely classic Italian enoteca food, with homemade pasta, pappardelle with ragú, pasta al pesto, vitello tonnato, Caprese salad with burrata cheese and tiramisu. "It's as rustic as it should be, so it's a place with filling portions where everyone can afford to join in", says Jonathan.
The search for a second location for another restaurant of this kind resulted, without it being the plan, at the end of an era.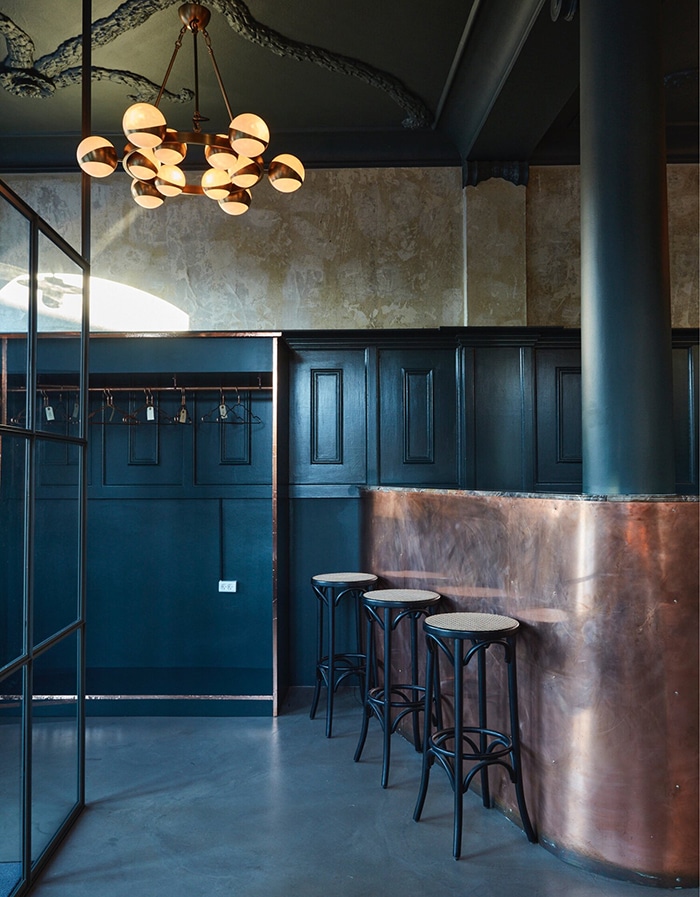 "The restaurant I never had"
A lot can happen or change if we're at the right place, at the right time, and for Jonathan everything changed during a visit to a possible location for a new family-style restaurant.
"The idea was to open CLOU after the pandemic and in the meantime I opened a family-style restaurant in the outskirts of Copenhagen and was looking for a place to open another one. I went to what is now The Samuel-premises to have a look, and when I walked in, it was the restaurant location that I always dreamed of and never got. So instead of reopening CLOU I wanted to make something wilder and even better. That's why I renamed it after my son, because even though it has the same classic profile and flavor DNA, The Samuel is different."
The location is not the key factor to this new venture. From the outside it looks like your ordinary run-of-the-mill classic Hellerup villa constructed in typical red bricks. But as you step inside, this masterpiece is something Jonathan only can describe as a small temple.
"Inside there is this amazing stucco and these amazing pillars. We have kept it a little raw, while adding these high panels and large Art Deco chandeliers. The bar and kitchen have been fitted in copper and brown marble. So it's a mix between the stylish and the classic that meets something raw and art deco. Upstairs in the restaurant we also have the original parquet floor, and there is nothing more beautiful. We have maintained the respect for this old building but then given it our very own touch."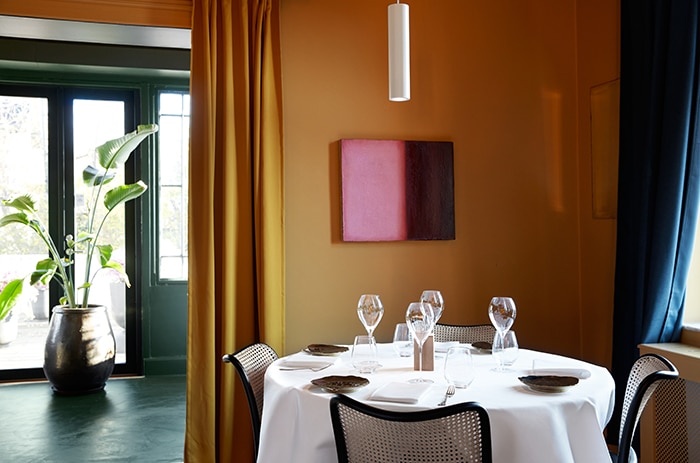 A Wine DNA
Jonathan's career has been one of success so far and he is more than happy with his achievements, but at some point a project reaches its peak and can get stuck. As much as he loved the last 9 years with CLOU, this new chapter brings new and exciting challenges, combined with new tools that will undoubtedly result in even more privilege.
These new tools are, for example, a way bigger kitchen. One where he can house a bigger team to experiment and develop his ideas to the fullest. However the core is the same; classic South European cuisine done with the best possible produce, impeccable service, refinement and most importantly, the best wine menu in Denmark.
"What I'm most known for in my gastronomy is the food and wine pairings, so that's also really key here at The Samuel. But the way we work the produce and the food is more technical, the team is bigger and the project is more elegant as a whole. Service, produce and wines, those are our priorities. I'm not taking the best tomato in the world to work on it for two days. If you have the best product, you don't need to do too much to it. Of course you can do a lot with the decoration and plating but in terms of the product, we respect it too much to mess with it. We want to give a clean experience", Jonathan explains.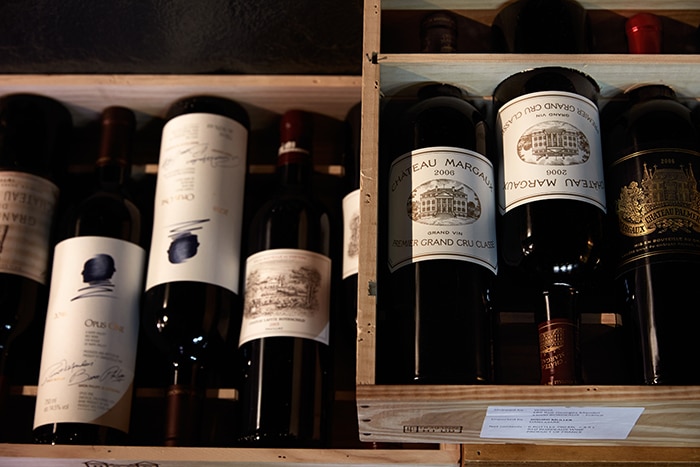 His passion for wine is so big, that he actually uses it as a starting point for every dish he creates for The Samuel. Like the 'Squid Pollock', a dish born out of the notes from a very special Oloroso Sherry from Sacrastía AB from Antonio Barbadillo – a type of wine that isn't traditionally consumed in Denmark. Like the Spanish chipirones en su tinta, he uses small squid and fills them with brown rice boiled with the bones of the Cinco Jotas Iberico Ham bone, topped with a very thick ink glazed and chip. An artsy yet classic dish inspired in the paintings by Jackson Pollock.
"Another example can be the Norwegian langoustine that has been butter-poached. With the same butter we make a beurre blanc with katsuobushi and serve it with a lot of spring flowers and seaweed. It goes with an amazing Gewurztraminer wine from Alsace. Something happens when you age wine for a long time. This Gewurztraminer is from 1986, so it's very old and very atypical. But if you have the right Gewurztraminer aged from the right vintage, it gets this roasty, smoky, beautifully bitter notes that go perfectly with the seaweed salads and the creaminess of the langoustine."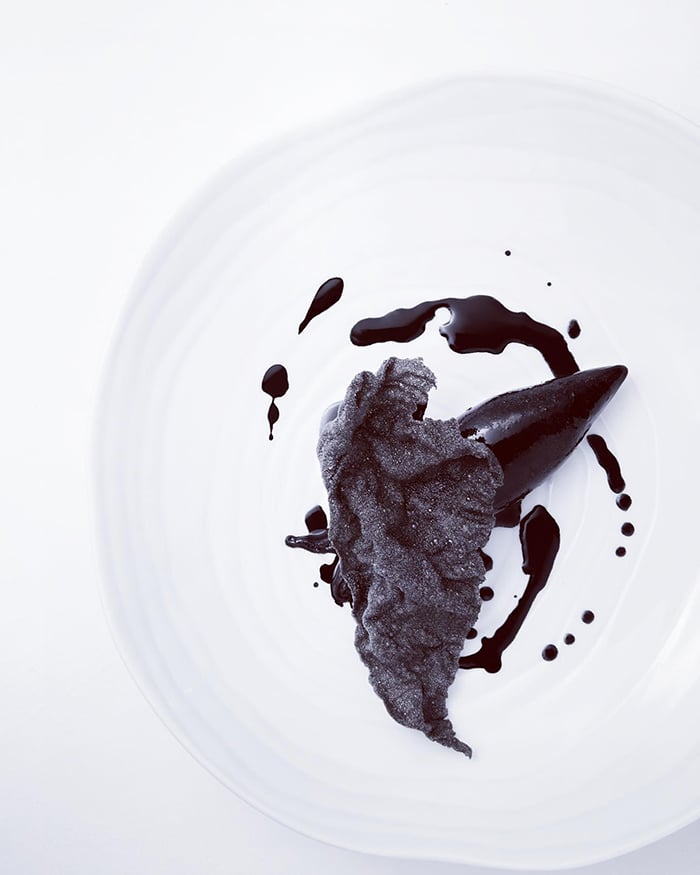 A Product? Cheese
 When you walk into The Samuel, the first thing you see is this huge cheese cabinet. In it they treasure around 60 varieties in different "afinations" and maturity, and when guests are finished with the main course, they're taken downstairs to this cabinet to feast on the ones that are at the best possible point.
"Everybody loves cheeses but I feel like they're a bit forgotten in these types of restaurants, especially in Denmark. They give us a lot of work and it also takes a lot of time to source, mature and even explain the cheeses to our guests, so a lot of chefs and restaurants don't put the energy into it anymore. But for me it's something extremely beautiful. We don't make the cheeses but I source the best ones from southern Europe and to share them with our guests is something really special to me", says the chef.
An affineur is a person dedicated to aging or maturing cheese, bringing the best out of it using time as the main ingredient. Jonathan doesn't buy the cheeses for the amazing cabinet at The Samuel straight from the producers, he gets them from his trusted affineur. The beautiful selection comes from Spain, France and Italy, like the Parmigiano Reggiano, or the Brillat-Savarin from Normandie, a cow milks cheese with triple cream.
"We keep track of what we want to present to our guests every day, and of course if they want something special we can give it to them, but we always take ten or twelve cheeses that we think are perfectly matured at the time."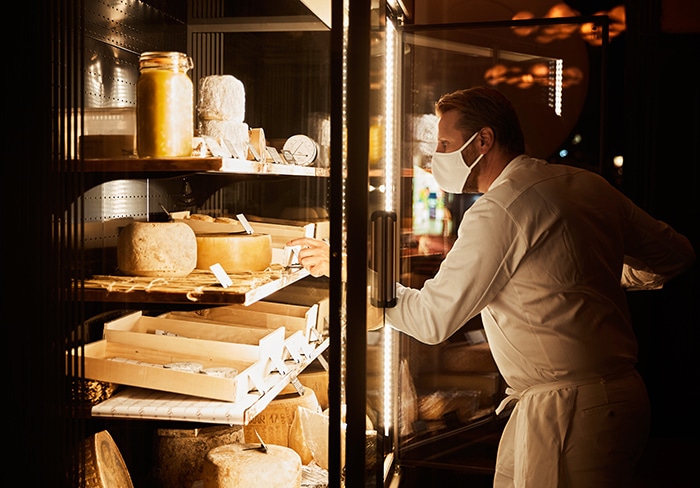 A Personal Touch
It's natural for a chef to grow over a decade. Not only as a professional but also in his personal life. An example can be receiving a Michelin star for his restaurant, amongst other awards, and becoming a father of two; a one-year-old daughter Josephine and her older brother, Samuel. Jonathan's son is at the age where he adores his father and Jonathan chose to include both him and his daughter in the new project.
"Samuel just turned five this January and he already knows he wants to follow in his dad's footsteps and be a "Mikeling" chef himself," Jonathan remarks, trying to mimic his son's pronunciation of Michelin.
"It's really cute to name your restaurant after your child, but it is also an insane obligation. And when it's a crème de la crème restaurant we want to create, it must also be named accordingly. So Samuel has even been allowed to make most of the logo himself, which of course has been polished by professionals. But it allowed him to put his own distinctive stamp on it," Jonathan says.
As for his daughter, her legacy is found in the most luxurious part of the villa.
"Upstairs in the restaurant there are seven tables, and just out in the front there is a small room where a single two-person table is set up, hidden behind curtains. There is a private small lounge and you have your own fireplace and roof terrace. That room we have chosen to name "The Josephine,"Jonathan says and explains why her contribution is strictly limited to her namesake.
"Josephine has not been allowed to make her mark in the same way as Samuel. Because if she did, I'm sure she's going to put it all over!", Jonathan says with a laugh.
The whole of The Samuel spans over a total of 500 square meters and will seat around 24 guests at any one time. The setup consists of round two and four-person tables, but can also accommodate parties as big as ten people, as the flexibility of the layout allows for bigger parties. Expect extravagant French fine dining decor to set the scene for your culinary exploration.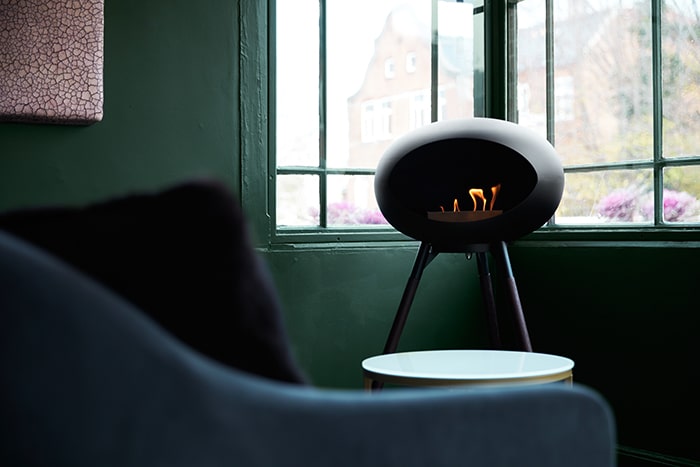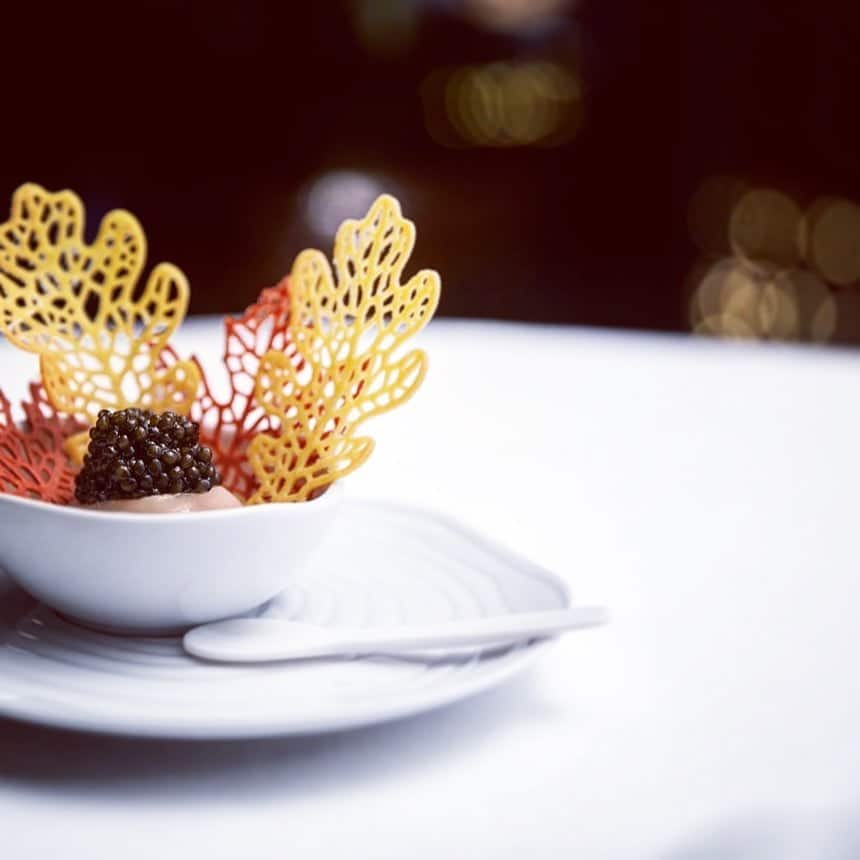 2.0 : The Reopening
After the hard work and risk it meant for Jonathan to open a restaurant like The Samuel in the midst of a worldwide pandemic, the opening day arrived, followed by three weeks of rush, full house and then rapidly the realization of the worst possible scenario; a second lockdown in Denmark – for five full months.
"It was very sad to have to close it so quickly, but it honestly also gave us time to finish and polish the project. When we opened, we did it really very fast. That doesn't mean that I wasn't proud of our product, but now I've had time to polish all the small details even more, we've finished all the décor as we should, we've worked on a new menu for this season and we have tested it for weeks and weeks. I'm quite sure that this time it hasn't been a waste. We perfected The Samuel."
This whole process also made him more cautious for the upcoming second reopening in May, and that shouldn't come as a surprise. Getting a big machine going involves a big team, well thought of logistics and a special attention to spendings, while also not compromising the level of luxury and quality they want to offer from day one.
"It's a big process now. I'm doing a lot of wine tastings, and sourcing all the wine. The menu is already set. But we're still with our eyes on Covid because we never know if it will close us again, and to get The Samuel up and running from scratch is something quite expensive. Under normal circumstances I would order 300 bottles of each old wine on our wine menu, to have a pipeline of wine coming in, but at this point I'm way more cautious. For example, just 60 bottles of superb vintage wines – it's a big economy that is going on, both for the grocers and for us, and I don't want him or her to have to hold a big amount of bottles that they paid for just for me."
Jonathan is excited to kick it all off with a fully packed restaurant, but admits that having a well-run family restaurant on the side, takes the edge off his nerves. And the anticipation of the people who have supported both him and CLOU, gives him that extra drive to power through. Reminiscing over the last year and how everything has changed for everyone, he also manages to find one positive thing in light of the pandemic:
"Being forced to stay at home, both literally and geographically has united the Danes. Guests who should have been on vacation have chosen to spend their money at home instead. We saw this after the first lockdown. They know how tight it has been, especially for the restaurant industry, so they have also been – and I think, will be – more diligent at dining out locally," Jonathan adds and says that Covid has made the kingdom of Denmark being even more united with people banding together like never before.
CLOU is dead. Long live The Samuel.
The Samuel, Hellerupvej 40, 2900 Hellerup, Copenhaguen, www.thesamuel.dk