Tamara Novacoviç reveals her favorite brownie recipe. The surface is slightly crisp, the inside soft, moist and gooey, contrasted with crunchy toasted hazelnut pieces.
By Tamara Novacoviç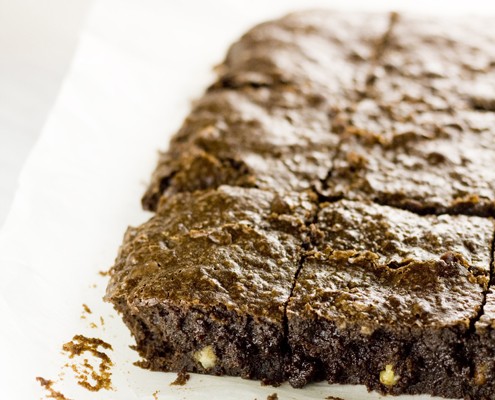 I haven't met a person who doesn't like brownies. Yet. Do you like them? Brownies actually made me fall in love with chocolate cakes. I wasn't particularly a chocolate type of person before. Then came these moist cakes.
I guess you have your own favorite recipe for brownies. This one is mine. They are moist and gooey from the inside, slightly crisp from the outside, accompanied by crunchy toasted hazelnut pieces that have such a wonderful flavor.
Brownies are pure chocolate goodness. On top of that, they are almost too simple to make. You can whisk everything by hand.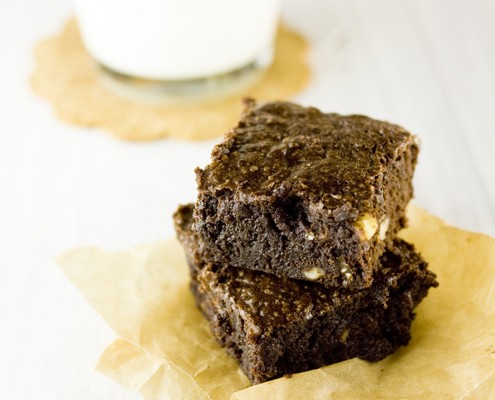 I would like to share some simple advice on how to achieve the perfect texture and make lovely brownies:
Whisk all ingredients by hand and don't over beat the mixture. You don't need electric mixer for brownies.
Always grease your baking pan and line bottom and sides with parchment paper. This will make removing baked brownie mixture from the pan very easy. You will simply pull it all out, holding the ends of parchment paper.
Once you've removed baked brownie mixture out of the pan, put it on a flat surface and cut with a sharp serrated knife. Wipe the knife into a cloth each time after cutting. This will make very nice slices.
Don't decrease the amount of sugar in brownie batter. Sugar is what makes their inside soft, moist and gooey.  I prefer to use brown sugar for fuller taste and texture.
For brownies, always use good quality dark chocolate (with at least 70 % cocoa). It will balance the amount of sugar and result in perfect brownies, not too sweet, taste properly balanced. Plus, chocolate is the essential part of this cake, it's what makes brownie a brownie and that's why you want to use good quality chocolate.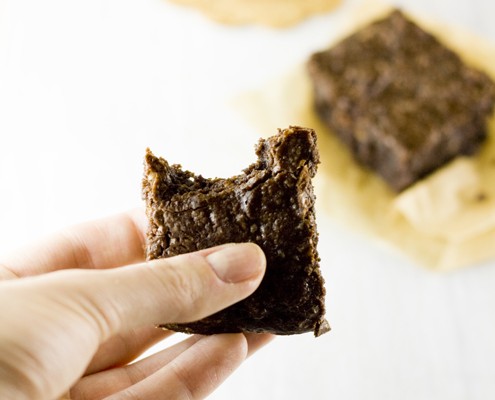 This recipe is adapted from Joy of baking.
Brownies are a staple, a classic, don't you agree? Everybody loves them. This is my favorite brownie recipe. The surface is slightly crisp, the inside soft, moist and gooey, contrasted with crunchy toasted hazelnut pieces!
Ingredients
5 oz (150 g) dark chocolate (70 % cocoa)
1 stick (113 g) butter, melted
2 tbsp (15 g) cocoa powder
1 cup (200 g) sugar
1 tsp vanilla extract
3 eggs
¾ cup (95 g) all purpose flour
pinch of salt
3.3 oz (100 g) toasted, chopped hazelnuts
Instructions
Preheat oven to 350 degrees F (180 degrees C) and place the rack in the center of the oven. Butter (or spray with a nonstick cooking spray) an 8 inch (20 cm) square pan, and line the bottom and sides of the pan with parchment or wax paper.
Melt the chocolate and butter in a large stainless steel bowl placed over a saucepan of simmering water. Remove from heat and stir in the cocoa powder and sugar . Next, whisk in the vanilla extract and eggs, one at a time, beating well after each addition. Finally, stir in the flour, salt and hazelnuts.
Pour into the prepared pan and bake for about 25-30 minutes, or until a toothpick inserted in the center comes out with a little batter and a few moist clumps clinging to it. Do not over bake. Remove from oven and let cool on a wire rack. Serve at room temperature or chilled. These freeze very well.