Five seasons? We thought there were only four. When it comes to jam making, author, jam-maker, and cook, Lillie O'Brien likes to include one more. Here's what to make in each season.
So what are the five seasons of jam making?
Spring/Alive: Blossoming florals, think cherry blossoms and wild garlic.
Summer/Hot: Vivid sweetness, think ripe stone fruits and berries.
Early Autumn/Blush: Warmth and rich spices, think blackberries and cocoa nib jam or pomegranates.
Late Autumn/Barb: Even more robust, think pears and pumpkins.
Winter/Frost: Deep, dark and cozy, think citrus.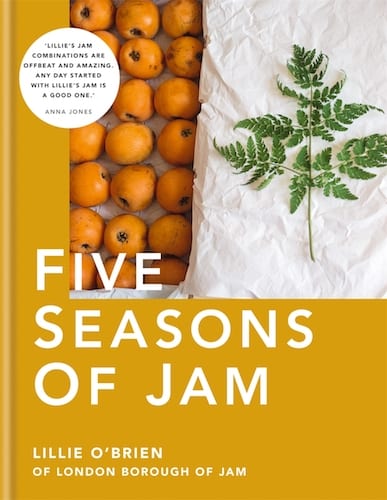 Lillie's new book maps out each of these seasons in her new cookbook, Five Seasons of Jam and what jams to make during each time of the year. Based, of course, on seasonality, Lillie encourages home cooks to preserve the flavors of now for enjoyment later. We love that each jam recipe goes beyond the usual fruit, sugar and acid to incorporate herbs, spices, nuts and even vegetables. Here are some of our favorite jams and be sure to check out the book for yourself!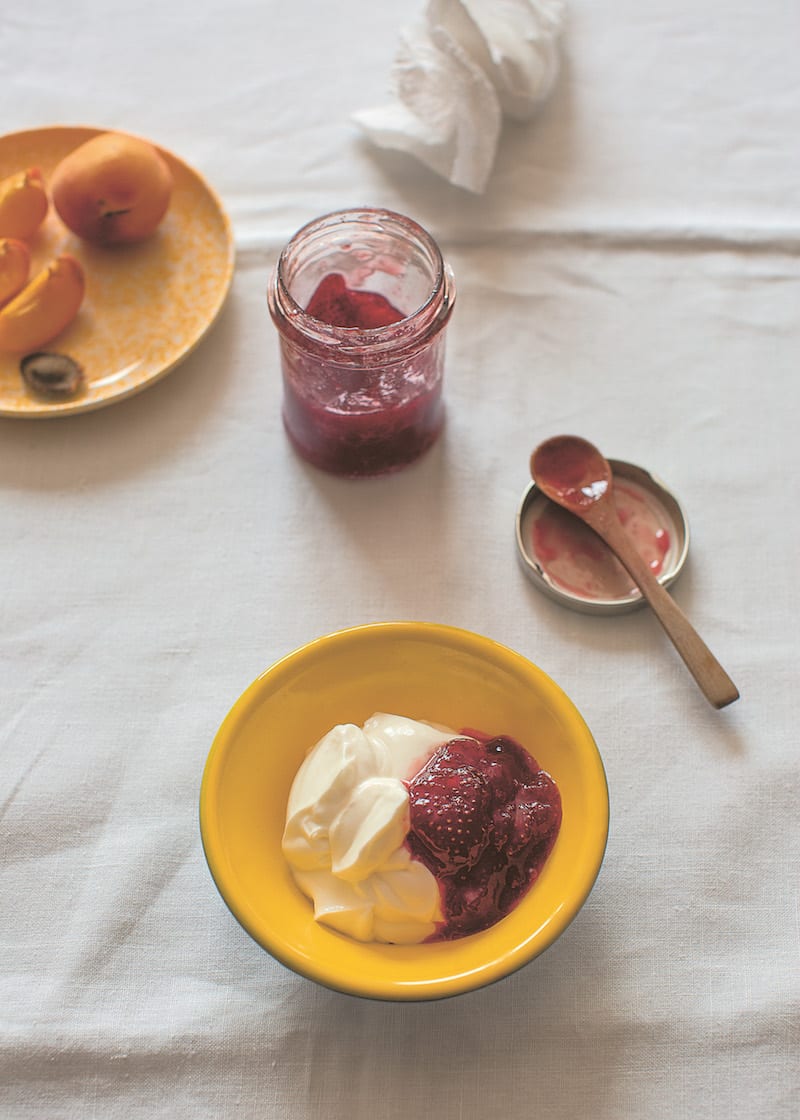 Spring: Gariguette Strawberry and White Balsamic Jam
Hailing from south France, the Gariguette strawberry has a beautiful perfume-like smell that will take your jam to the next level. Lillie suggests serving this jam with goats' milk yogurt.
1.2kg Gariguette strawberries
800g caster sugar
100ml white balsamic vinegar
pinch of pink sea salt
1. Hull the strawberries and cut them in half. I like to keep them in halves so that you still have largish pieces when the jam is cooked.
2. Put the strawberries in a preserving pan and set over a low heat so that they start cooking and release some juice.
3. Slowly add the sugar, vinegar and salt and bring to the boil. Cook for 10 minutes or until the jam reaches setting point, 105°C/220°F on a sugar thermometer.
4. Remove from the heat and leave to rest for 5 minutes, stirring every few minutes so that the natural pectin is distributed evenly. Pour into warm sterilised jars and seal immediately. Store in a cool dark place.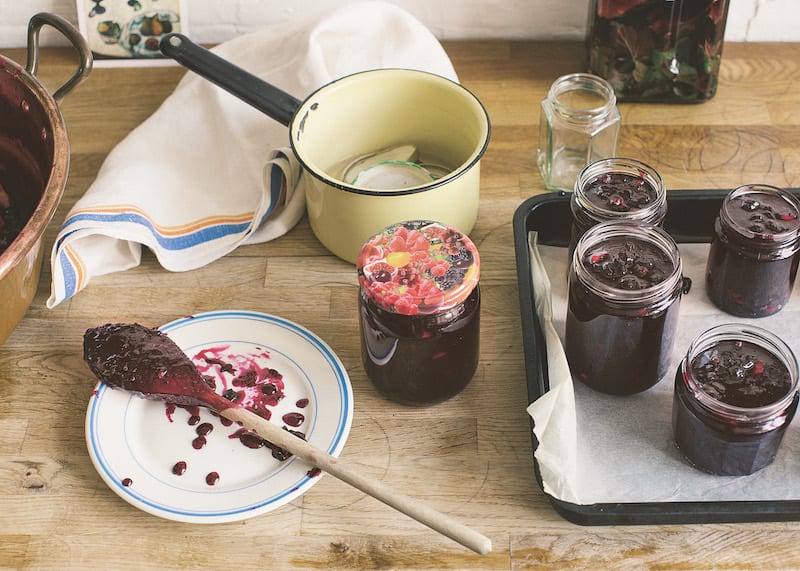 Summer: Blackcurrant and Almond Jam
Currants can be quite acidic. We love that Lillie added in not only sweet sugar, but smooth, fatty almonds to round out the tangy flavor of this summer jam.
Makes 7 x 220g jars
1.2kg blackcurrants (you can include the leaves if you have some)
700g caster sugar
200g whole almonds, roughly chopped
1 vanilla pod, cut in half lengthways and seeds scraped out
juice of 1 lemon
1. To prepare blackcurrants, gently wash them and remove any large stalks or brown leaves, but leave in any green leaves as they are very flavoursome and will add lots more depth to the jam.
2. Gently strain off any excess water and put the blackcurrants and any of their leaves (roughly torn) in a heavy-based saucepan with the scraped vanilla pod and seeds. Set over a low heat and cook until the fruit starts to break down, then add the sugar, almonds and lemon juice and slowly bring to the boil. Cook for about 8 minutes or until the jam reaches setting point, 105°C/220°F on a sugar thermometer. Because blackcurrants are high in pectin this jam doesn't take long to cook so keep an eye on it. Pour into warm sterilised jars and seal immediately. Store in a cool dark place.
Early/Late Autumn: Crown Prince Squash Jam
Not too watery, this squash is perfect for jam. The finished product is a beautiful orange color, a little sweet and a little savory. Spread on toast of scoop some into a bowl of oats. If you can't find a crown prince squash (it looks like a green pumpkin), try using butternut. Check out the recipe in the book.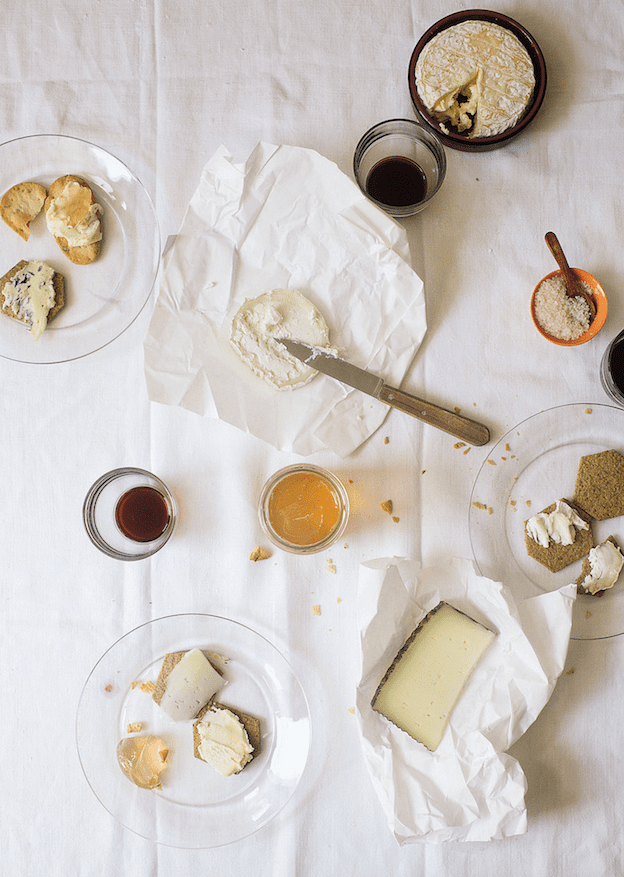 See Also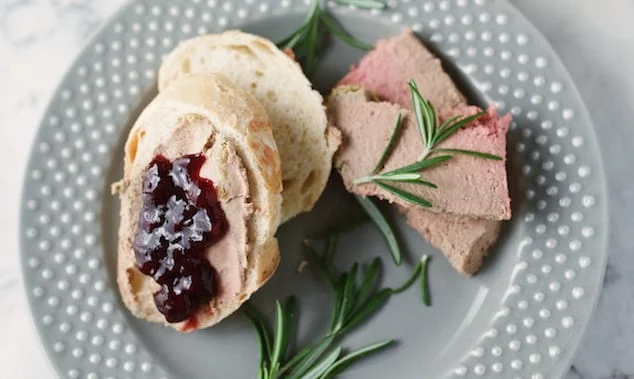 Winter: Apple and Rosé Wine Jelly
With some wine in the mix, this apple jelly is truly special and a great addition to a cheese board.
Makes 5 x 220g jars
1.2kg Granny Smith apples
1 unwaxed lemon
1.8 litres water
270ml rosé wine
1.2kg caster sugar
1. Wash the fruit and slice the unpeeled apples and lemon into quarters, then slice each one in half. Put in a heavy-based saucepan with the water and bring to the boil. Reduce the heat to a simmer and cook, covered, for 45 minutes.
2. Add the wine, cover the pan with a lid and simmer for a further 20 minutes. (Keeping the lid on means the alcohol won't evaporate.)
3. Strain the mixture through cheesecloth suspended over a bowl overnight. Don't squeeze the bag as it will make the jelly cloudy.
4. The following day, discard the pulp (put in your compost) and measure the strained liquid. You should end up with approx. 1.3 litres of liquid.
5. Pour the liquid into a preserving pan, add the sugar and slowly bring to the boil. Boil rapidly for 10–15 minutes, until the jelly reaches setting point, 105°C/220°F on a sugar thermometer. Pour into warm sterilised jars and seal immediately. Store in a cool ?dark place.
TIP
Play around with adding any leftover alcohol you ?may have hanging around. You could try a herby vermouth, which would pair perfectly with the tart apples and sugar.
Five Seasons of Jam by Lillie O'Brien © 2018 Kyle Books, photographs © Elena Heatherwick.