Get fired up for fall with smoking. Not the kind that destroys the lungs, we're referring to smoky cocktails. A technique used often for summer time grilling, when the temperature drops, take smoking from the backyard to the bar and fire up those cocktails. If we're being literal, no actual fire is required to prepare a few these recipes.  Smoking can also refer to the ingredients added to a cocktail such as smoked salt, spiced bitters or Mezcal. Perfect for those upcoming holiday parties, top New York mixologists share their smoky cocktail recipes. Guaranteed to excite future guests  who wants something more than a hot toddy.
See below for a round up of smoky cocktail recipes from TAO group's NYC restaurants and mixologists!
The Rickey at Dream Midtown Smoky Cocktail – Tsetse Fly The Rickey at Dream Midtown

"The Tsetse Fly cocktail at The Rickey at Dream Midtown is special because it is the first of its kind for our secret-off-the-menu. Inspired by a turn of the century French Bohemian-esq cocktail, ingredients such as the famous Anise-flavored spirit Pernod Absinthe, Mezcal, St. Elizabeth All-Spice Angostura Bitters compliment each other beautifully with an all-encompassing warm sensation. The Tsetse Fly cocktail is garnished with Rosemary and torched to coax to allow its aromas to be at the forefront of every sip." – The Rickey at Dream Midtown Beverage Director, Adam Koelb 
 Ingredients: Pernod Absinthe, St. Elizabeth All-Spice, Mezcal, Angostura Bitters, Rosemary
RECIPE:
1 oz. St. Elizabeth All-Spice
2 dashes Angostura Bitters
2 Rosemary Sprig Garnishes 
*use torch to light the rosemary sprigs table-side, until smoking
Served: Rocks glass with sphere cube
Smoking Scorpion at Bodega Negra
Bodega Negra's Smoky Cocktail – Smoking Scorpion Courtesy of Bodega Negra at Dream Downtown

"This interactive cocktail captures the essence of both Mezcal and Molten Salt and is special to Bodega Negra at Dream Downtown's cocktail program because of its history, unique presentation and flavor. Originally inspired by a cocktail in Scotland which used gun powder as the rim garnish, we wanted to make it our own and alternatively decided to use salt soaked in Mezcal to give a smoky, sophisticated feel to the cocktail. The use of Glenmorangie gives this specialty cocktail flair by offering a warming effect as the weather cools off." ." – Bodega Negra at Dream Downtown Beverage Director, Inigo Salazar.
Ingredients: Glenmorangie 10yr, Antica Formula Sweet Vermouth, Luxardo, Birch Water, Bokers bitters
RECIPE:
.75 oz. Antica Formula Sweet Vermouth
Soaked Mezcal Sea Salt *use torch to smoke salt, tableside
Desert Rose at Legasea at Moxy Times Square
Legasea_Smoky Cocktail – Desert Rose Legasea-TAO

"In the Fall, people are looking for cocktails to warm their senses, as the temperatures start dropping outside. That's why we've incorporated Mezcal into many of our signature drinks, not only has it become a fan favorite on cocktail lists, but it also to adds a smokey element to the menu. We serve the Cool Smoke at Magic Hour, mixed with yuzu citrus and mint, and the Desert Rose at Legasea, adding spiced mango to Mezcal Rose Liqueur. Both cocktails offer refreshing citrus to enhance the smooth smoke in the Mezcal."Beverage Manager: Nikki McCutcheon
Ingredients:  Illegal Mezcal, Mango Chili Mix, Lime Juice, Combier Rose, Agave
RECIPE: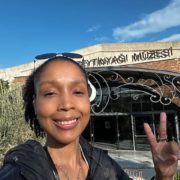 Alyssa Holder
Alyssa Holder is a writer specializing in food and travel topics since 2015.