Dana Monsees
Food Blogger & Integrative Health Coach. Paleo-inspired, finger-licking delicious recipes…
Sponsored Post: We've partnered with North Coast Organics, makers of delicious apple products, to bring you fun recipes ideas for the coming season. Their apple sauces, vinegars, juices and ciders are made with only U.S. grown apples. You're sure to taste the difference! Be sure to enter their giveaway below.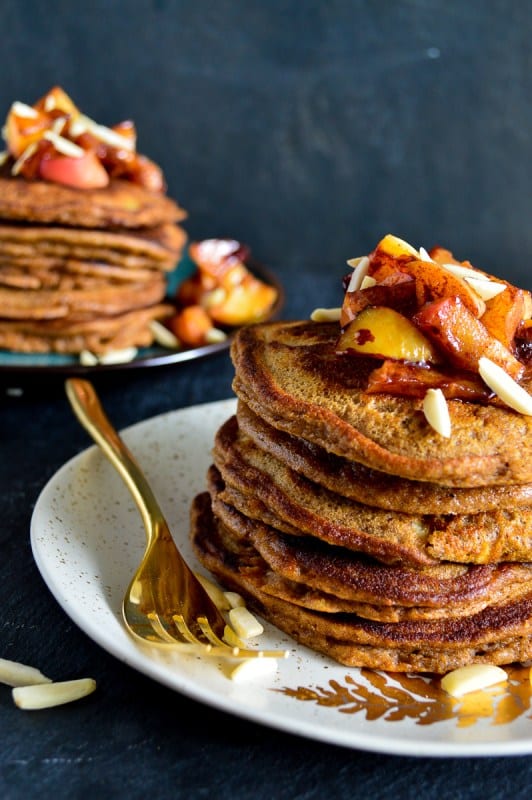 One of my favorite parts of fall and the holiday season is the fall produce: apples, squash, root vegetables, bring 'em all on. And if we can incorporate those flavors into a healthier, holiday-themed breakfast that won't leave me in a sugar coma afterwards but is still totally delicious? I'm so down. Which is exactly where the idea for these Fluffy Apple Pie Spiced Pancakes were born.
Growing up, whenever we were pinched for time with dinner (which was a lot) my mom used to make us breakfast for dinner – but because my brother and I were super picky eaters and didn't like eggs yet (I know, shocking given how many eggs I eat every week now, ha!), she made us German Apple pancakes – that had both applesauce *and* sliced apples in them.
Now, since my brother and I live on our own and we rarely ever have weekend breakfast together as a whole family, we reserve pancakes for more of a holiday brunch treat. Our whole family's palettes have grown up as well (finally, right?) where we all eat more paleo-ish when we're together – which is also a big change, because that means no more cinnamon rolls from the can on Christmas morning. Yes, we seriously used to eat those every. Single. Christmas. Morning. It was a thing. But hey, I'd say these pancakes are a preeetty good upgrade.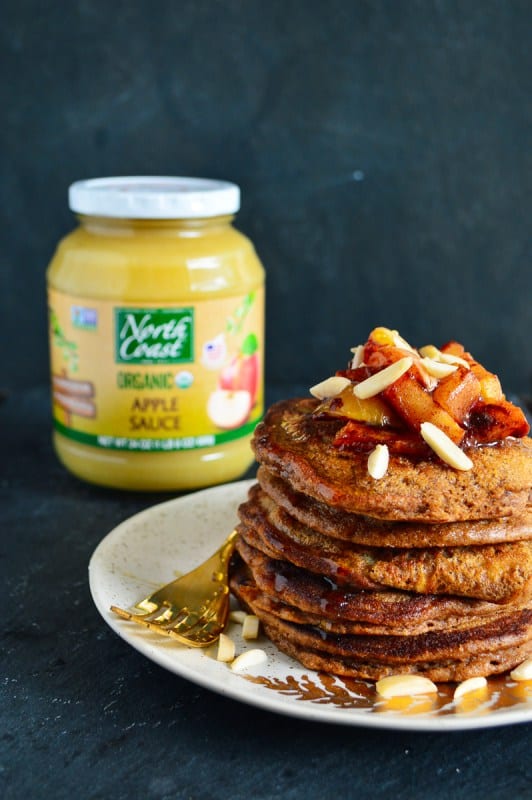 Funnily enough, when I was researching for some inspiration for this recipe, apparently the pancakes my mom used to make weren't even German Apple Pancakes – which are made like a dutch baby in a large cast iron skillet. The ones we made were…regular pancakes, but made with applesauce and some apples folded inside, and my mom just called them German Apple Pancakes. Hah! Definitely didn't take away from the delicious factor, but pretty funny that all those years I thought we were eating something totally different.
Another big change that's happened in my life in the past few years is my focus on clean, quality ingredients. I went to school in Vermont and we went apple picking all the time as a swim team bonding activity with the new recruits on the team (yeah, it's a Vermont thing) – so I guess you could say I'm a bit of an apple snob. The quality of the apples and applesauce in this recipe are extremely important to me, both for taste, and because I want to make sure I'm not putting junk in my body by using non-organic apples or applesauce made with GMO's, added sugar, or preservatives (yuck) – which is why I'm choosing to use North Coast Organic Applesauce. Apples are almost always on the Environmental Working Group's "Dirty Dozen" list, meaning they are one of the 12 fruits and vegetables with the highest content of pesticide residue found by the US Department of Agriculture. Meaning it's even more important to buy organic apples, or apples from your farmer's market/a local farm, and to buy a clean, 100% organic, GMO and pesticide-free applesauce like the one from North Coast.
See Also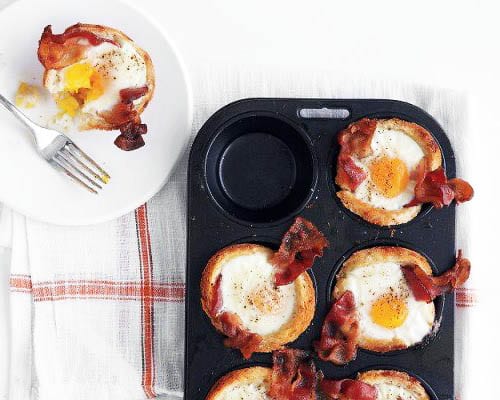 Back to the recipe though – these Fluffy Apple Pie Pancakes are designed to taste like apple pie in pancake form. Which is exactly why they're perfect for Christmas morning – because who doesn't want to eat pie for breakfast every once in a while?! The recipe is easily customizable as well, feel free to substitute different spices, use honey instead of maple syrup, try different kinds of apples to vary the sweetness, or try out a different flavor of applesauce, like the tangy apple apricot or pumpkin spice version from North Coast!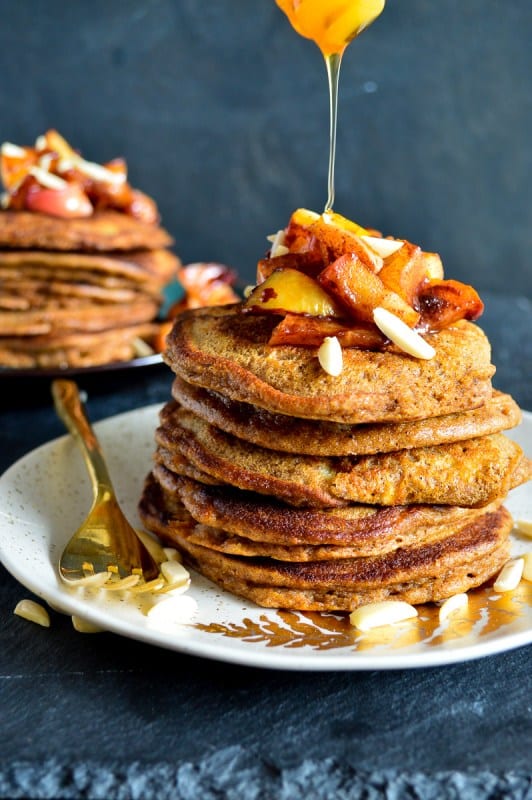 North Coast is offering a GIVEAWAY on Facebook! Enter here for a chance to win a year's supply of North Coast products!
Print
Apple Pie-Spiced Pancakes
Author:

Dana Monsees

Prep Time:

10 minutes

Cook Time:

15 minutes

Total Time:

25 minutes

Yield:

12

to

14

pancakes

1

x
Category:

Breakfast
1 cup

blanched almond flour

1 cup

tapioca flour

2

apple pie spice

1 ¼ tsp

baking soda

1 tsp

sea salt

1 cup

North Coast Organic (Unsweetened Applesauce)

4

eggs (whisked)

¼ cup

coconut sugar (maple sugar)

2 tsp

vanilla extract

1

medium honeycrisp apple (diced small)
For cooking: ghee or avocado oil
For the apple topping
1

large apple (diced)

1 Tbsp

ghee
Small pinch cinnamon

1/8 tsp

sea salt
Optional toppings:
Sliced nuts
Maple syrup or honey
Instructions
Combine the blanched almond flour, tapioca flour, baking soda, sea salt, and spices in a small bow, breaking up any chunks of almond flour with a fork.
Stir in the vanilla, applesauce, eggs, and sugar until all the ingredients are combined – but be careful not to over-mix.
Allow the batter to sit for a few minutes while you prepare the apple topping.
For the apple topping, melt the 1 Tbsp ghee in a small skillet. Add the apple chunks, a pinch of cinnamon and sea salt. Cook for about 10 minutes over medium-low heat, until the apples are soft, stirring often.
While the apples are cooking, make the pancakes: in a large skillet, heat 1 Tbsp of ghee or avocado oil. Once hot, add the pancakes with a ¼ – ? cup scoop. Cook for about 3 minutes each side, until you begin to see tiny bubbles popping up on the first side and the pancakes are golden brown.
Serve immediately with the apple topping, some sliced nuts and maple syrup if you like!
Dana Monsees
Food Blogger & Integrative Health Coach. Paleo-inspired, finger-licking delicious recipes & nutrition tips + inappropriate humor & mean girls quotes.