This recipe fits beautifully on any dinner table, and adds a touch of soothing brightness with its soft colors.
By Rinku Bhattacharya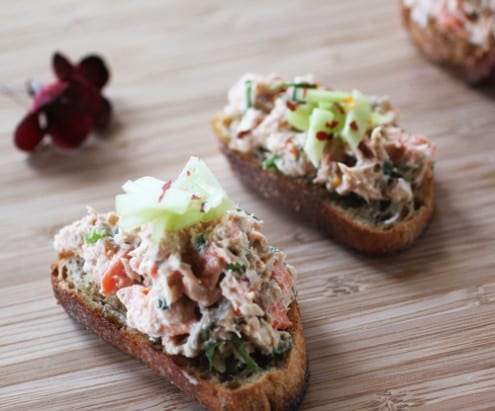 The weekend cooking is now a big deal, earlier the kids used want to try out different restaurants which they still like doing, but they have morphed in to this mode where they want me to make different things for them. All this is well and good, but there is still a marked difference between their flavor palates and my husband's.
I realize that this is not an uncommon dilemma, in that different members of the household tend to like different food preferences. My friend Susan is mostly vegetarian with a meat loving husband, JL here, who is a passionate and committed vegan has an omnivore husband. We have worked out the meat versus non-meat issues in our household. We tend to agree on fish and seafood and some chicken, on occasion I do like lamb, very rarely though.
Speaking of fish and seafood, one of the pantry staples or should I say refrigerator staples is wild salmon, usually the sockeye variety. Although this week, I had some frozen silver brite salmon. I am trying to wind down the frozen fish supplies since, I have finally found a fish supplier near us that I am happy with.
Once, I had identified the main dish, so to speak, I was trying to figure out a way to cook it that would work for all of us. I tried poaching it with classic Thai seasonings and continuing the theme of ingredients to arrive at a moist and flavorful salad.
The red pepper flakes were tossed in at the end for us. The kids had their as regular whole grain sandwiches and we had them as open sandwich, over slightly warmed whole grain baguette slices from my favorite local bread maker.
This recipe fits beautifully on any dinner table, and adds a touch of soothing brightness with its soft colors.
This recipe fits beautifully on any dinner table, and adds a touch of soothing brightness with its soft colors.
Author:
Rinku Bhattacharya
Recipe Type:
Side, party food
Ingredients
1 and ½ pounds wild salmon fillets
3 to 4 kafir lime leaves, torn
1 and ½ tablespoons fish sauce
2 tablespoons rice wine
½ cup water
½ tablespoon freshly grated ginger
4 to 5 tablespoons mayonnaise
1 tablespoon peanut butter
4 tablespoons red onion, very finely chopped
2 tablespoons finely chopped cilantro
½ teaspoon red pepper flakes
½ fresh lime
1 small fresh, thinly sliced cucumber
1 fresh whole grain baguette
Olive oil for dusting
Instructions
In a large flat wok or saucepan, add the salmon, lime leaves, fish sauce, water and ginger.
Cover and poach for 7 to 8 minutes, the fish should be just cooked though.
Drain the liquid and remove the lime leaves. Skin the salmon, if there is any skin on the fish.
Place in a mixing bowl.
In a separate bowl mix the mayonnaise and peanut butter thoroughly and then add to the salmon and mix well with the fork, to flake the fish but leave some texture.
Mix in the red onion, chopped cilantro, red pepper flakes and squeeze in the lime juice and mix well.
Thinly slice the cucumber.
Heat the oven to 350 degrees, slice the baguette and brush with olive oil.
Place the slices on a baking dish and cook for 6 minutes, until nice and warm.
Pile with the salad, top with cucumber and serve.
Rinku Bhattacharya
Rinku Bhattacharya, is a teacher of Indian Cooking and the author of the blog, Spice Chronicles. A busy working mother Rinku is committed to offering a practical approach of flavorful, everyday cooking often with an Indian Accent. An author of three cookbooks, Instant Indian, Classic Foods for Every Region of India made easy in the Instant Pot, Spices and Seasons, Simple, Sustainable. Indian Flavors and The Bengali Five Spice Chronicles. Rinku's passion for food starts with cooking and trying new recipes and extends to pairing and drinking wine with food and trying usual combinations by fusing various culinary influences. Rinku and her family are very committed to a sustainable lifestyle, and she uses mostly local produce for her recipes. She is joined in this effort by her husband who is an avid gardener and her children, Deepta and Aadi.