A quick stir fry of baby Thai eggplants with sweet cherry tomatoes flavored with lots of thai purple basil.
By Sukanya Ghosh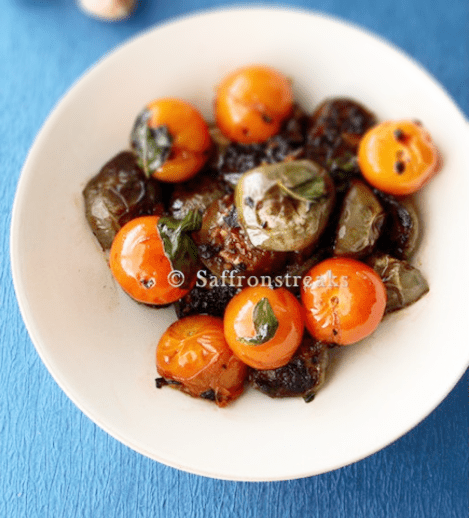 Thai Eggplants with Cherry Tomatoes
A quick stir fry of baby Thai eggplants with sweet cherry tomatoes flavored with lots of thai purple basil.
Ingredients
Thai eggplants (small, round) : 12
Fish sauce: 2 tbsp
Asian shallots : 2 (finely chopped)
Ginger : 1 tbsp (finely sliced)
Garlic : 2 cloves (chopped)
Sambal olek (red chilli paste) : 1 tbsp
Cherry tomatoes : 10-15
Black vinegar : 2 tbsp
Palm sugar (or use brown sugar) : 2 tbsp
Thai purple basil leaves : 18-20 leaves
Sesame – peanut oil : 2 tbsp
Instructions
Wash and chop off the stalk of the eggplants and cut them into half.
Toss the eggplants in 1 teaspoon of fish sauce and keep it aside.
Heat the oil in a wok, add the garlic, sliced ginger and chopped shallots and fry them on high heat till they turn brownish.
Add the eggplants and continue stir frying them on high heat till they changes color.
Lower the heat and add the sambal olek or chilli paste, give it a quick stir, add the vinegar, palm sugar and keep on frying till the eggplants charred and wilted and become tender.
Add the cherry tomatoes, toss well, check the seasonings, add the remaining fish sauce and cook for two -three minutes.
Lower the heat, cover and sim for 5 more minutes until the eggplants are tender but not mushy. Let it steam cook until it is ready to eat.
Stir in the basil leaves and serve hot with moong noodles.
Sukanya Ghosh
Sukanya writes the blog Saffronstreaks, a food and travel blog where she experiments in the kitchen spiced up with interesting food stories and gourmet travelogues. She loves to cook with fresh produce, enjoy both spicy and sweet and her many dining out experiences become cherished memories. Sukanya is from India but now lives in North Carolina, USA.