Fried Soba Noodles with sesame oil, red onions, spring onions, bean sprouts, sugar snap peas and chili topped with Grilled Beef Tenderloin Slices marinated in Teriyaki Sauce.
By Raymund Macaalay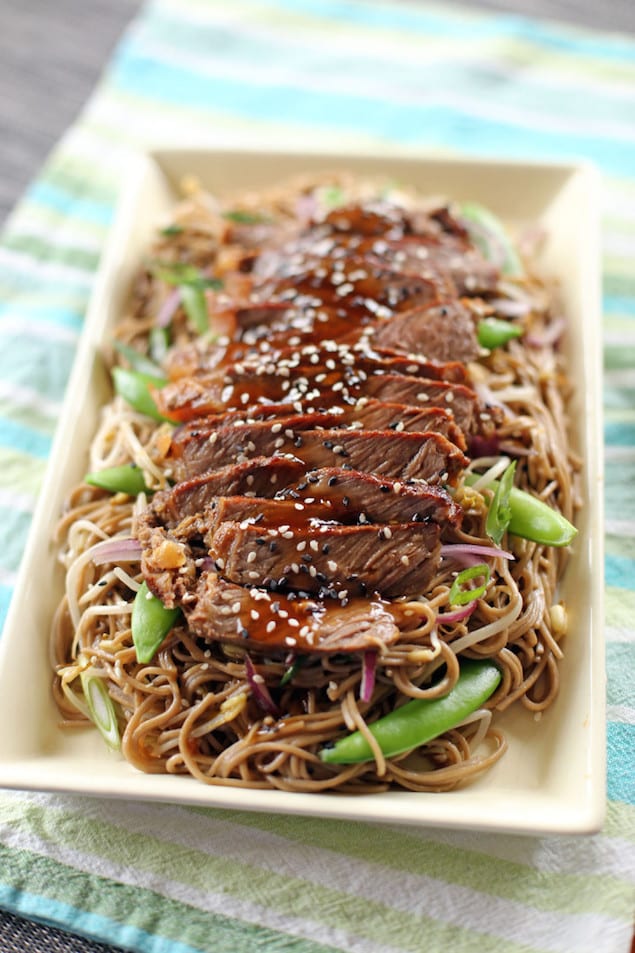 This post was inspired from a noodle dish I had tried before in Wagamama, it was so delicious. Having said that this is not the real recipe and this is my own version recreated from what I remembered and tasted when I order this. I tried the best I can to capture the similar taste and "Viola!" it seemed that I had nailed it.

Teriyaki Steak and Soba Noodles
Fried noodles with sesame oil, red onions, spring onions, bean sprouts, snap peas and chili topped with grilled tenderloin marinated in Teriyaki Sauce.
Ingredients
600g (21 ounces) Beef Tenderloin
400g (14 ounces) Soba Noodles
150g (5 ounces) bean sprouts
100g (3.5 ounces) sweet peas
Teriyaki Sauce (instructions on how to do it here)
fish sauce
1 red onion, thinly sliced
freshly ground black pepper
sesame oil
oil
shichimi togarashi
Instructions
Pat dry your streak with paper towel then sprinkle it with salt and pepper.
Grease your pan with oil, heat it up then pan grill beef in high heat until brown on each side.
Once cooked, slice it thinly then dip in teriyaki sauce. Set aside.
Prepare a pot of water and bring it to a boil. Add soba noodles with 1 tsp sesame oil and cook for 3 minutes. Drain then set aside.
Using the same pan you cooked your steak add oil and stir fry the red onions.
Add the sweet peas, soba noodles and fish sauce then stir fry for a further 2 minutes.
Turn off heat then mix the bean sprouts with the noodles.
Place noodles in a serving platter drizzle some sesame oil on top, place beef slices then top with few dashes of shichimi togarashi.