Filled with sweetness and spice, each bite contains velvety avocado and spicy chipotle mixed with bits pineapple. Don't discount the tablespoon of tequila that adds so much amazing zip.
By Abbe Odenwalder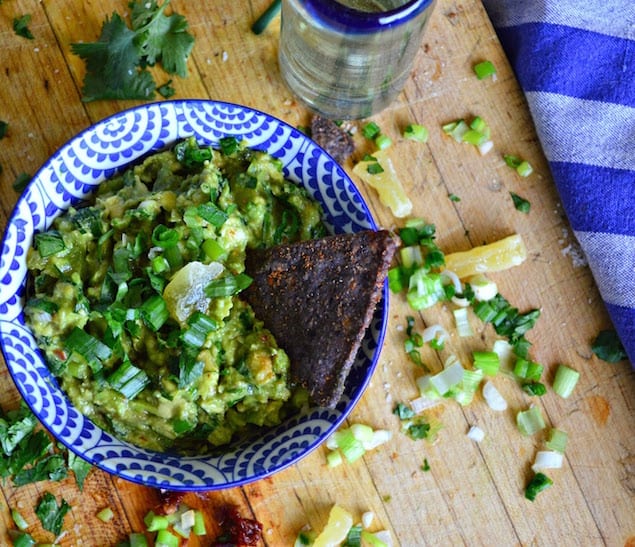 Who doesn't love guacamole? As a child my mother would make it for special occasions. Well, that is until she discovered artichoke dip and then that quickly became our favorite.
I can't say I have ever found anyone that doesn't like guacamole. Being so easy to whip up and now with the countless frozen varieties, one literally doesn't have to do a thing but open a container and put out the chips, but homemade is always better.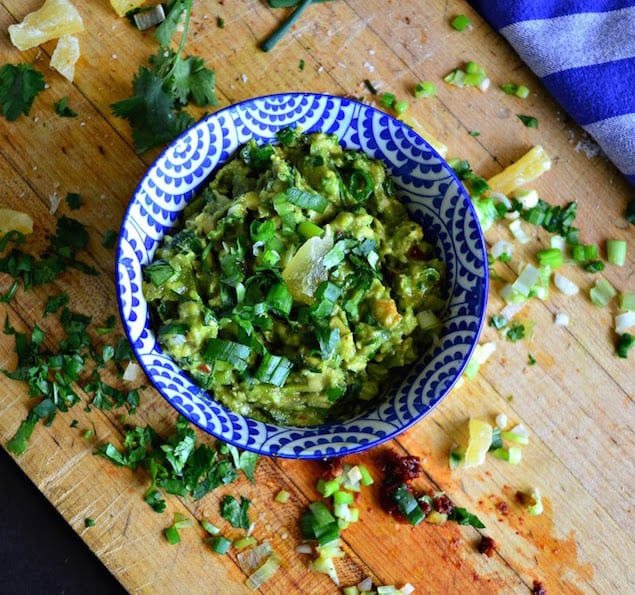 My standard version of whipping up guac generally involved some garlic, lime, cilantro, and onions. Add some jalapeno for heat and season it up with salt and that was pretty much it.
Enter the pineapple. Pineapple and avocado are both tropical fruits and work really well together. I decided it was time for them to elope. And what a wedding it was. Filled with sweetness and spice, it is a marriage that I dare say will last a long time! Each bite contains the velvety texture of the avocado and the magical spiciness of chipotle, mixed with the delicious chewy taste of dried pineapple. And don't discount the tiny bit of tequila at work here. It certainly is not necessary to use, but just one teaspoon adds so much zip. Really. It does.

Tequila-Spiked Guacamole with Pineapple
Filled with sweet and spice, each bite has velvety avocado, spicy chipotle and bits of pineapple. Don't discount the spoon of tequila to add amazing zip
Recipe Type:
appetizer, side
Cuisine:
Mexican-inspired
Ingredients
1 ripe avocado
3 T dried pineapple (I used Mariani, sold in the produce section)
¼ c finely chopped green onion
2 T chopped cilantro
2-3 t chopped chipotle (I always have these in the fridge.They can be found in the Mexican food section as chipotles in adobo sauce. Transfer to another container and keep in the fridge. They keep indefinitely.)
⅛ t salt or to taste
1 t tequila
Instructions
Chop dried pineapple into small pieces. Place in a small mixing bowl. Add green onion, cilantro, chipotle, salt and tequila. Mix up and then add your avocado. Mash it well into the other ingredients. I love this with blue corn tortilla chips that are seasoned with chile powder!