Bun, condiments, tomato, lettuce, cheese, burger, bun…you thought that was it? No way. There are countless creative ways to top your burger—everything from fried eggs to guacamole. These ten new topping twists will leave your friends and family speechless.
By Emily Barrett
This article has been posted with permission and originally appeared as 10 New and Creative Must-Try Burger Toppings on Relish
Kita Roberts
Maple Bacon Breakfast Burger
This sweet and savory "breakfast" burger is a great way to incorporate traditionally breakfast-time flavors into any meal of the day. Topped with a fried egg and maple glazed bacon, this patty packs the best breakfast foods all in one bun. Find the recipe here.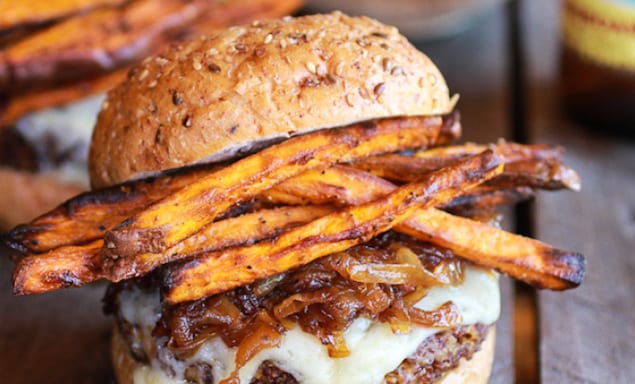 Tieghan at Half Baked Harvest
Sweet Potato Fries, Caramelized Onion and Gruyere Topped Quinoa Burger
So many incredible flavors are layered into this two-handed burger, including nutty gruyere cheese, beer-infused caramelized onions, and always-tasty sweet potato fries. The quinoa patty itself mixes chipotle seasoning, cheddar cheese, garlic, crunchy panko bread crumbs, and cannellini beans. Take your veggie burger to the next level. Find the recipe here.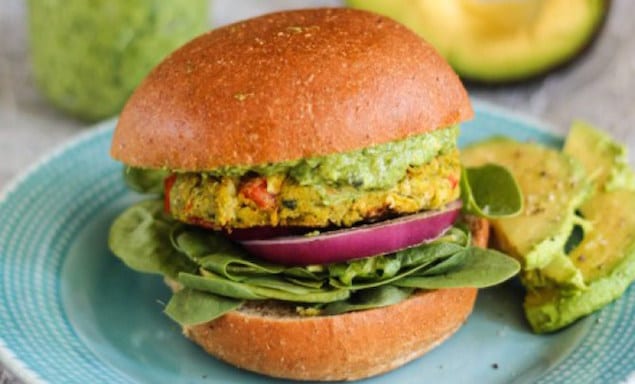 Monique at Ambitious Kitchen
Garlic and Basil Chickpea Burger with Avocado Pesto
This falafel-style patty is topped with a creamy avocado pesto, sliced red onions, vine ripe tomatoes, baby spinach and sliced avocados that come together making a vibrant sandwich that satisfies your burger craving without the meat. Find the recipe here.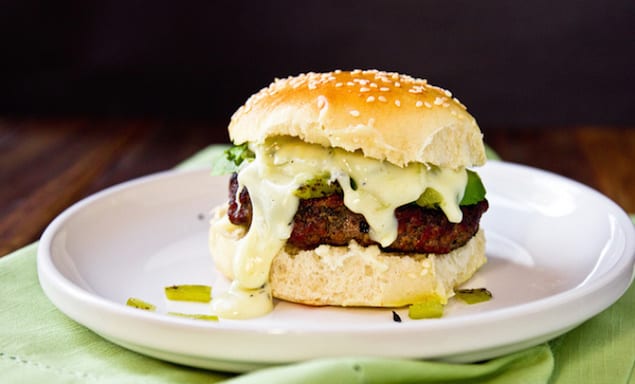 Shawnda at Confessions of a Foodie Bride
Stuffed Hatch Chile Cheese Burger
You can't go wrong with a burger stuffed with Monterey Jack cheese and Hatch green chiles. Top it off with fresh avocado slices and chile con queso to kick it up even further. Looking for the full fiesta effect? Throw in a pitcher of margaritas. Find the recipe here.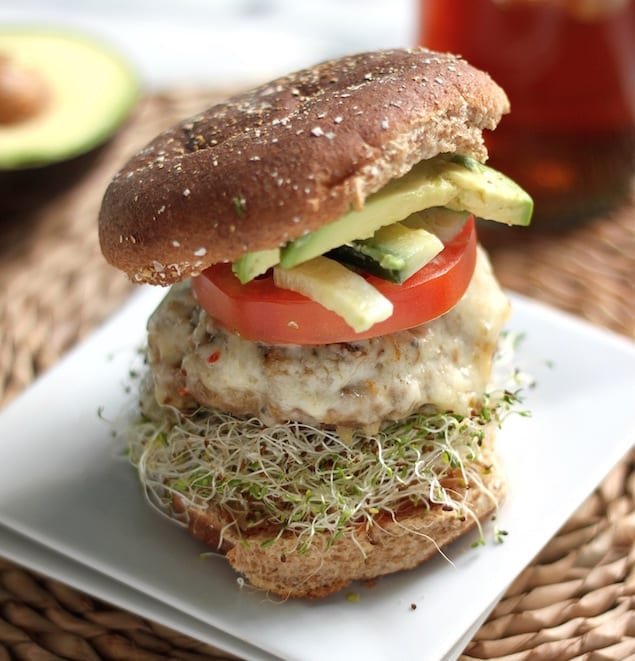 Ashley at Baker By Nature
California Turkey Burger with Sprouts
Take the classic turkey burger to new heights with this healthy, fun twist. Layered with alfalfa sprouts, creamy avocado, fresh tomato, Russian salad dressing, and spicy pepper jack cheese, this burger masters a surprisingly refreshing flavor combo. Find the recipe here.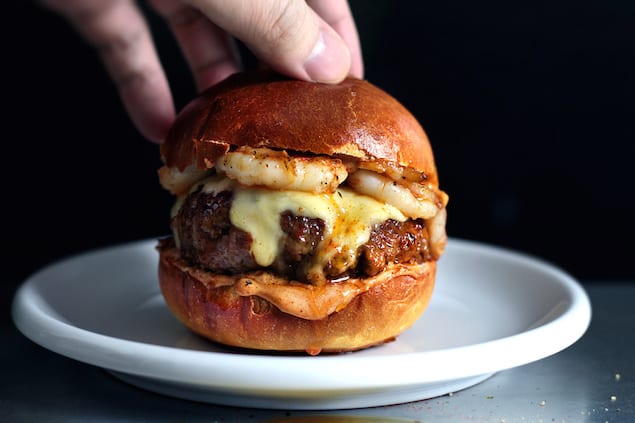 Lady and Pups
Chorizo Garlic Shrimp Burger topped with Shrimp
This decadent Mexican chorizo burger is topped with garlic shrimp, melted Manchego cheese, thin-sliced tomatoes, and tangy paprika mayo—all wedged between homemade sweet potato buns. Find the recipe here.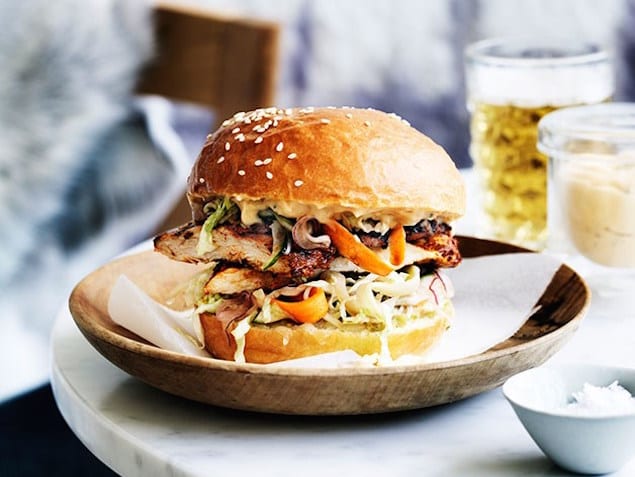 William Meppem
Chicken Burger with Slaw, Tomatillo Salsa, and Chipotle Aioli
Marinaded in Mexican oregano, chipotle chiles, smoked paprika, and cayenne. Need we say more? Okay, if you say so. It's topped with "dirty" slaw, fresh tomatillo salsa, and fiery chipotle aioli to turn up the heat even more. Find the recipe here.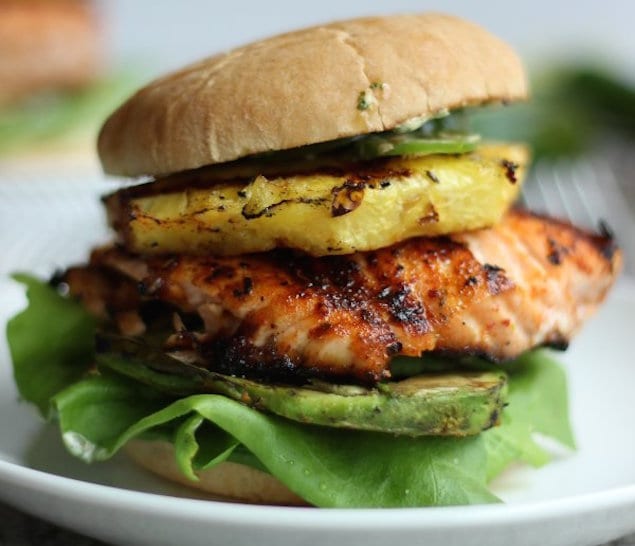 Lauren at Wicked Spatula
Pineapple-Topped Salmon Burger
Top this fish filet with grilled pineapple, fresh sliced jalapeños, avocado, and hot, tangy cilantro lime mayo. Any warm-weather burger could benefit from a little tropical spin, so use this game-changing recipe. Find the recipe here.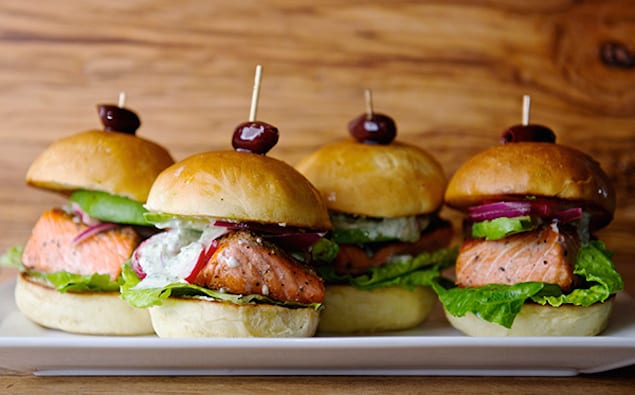 Ian McEnroe
Yogurt Sauce and Salmon Sliders
These Mediterranean-inspired sliders combine seared salmon, avocado, red onion, ripe tomato, radishes, and a zesty cucumber-dill Greek yogurt sauce in one bite. Add Kalamata olives to garnish, and you've got yourself a healthy new burger to add to your list of favorites. Find the recipe here.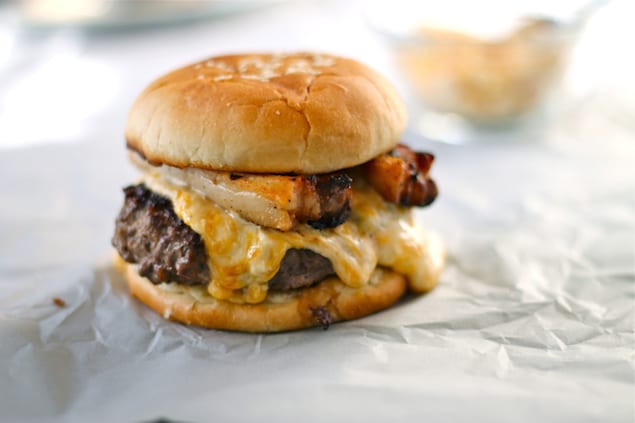 Taylor at Perpetually Hungry
Pimento Cheese and Pork Belly Burgers
This killer Southern-inspired burger will send you over the edge. Creamy pimento cheese and glazed pork belly piled high on a beef patty? Swoon. Find the recipe here.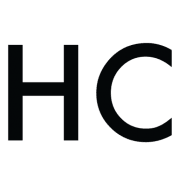 Relish
Offering more than 14,000 recipes plus features and DIYs on cooking, dining and entertaining, Relish celebrates America's love of food. Relish is about honoring cooking traditions while exploring new trends and ideas, which is why millions of people turn to both Relish.com and Relish Magazine for special occasion recipes, quick and easy weeknight suppers and culinary adventures.