Tarte á l'Oignon — Savory French Onion Tart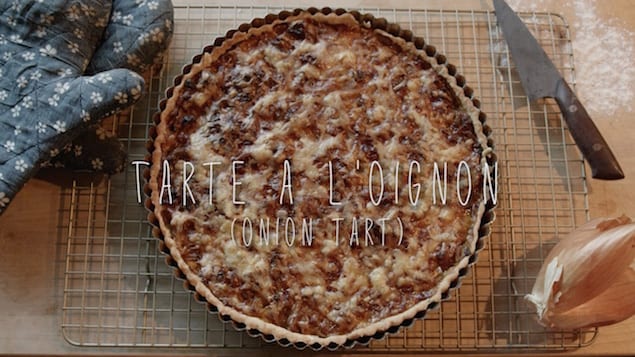 A delicious, simple and impressive Alsatian dish to serve next time the next time you host a gathering.
By Alana Lowe and Paul Helzer
Prep your dough and get to tarting – this savory tart is a French Alsatian delight from my mother in law, Brigitte Helzer. There is also a vegetarian option as you can always cut ham from the recipe. Music: "Cabin by the Sea" by The Diskettes

Tarte á l'Oignon (Savory French Onion Tart)
Delicious, simple and impressive dish to serve next time you host!
Ingredients
4-5 large onions, roughly chopped
1-2 tbs. unsalted butter
salt, pepper
½ tsp. nutmeg
2 slices ham or prociutto, roughly chopped
1 tbs. all-purpose flour
1 egg
½ cup milk
1 cup emmentaler, grated (could sub in some gruyere or swiss or other cheeses)
Instructions
Have savory dough ready - I like to have it rolled out on my pan then I keep it cold in the fridge til I'm ready. I have an awesome flaky savory dough recipe in my Tarte á la Tomate post.
Preheat oven to 450
Heat butter over low-medium flame
Add onions, stir and cover to sweat
This is a good time to grate cheese, roughly chop ham or prociutto
Add ham or prociutto to sweated onions
Add flour
In a separate bowl, whisk egg and milk together
Turn off flame, add mixture to onions
Pull out your prepped dough, pour in onions
Generously sprinkle grated cheese on top
Bake at 450 for 20 mins, then reduce heat to 350 for another 20 mins, cheese and edges of crust should be golden brown
Let cool for 10 mins on cooling rack before digging in
Enjoy!
Alana Lowe and Paul Helzer
Alana Lowe and Paul Helzer own a boutique production company and do all sorts of visual story telling for a living and since they love food, cooking and moving images, shooting food just made sense. In their blog, Cooking by Heart, they document family recipes. They are currently pumped for their new series UNFARMED, in which they'll explore wild, foraged, and otherwise under appreciated uses of various resources - like unexpected sources for natural dyes, wild medicinal plants and herbs, and even dinner.