Sweet and Spicy Caramelized Pumpkin Seeds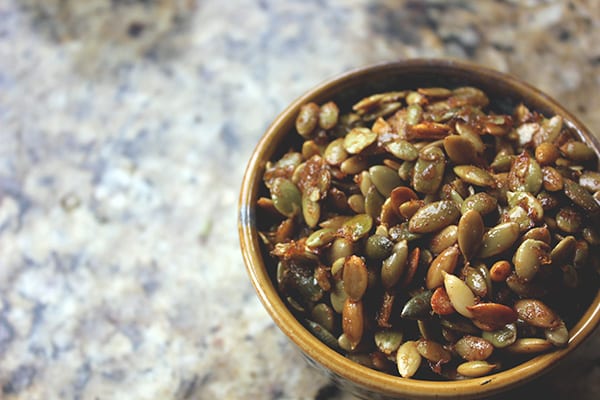 These are pumpkin seeds gone luxury, coated in a sweet and spicy mixture of brown sugar, butter, and spices and baked until toasted and caramelized.
By Bowen Close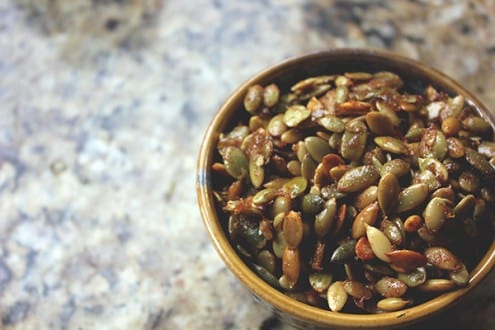 It also goes without saying that these do not have to make it onto your salads. They could go on roasted vegetables or tarts or a million other things, but what I'm really trying to get at is that they don't have to go on anything at all, because they make a pretty fantastic snack on their own. All you need in that case is a bowl, if you feel like moving them there from the baking sheet before popping them into your mouth.
Sweet and Spicy Caramelized Pumpkin Seeds
These are pumpkin seeds gone luxury, coated in a sweet and spicy mixture of brown sugar, butter, and spices and baked until toasted and caramelized.
Ingredients
1¼ cup unroasted, unsalted pumpkin seeds (aka pepitas)
3 Tbsp. brown sugar
3 Tbsp. butter, room temperature (melted and cooled will work in a pinch)
1½ tsp. salt
¼ tsp. cayenne
¼ tsp. ground cumin (preferably whole seeds toasted and ground, but already ground is just fine)
Instructions
Heat oven to 350F. Line a baking sheet with parchment or a silicone liner, if you have it – these things help with clean up in case a bit of sugar burns at the edges.
Mix all ingredients together in a small bowl and spread on the prepared baking sheet.
Bake for 10 minutes or until the seeds are golden brown and things smell toasty and caramelized when you check them. Stir the seeds around a bit at the 5 minute mark, making sure to spread them back out again before you put them back in the oven. They'll be a bit gooey when you take them out of the oven, but as they cool they'll crisp up. You can easily break them up with a wooden spoon or your fingers.
Bowen Close
Bowen Close believes that food should make people happy and healthy, and loves bringing together people with creative, delicious food made from the heart. She loves making farm-inspired, flavorful dishes with sustainable ingredients - whether that's a big plate of roasted veggies, a towering chocolate layer cake, or a cocktail utilizing backyard ingredients - and collects recipes and other food-related stories on her website, Bowen Appétit. She is a chef, cooking instructor, and food writer living in Southern California with her husband and fully stocked pantry.