Enjoy a South Indian green yogurt curry recipe made from ground coconut, cilantro, green chilis and spices.
By Chitra Agrawal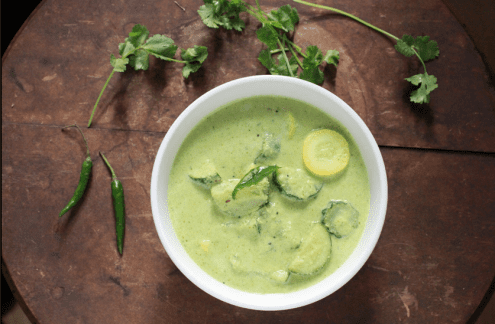 We've been experiencing a pretty intense heat wave on the East coast with temperatures hitting the 100s, which was all the reason to prepare my mom's recipe for majjige huli, a South Indian green yogurt curry made from ground coconut, cilantro, green chilis and spices.
Green Yogurt Curry with Summer Squash
Enjoy a South Indian green yogurt curry recipe made from ground coconut, cilantro, green chilis and spices.
Ingredients
1½ pounds summer squash (yellow or green zucchini), cut ½ inch thick rounds with large pieces cut again in half
3 cups yogurt (or combo yogurt and buttermilk)
small bunch cilantro leaves
½ cup frozen fresh grated coconut, thawed
2 tablespoons chana dal
2-3 green chilis
½ teaspoon cumin seed
½ teaspoon black mustard seeds
¼ teaspoon turmeric powder
salt to taste
for tempering
2 teaspoons vegetable oil
pinch of hing / asafetida
1 dried red chili
½ teaspoon cumin seeds
½ teaspoon mustard seeds
4 fresh curry leaves
Instructions
In a pan, fit a steamer with water below, but just at a level that is below the steamer and not touching it. Place cut summer squash in the steamer basket. Turn the heat to medium/high and when the water starts to boil, turn to medium and cover. Steam for about 15 minutes or until tender. Immediately immerse the squash in a bowl of cold water to avoid overcooking.
In a blender, put in the chana dal and grind until powder. Have about a 1 cup of water by the blender. Add in coconut, green chilies, cilantro, cumin seed, black mustard seeds, turmeric powder and slowly add water as needed so that you can a well ground paste. You want this to be as smooth as possible but by adding in enough water. For this recipe, I added in about ¾ cup water. When you have a nice paste, add in your yogurt and/or buttermilk. Blend this well.
In a pan place the steamed summer squash, the yogurt curry and salt to taste. Put the heat on medium. You want the mixture to boil once. At this time, turn the heat off.
In a small saucepan, heat the oil under medium heat and add in the hing, black mustard seeds and cumin seeds. When the mustard seeds start to pop and the cumin seeds start to brown, turn the heat to low and add in your curry leaves and dried red chili, broken in half. Coat everything with oil and pour this oil mixture on top of the yogurt curry.
Serve majjige huli with hot rice. You can also chill it if you like, but traditionally at home, we would eat it after it was just prepared.
Chitra Agrawal
Chitra writes the food blog, The ABCD's of Cooking, which chronicles her adventures cooking American Born Confused Desi recipes. When she is not recipe blogging, Chitra can be found hosting her online cooking show and a supper club featuring Indian-inspired, vegetarian cuisine. She also teaches cooking classes and sells Indian street foods (sometimes yummy Indian tacos!) at events and artisanal markets in Brooklyn. Her cooking has appeared in the New York Times Dining Journal and she is a contributor to The Huffington Post, Gojee, The Daily Meal and Brooklyn Based.