Sweet Potato, Spinach, Feta and Pinenut Salad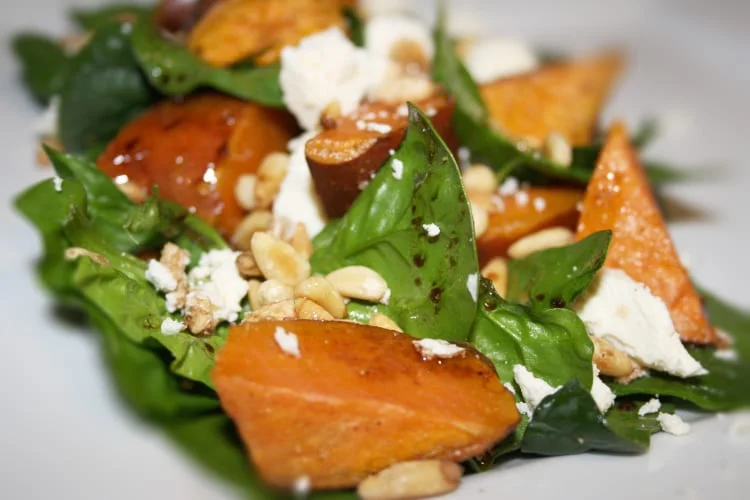 It's too humid to be sitting around waiting for slow cooked meals and roasts in the oven around this time of year, so simple and delicious salads are an all round winner.
By Lauren Tangey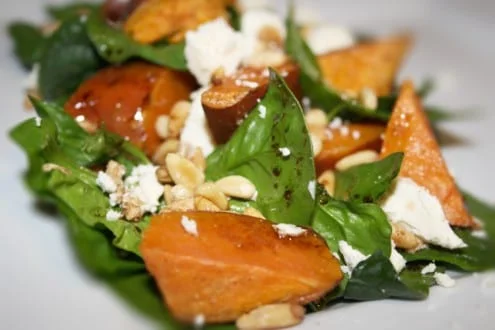 This is my favourite salad at the moment.. I could eat a whole bowl of it and be completely satisfied.

Sweet Potato, Spinach, Feta and Pinenut Salad
It's too humid to be sitting around waiting for slow cooked meals and roasts in the oven around this time of year, so simple and delicious salads are an all round winner.
Ingredients
- 1 medium sized sweet potato, cut into chunks
- ½ a block of danish fetta, broken into decent size chunks
- a large handful of baby spinach
- ½ cup of toasted pinenuts
- good quality balsamic vinegar
- good quality extra virgin olive oil
- salt and pepper
Instructions
Pre-heat oven to 180*C
Place the chunks of sweet potato in a large bowl, season well with salt and freshly cracked pepper and a good drizzle of olive oil. Massage well with your hands making sure each piece is evenly coated with the golden goodness of the olive oil.
Place on a tray, with baking paper and pop into the oven and bake until just tender and a little golden :)
In another large clean bowl, throw your spinach leaves, nuts and danish fetta in, with a small amount of pepper and salt, toss gently.
Add the sweet potato and a little balsamic and toss gently again, being careful not to smoosh the fetta everywhere.
Place in a large serving bowl ready to go aside your favourite mains or simply by itself.
Lolly
Food Lover. Food Blogger. Chef. Mother. Lover. Free Spirit. Ever Evolving... Lauren Tangey thinks food is exciting and not to mention versatile. It's time to get back to basics. It's time to get involved in the food we eat.