PARTNER POST: Get ready to feed a holiday crowd with appetizer recipes paired perfectly with food-friendly Cavit wines.
Modeled after the traditional Bengali croquet, these fish cake appetizers swap out potatoes for sweet potatoes to become a perfect seasonal appetizer.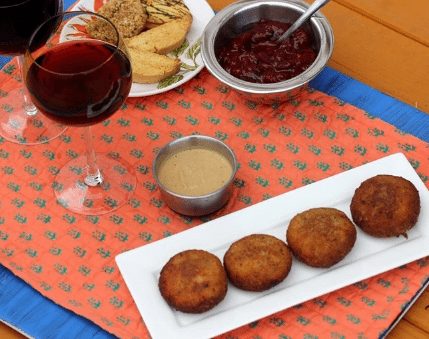 This week with the onset of the cold felt a little harder, however, I survived and celebrated by making an interesting riff on the very Bengali fish chops or croquet. I subbed most of the potatoes with sweet potatoes, and the world did not end!
In fact, it became pretty tasty. The folks at Cavit sent me both red and white wine and this recipe, interestingly I feel works with both varieties but tends to complement their red somewhat better.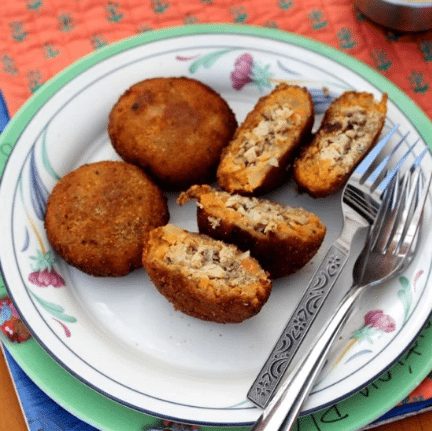 Their Pinot Grigio has a crisp, fresh taste. This from someone who does not typically like white wine is a big deal. There are so many recipes bubbling around in our kitchen and world.
For another easy holiday appetizer, try these trout bites. Recipe here.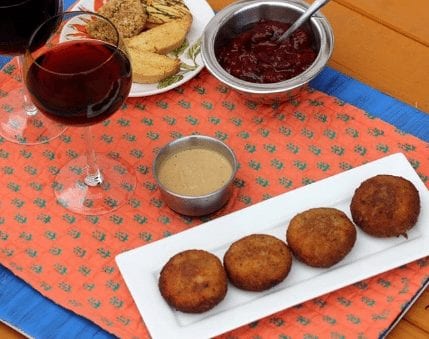 Rinku Bhattacharya
Ingredients
For the Fish Filling
1/2

pound

of salmon or cod fillet

1

teaspoon

salt

2

tablespoons

oil

1

medium onion chopped

1

tablespoon

freshly grated ginger

1

teaspoon

powdered cumin

1/2

teaspoon

red cayenne powder or to taste

1

teaspoon

sugar

1

teaspoon

garam masala powder

2

tablespoons

chopped cilantro
For the coating
1

pound

of sweet potatoes

1

medium sized russet or Yukon gold poatoes

2

tablespoons

lime juice

1

teaspoon

powdered cumin

1

teaspoon

red cayenne pepper or to taste

Salt to taste

1

cup

of all purpose flour

2

cups

of breadcrumbs

OIl for frying
For the creamy peanut dipping sauce
1/2

cup

salted peanut butter

1/2

cup

coconut milk

1

tablespoon

fresh ginger

2

green chilies

2

tablespoons

lime juice

1

tablespoon

sugar
Instructions
Place the fish in a microwave safe dish, drizzle with salt and a little water and cover and microwave for about 5 minutes.

Set aside and when cool, remove the cover and flake the fish.

Heat the oil and add the onion and cook the onion until soft, add in the ginger and cook for another minute.

Add in the fish and mix well. Add in the cumin, red cayenne powder, sugar and garam masala and mix well.

Stir in the cilantro and set the mixture and set aside to cool.

While the mixture is cooking, boil the sweet potatoes and potatoes jacket on until soft. Cool the sweet potatoes and the potato and mash well. Add in the lime juice, cumin, salt, cayenne pepper and salt and mix well.

Beat the flour with water to form a thin clingy batter.

Break small amounts of the potato batter, shape into a an oval and make a dent in the center and fill with the fish filling and cover with the sweet potato mixture. Continue until all the sweet potato and fish mixture is used up.

Spread the breadcrumbs on a piece of parchment. Flatten and dip the sweet potato fish cakes in the flour mixture and coat well with bread crumbs and place on a plate. Continue all the fish cakes in this manner. Chill for an hour. For best results make these the night before serving.

Heat the oil in a skillet and add the cakes about 2 to 3 at a time and fry until golden and then turn.

To make the sauce, add the peanut butter, coconut milk, ginger, chilies, lime juice and sugar in a blend and blend until smooth.

Serve the fish chops with the dipping sauce a glass of your favorite wine.
Rinku Bhattacharya
Rinku Bhattacharya, is a teacher of Indian Cooking and the author of the blog, Spice Chronicles. A busy working mother Rinku is committed to offering a practical approach of flavorful, everyday cooking often with an Indian Accent. An author of three cookbooks, Instant Indian, Classic Foods for Every Region of India made easy in the Instant Pot, Spices and Seasons, Simple, Sustainable. Indian Flavors and The Bengali Five Spice Chronicles. Rinku's passion for food starts with cooking and trying new recipes and extends to pairing and drinking wine with food and trying usual combinations by fusing various culinary influences. Rinku and her family are very committed to a sustainable lifestyle, and she uses mostly local produce for her recipes. She is joined in this effort by her husband who is an avid gardener and her children, Deepta and Aadi.