This smooth coconut cream soup is vibrant and sweet. Ginger, chilies, lemongrass and limes live up the flavorful bowl. Serve with a grilled cheese sandwich for a fun meal.
By Christina Soong Kroeger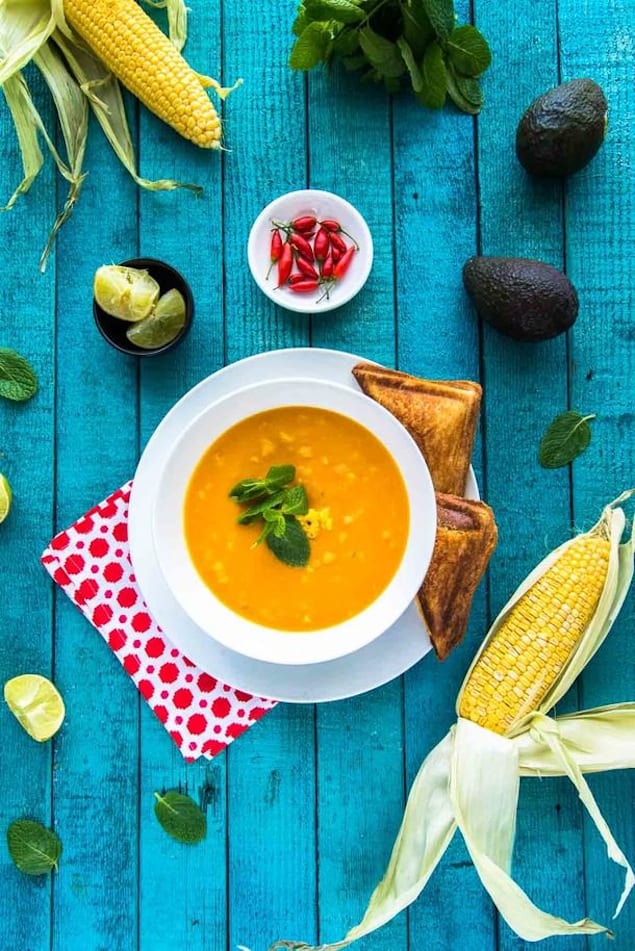 I have a food memory. I couldn't tell you all the names of the people I went to high school with but I can remember the taste, sight and texture of dishes I've eaten decades ago. This recipe is a case in point as it's inspired by a sweet potato and sweetcorn soup I ate one memorable evening in 1996 at Ruby's, a long-closed Rundle Street restaurant that would probably be described as 'hipster' today. I'd never seen sweet potato and corn in a soup before and was struck by how good it was.
The dinner at Ruby's marked the beginning of a perfect evening. After dinner, my friend Barbara and I went to watch the British dance theatre troupe DV8 perform at the Adelaide Festival Centre as part of the Adelaide Festival of Arts. After a mesmerising performance, I then met up with my friend Kerina to watch British indie band, Elastica, play an incredible set at the Tivoli Hotel.
See Also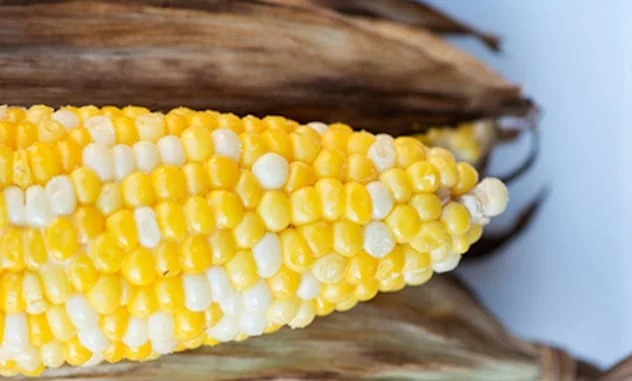 It was three amazing experiences in one night and it all started with soup.

Sweet Potato and Corn Soup
This coconut cream soup is vibrant and sweet. Ginger, chilies, lemongrass and limes live up the flavorful bowl. Serve with a grilled cheese for a fun meal.
Author:
Christina Soong Kroeger
Ingredients
1.5 kgs sweet potatoes. Try to choose ones approximately the same size.
1.5 litres (6 cups) water
4 ears corn
250 mls coconut cream
1 cup water
1 teaspoon salt
1 litre (4 cups) water
1 teaspoon minced ginger or 1 inch piece fresh ginger, grated
1 teaspoon lemongrass or 1 fresh lemongrass stalk, white part only
1-2 Birds Eye chillies
Fresh coriander and/or basil leaves
2 limes
Instructions
Heat oven to 180 degrees Celsius -- if I'm roasting sweet potatoes in their skins I don't bother pre-heating the oven-- and line a baking tray with tinfoil. Arrange whole sweet potatoes on top and roast for 45 minutes or until done (the time depends on the size of your potatoes). Check if potatoes are ready by inserting a skewer - it should slide through the flesh easily. If they're still hard leave them in the oven for another 10 minutes and try again.
In a large pot, bring one litre of water the boil and then place corn inside. Boil for about eight minutes.
While the corn is cooking, place coconut cream, 1 cup water and 1 teaspoon salt in a container that will snugly fit all four corn side by side.
Place corn inside and turn a few times so that the corn soaks up the coconut mixture. Remove corn from coconut and then grill under a hot grill, on a barbecue or on a hot grill pan. Once done, remove to a plate to cool slightly and then use a sharp knife to slice the corn ears into thick slices or to slice the kernels off completely.
When sweet potatoes are ready, leave to cool for 10 minutes and then peel off the skin. Place the flesh inside a large pot pot along with 1 litre water, the rest of the coconut mixture, the ginger, lemongrass and chilli.
Blend soup with a stick blender, taste and season with salt and pepper.
Ladle soup into bowls and then garnish with corn, coriander and/or basil leaves and lime wedges.
Notes
This way of preparing the soup isn't super-quick; it would be far easier just to boil diced sweet potato in water until it was soft, blend it up and then add the shaved corn kernels in the last five minutes. And you can totally do it that way, if you're pressed for time, in which case you should ignore all the grilling instructions and add the coconut cream directly to the soup. But I love the gorgeous, caramelised taste of sweet potatoes roasted in their skins and the smoky flavour of grilled corn so I've done it this, more complicated way. Besides, sometimes cooking, like friendship, shouldn't be rushed; sometimes it's far better to let things unfold naturally at a leisurely pace.
Dairy-free and gluten-free.
Serve it with toasted sandwiches, fresh bread, or flavoured polenta or quinoa for a hearty and filling meal.
Christina Soong-Kroeger
Christina publishes The Hungry Australian - a collection of recipes, reviews and stories about food - and is a regular contributor to Sumptuous. Her writing has appeared in the China Daily and That's Shanghai while her photography regularly appears on Foodgawker, Tasteologie and Photograzing. After eating her way around Shanghai, London, Hong Kong, Leeds and Melbourne, she now calls Adelaide, South Australia, home again.