Sweet Favorite – Cinnamon Rolls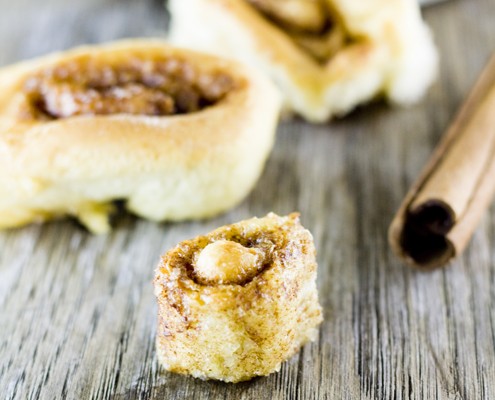 Cinnamon rolls are a staple in Tamara Novacoviç's house, and who can blame her?
By Tamara Novacoviç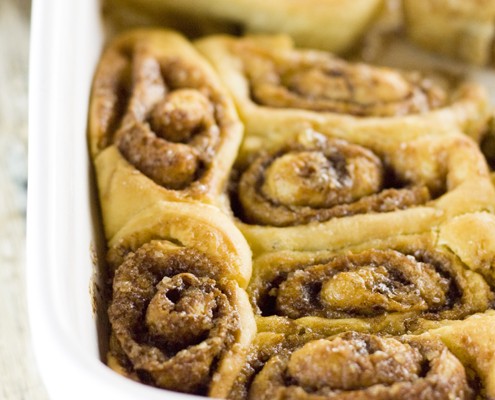 Cinnamon rolls are my favorite sweet bread (I call it all sweet bread). Traditional version of these rolls in my country are walnut filled rolls with milk. However, I prefer these. Brown sugar is obligatory in them, as well as vanilla. Sometimes I add orange zest and I always pour some sour cream or heavy cream with sugar over the rolls.
Some time ago, I found the idea of sweet bread filled with cinnamon and sugar and brushed with butter completely unnecessary. I just didn't believe there was anything appealing in a dessert like this one. Until I made them myself and tasted them for the first time. The lovely smell of cinnamon, orange zest and buttery vanilla. It has been a love affair ever since.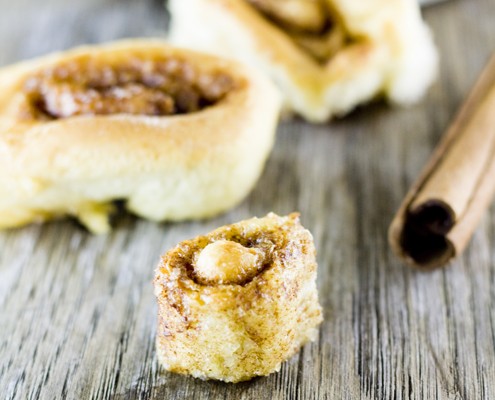 This recipe is adapted from the blog Sweet Sensation. Click here for the original recipe.
Cinnamon rolls are a staple in my house, everybody loves them!
Ingredients
For the bread dough
¼ cup (60 ml) water
1 cup (240 ml) milk
½ cup (113 g) unsalted butter
1 extra large egg
1 tsp vanilla extract
½ tsp salt
½ cup 8113 g) caster sugar
4½ cup (570 g) all purpose flour
2½ tsp (7 g) instant yeast
For the cinnamon filling
1 cup (200 g) brown sugar
2½ tbsp ground cinnamon
2 tsp vanilla extract
½ cup (100 g) butter, melted
For the glaze
¼ cup (60 ml) heavy cream
1 tsp vanilla extract
Instructions
Make the dough:
Gently melt the butter over low heat (do not let it boil!). Add the water and milk and allow the mixture to cool to room temperature.
Pour the butter mixture into the bowl of an electric stand mixer fitted with the paddle attachment. Add the remaining ingredients, in the order listed above. Beat on low speed for 3 minutes or until the dough starts coming together. Switch from paddle attachment to dough hook attachment and knead on medium speed until the dough is smooth and shiny, 8 to 10 minutes. The dough should no longer stick to your fingers or to the sides of the bowl.
Form a ball and transfer to a lightly oiled bowl. Cover the bowl with plastic wrap, and then a kitchen towel. Let the dough rise in a warm place until doubled in volume, about 1-2 hours.
Make the filling:
In a small bowl combine sugar and cinnamon. Melt the butter with vanilla extract.
Assembling and baking:
Transfer the risen dough to a lightly floured work surface and punch some of the air out. Grease a 30x40cm baking tin with butter.
Roll out the dough to a 15 inch X 24 inch (35x55 cm) rectangle so that the longer side is closest to you. Mark off a 1 inch (2.5 cm) border along the edge of the dough closest to you. Using an offset or a rubber spatula spread the melted butter over dough, making sure to leave the 1 inch (2.5 cm) border edge clean (so that you can seal the roll). Sprinkle cinnamon sugar mixture over the butter, making sure not to sprinkle on border edge. Gently press the cinnamon sugar mixture with the palms of your hands so that it sticks on the butter. Using a pastry brush, brush a bit of water on the border edge of the dough. Roll the dough gently towards you into a log, pinching gently to seal and keep it rolled up.
Using a sharp knife, trim the left and right ends of the log (approximately 1 inch or 2cm on each side). Cut the log into 1½ inch (4 cm) pieces and transfer them to a baking tin, cut side up.
You can freeze the rolls a this point. Cover the tin with aluminum foil and store in the freezer for up to two months. When you want to bake the rolls, take them out of the freezer the night before and leave at room temperature to thaw and rise for 10-12 hours before baking. Then proceed according to baking instructions. At this point you can also store the rolls in your refrigerator overnight if you don't want to bake them right away. Just take them out of the fridge at least 2 hours before baking so they reach room temperature and bake according to instructions.
If baking the same day, cover the tin with plastic foil and a kitchen towel and let them rise for 1 hour. During that period, the rolls should rise enough to touch each other and the sides of the tin.
Preheat the oven to 335 F (170°C).
Bake the rolls for 20-25 minutes or until they are a nice golden brown color.
In a small saucepan, combine heavy cream with vanilla and heat slightly. Pour over hot rolls.
Let them cool a bit in the tin and serve warm.
Tamara Novakoviç
Tamara Novakovic is a passionate self-taught cook, food blogger, freelance food writer and photographer behind bite-my-cake.blogspot.com. Her life journey has led her through Faculty of Humanities in Zagreb, Croatia to discovering passion for making cakes. She is currently a weekly food columnist for Croatian newspaper V magazine and food magazine Repete.