Aloo or Potato Fry is a simple stir fried potato recipe made using basic Indian spice mix.
By Sia Krishna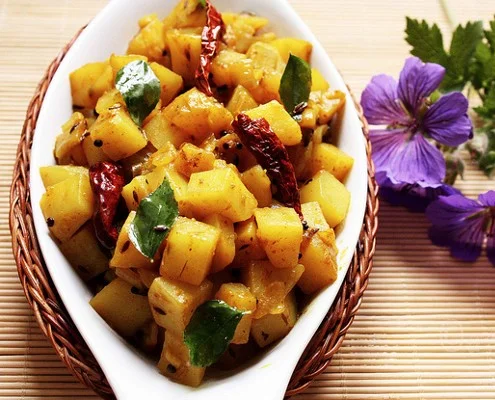 Fried, boiled, baked, mashed, stuffed, roasted, grilled… all the wonderful ways you can use potatoes! This much loved tuber is cooked once or twice a week in my kitchen. Use with any other vegetables or spices and herbs, this humble spud simply compliments and embraces all the flavours. The end result is always a wonderful and delicious dish that is relished with complete devotion and enthusiasm by every family member. We can never get enough of simple, rustic potato recipes. This humble spud always tops the chart when it comes to popularity and its versatility in cooking.
Aloo or Potato Fry is simple stir fried potato recipe made using basic Indian spice mix. This quick recipe of chunky potato cubes stir fried with few basic spices brings out the best in them. You can make it even simpler by opting out onions, and stir fry the potato cubes with any of your favourite spice or herb mixes. If you still want to reduce the amount of cooking time, simply opt for boiled, peeled and cubed potatoes and give it a quick stir with basic spice and/or herb mix. The sweet crunch of onions, spicy bite of potatoes and the heady aroma of spices is what you get with every single spoonful of this delicious dish! Serve them hot with a bowl of rice topped with dollop of ghee and simple dal (a creamy lentil dish); this is one meal that never fails to bring smile on your face!

This quick recipe of chunky potato cubes stir fried with few basic spices brings out the best in them.
Ingredients
3 large Potatoes, scrubbed, washed, peeled and diced into ½ inch cubes
1 medium Onion, finely chopped
1 tsp Ginger-Garlic Paste
1-2 tbsp Coriander Leaves, finely chopped
Salt to taste
Spices Used:
½ tsp Turmeric Powder
1 tsp Garam Masala
1 tsp Coriander Powder
½ tsp Dry Mango Powder or 1 tbsp Lemon Juice
For Tadka/Tempering:
1 tsp Mustard Seeds
1 tsp Jeera/Cumin Seeds
1 Dry Red Chillies, broken
Few Curry Leaves
A big pinch of Hing/Asafoetida
2 tbsp Oil
Instructions
Heat oil in a wok and add mustard seeds, cumin seeds, dry red chillies, curry leaves and hing.
When mustard seeds start to pop and splutter, add finely chopped onions and fry for 2-3 minutes on medium flame.
Next, add ginger-garlic paste and fry for 2 minutes till the raw smell disappears and onions turn light brown in colour.
Mix in diced potatoes and give it a good stir for a minute or two.
Add all the spices listed above one by one along with salt to taste and mix them well to coat every potato piece. If using lime/lemon juices save it till the end.
Sprinkle little water and cover the wok and cook for 5-8 minutes. Give it a good stir in between to save the potatoes from sticking to the bottom of the vessel.
Sprinkle little more water if needed and cook for another 3-5 minutes till the potatoes are cooked thoroughly.
Add lime/lemon juice and switch off the gas. Mix in finely chopped coriander and serve it hot with any dal (creamy lentil soup), a dollop of ghee and rice or any Indian flat breads.
Notes
If you are short of time, simply use boiled, peeled and cubed potatoes and it will take half the cooking time. You can leave out onions and ginger garlic paste and just use potatoes to make simpler version of Aloo Fry.
Sia Krishna
Born in India and raised in fun and food loving family, Sia Krishna is currently living in UK with her better half and her two babies, one year old son and 5 year old blog Monsoon Spice. Her cooking style has strong root in Indian culture and at the same time embraces the world cuisine with equal passion. With never ending love for food, spice and life, Sia is passionate about making Indian food less intimidating which reflects in her food blog "Monsoon Spice", nominated for Top Food Mom Bloggers 2011 by Babble.