Everything about this salad is hot weather-friendly. All of the ingredients are ready to use – no prepping, washing or cooking required.
By Natalie Rose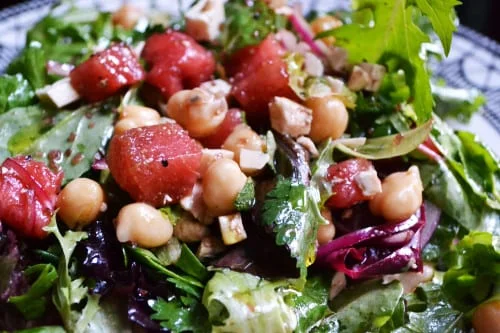 Summer Salad with Watermelon, Feta and Chickpeas
Everything about this salad is hot weather-friendly. All of the ingredients are ready to use – no prepping, washing or cooking required.
Author:
Natalie Rose, dressing adapted from Ina Garten
Ingredients
Dressing
¼ cup good olive oil
11/2 tablespoons balsamic vinegar
½ teaspoon Dijon mustard
1 clove garlic
½ teaspoon sea salt
½ teaspoon freshly ground black pepper
Salad
2 cups chopped watermelon
1 canned low-salt chickpeas, drained and rinsed
¼ small red onion, slivered and rinsed
one box pre-washed mixed greens
¼ cup roughly chopped feta, French is best
¼ cup loosely packed, roughly torn parsley leaves
Instructions
Chop garlic very finely. Sprinkle half of salt over garlic and mash salt and garlic together with the side of your knife, making it into a paste. Add garlic, Dijon, balsamic, salt and pepper to a bowl and whisk to combine. Slowly drizzle in olive oil, whisking constantly.
In a large bowl, add salad ingredients and toss to combine. Drizzle dressing over greens, season with salt and pepper and serve immediately.