SPONSORED POST – Versatile, food-friendly and fun, discover Beaujolais and all the ways to invite the wine to your celebrations this summer.
Check out this buttery, flaky galette with a juicy strawberry-peach filling and a crispy almond-speckled crust. It's the perfect sweet to take on a picnic with a bottle of Beaujolais wine.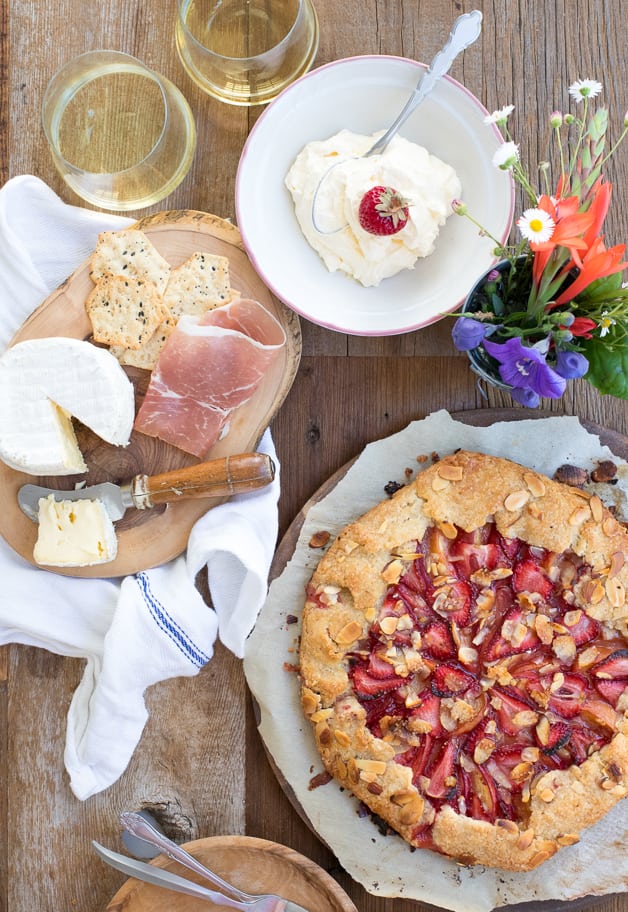 Summer is finally here and I COULD NOT BE MORE EXCITED. There's something about the
season that just makes everything feel brighter, easier, and all in all happier, you know? So in
celebration of this perfect time of year, I put together a little gluten-free summer picnic for us,
complete with fresh fruits, light bites, a simple seasonal dessert, and white wine in the form of
Beaujolais Blanc. In true French style, it's classy and effortless all at once.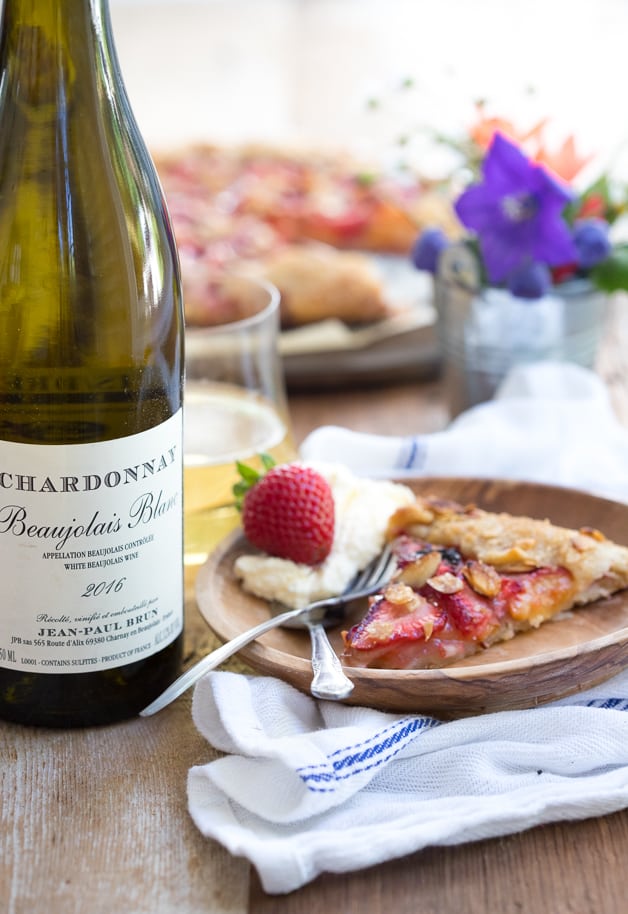 The beauty of a summer picnic is that you can keep things pretty simple and still make the
whole experience feel very authentic. My way of doing this is by choosing high-quality foods
that require minimal to no prep – i.e. artisanal cheeses and wine, charcuterie, seasonal fruits, etc. Here's what I included in my spread:
• Gluten-free crackers
• Brie
• Prosciutto
• Yellow peaches
• Strawberries
• Gluten-Free Strawberry-Peach Galette
• Almond Whipped Cream
• Beaujolais Blanc Chardonnay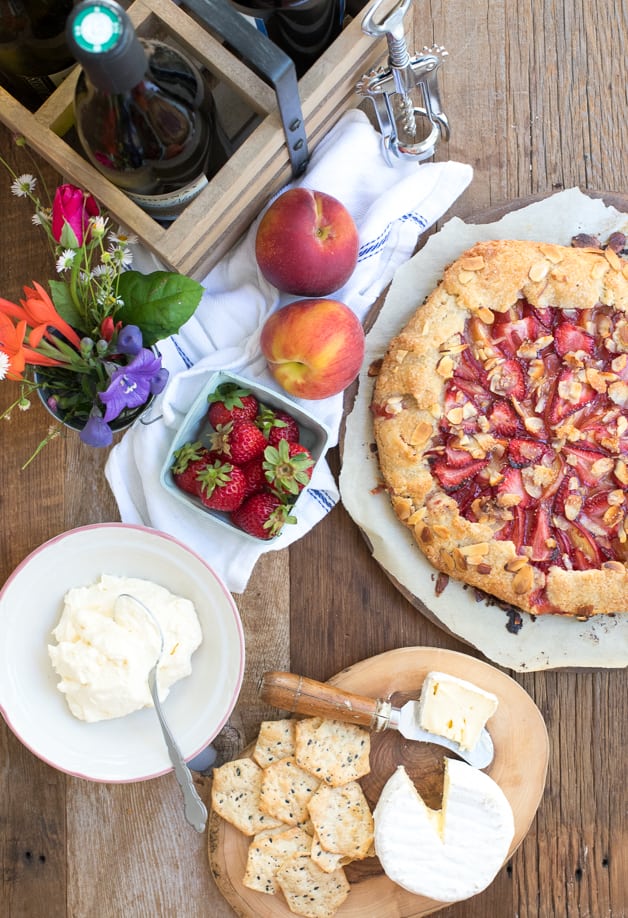 You could also throw in some jams, nuts, and even a gluten-free baguette or two if you're
feeling extra indulgent. The idea is to keep it gourmet yet effortless and attainable – just like this
Strawberry-Peach Galette. It has all the flavors of a pie, but in a much more rustic form that's
perfect for picnicking, with a sweet & juicy strawberry peach filling sitting atop a flaky, buttery
almond crust. SO GOOD.
See Also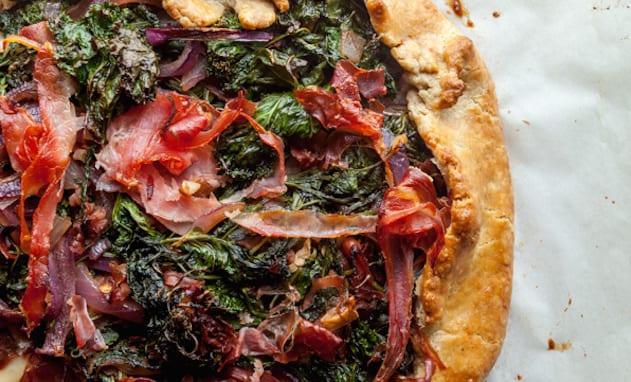 This is also why Beaujolais Blanc is the perfect wine for this spread; it's high-quality yet nonelitist
(because let's be real, I'm no elite when it comes to drinking wine); light, crisp, and
summery; and the perfect match for a variety of foods. It really completes the whole picnic vibe
happening here and elevates the experience to something a little more glamorous. And
truthfully, who doesn't want a little more glamour in their lives – especially when it's as easy as
popping open a bottle of wine!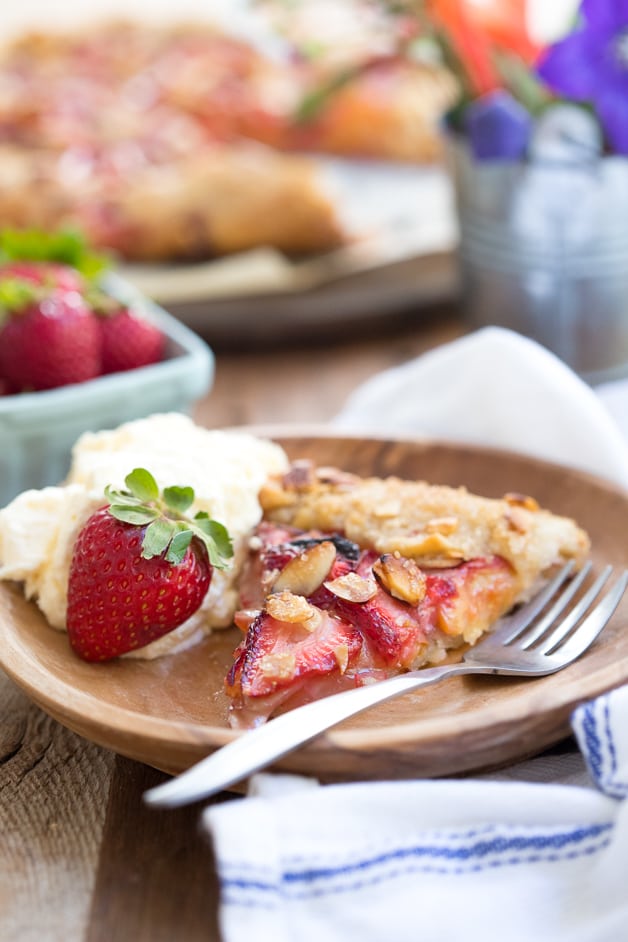 Print
Summer Picnic: Strawberry, Peach, and Almond Galette with Almond Whipped Cream and Beaujolais Wine
Crust
4 1/4 ounces

1 cup, spoon and level gluten-free all-purpose flour (I like Pamela's)

1 ounce

1/4 cup almond flour

1 tablespoon

granulated sugar

1/4 teaspoon

salt

4 ounces

½ cup salted butter, cold or frozen

3/4 teaspoon

almond extract

3

–

4

ounces ice water
Strawberry-Peach Filling
12 ounces

scant 2 ½ cups sliced yellow peaches

4 ounces

about

3/4 cup

sliced strawberries

1 3/4 ounces

1/4 cup granulated sugar

7/8 ounce

1/4 cup sliced almonds

2 tablespoons

cornstarch

1 teaspoon

almond extract

2 tablespoons

gluten-free all-purpose flour (plus extra for rolling out dough)
Glaze and Garnish
1 ounce

2 tablespoons salted butter, melted
Sliced almonds (for sprinkling)
Demerara sugar (for sprinkling)
Almond Whipped Cream
8 1/4 ounces

1 cup heavy whipping cream

3 tablespoons

confectioners sugar

1 teaspoon

almond extract
Instructions
Crust
In a medium bowl, whisk together the gluten-free flour, almond flour, granulated sugar, and salt.
Using the large-hole side of a box grater, grate butter into bowl. Toss in until fully coated in flour with no large clumps remaining.
Add almond extract and 3 ounces ice water and work in gently with hands to bring dough together in a ball, adding remaining 1 ounce ice water as/if needed. Dough should be neither dry nor sticky; be careful not to overwork.
Wrap in plastic wrap and refrigerate for about 45 minutes. Meanwhile, prepare filling.
Filling and Assembling
In a large bowl, gently toss together the sliced peaches and strawberries, sugar, sliced almonds, cornstarch, and almond extract until fruit is fully coated in mixture.
Lightly flour a sheet of parchment sized to fit a standard baking sheet.
Flour surface of dough lightly and roll out on parchment to a 12? round, adding more flour as needed to prevent sticking. Dust surface with 2 tablespoons gluten-free flour and arrange fruit slices concentrically on top of dough, overlapping pieces slightly and leaving a 2" border around the outside edge. Pour any remaining filling/juices over the fruit once done.
Fold and pleat dough around edges of galette, overlapping outer border of filling.
Transfer galette to refrigerator to chill for 10 minutes. Meanwhile, preheat oven to 400ºF.
Glaze and Garnish
Just before baking, brush crust with melted butter and garnish with sliced almonds. Sprinkle entire galette generously with demerara sugar.
Bake galette in preheated oven for 30-35 minutes, until crust is golden. Serve warm, with whipped cream.
Almond Whipped Cream
In the bowl of a stand mixer fitted with the wire whip attachment, or using a bowl and handheld electric mixer, beat cream on high speed until beginning to thicken. Add confectioners sugar and almond extract and continue to beat just until cream has thickened enough to hold its shape.
Alexandra Azary
Alexandra is a self-taught baker and food photographer who shares her creations on her personal blog, Confessions of a Bright-Eyed Baker. She's passionate about food and aims to inspire more people to bake from scratch and get comfortable in the kitchen.