This soft, cloud-like sponge cake is made with mango puree for a sweet, simple summer treat.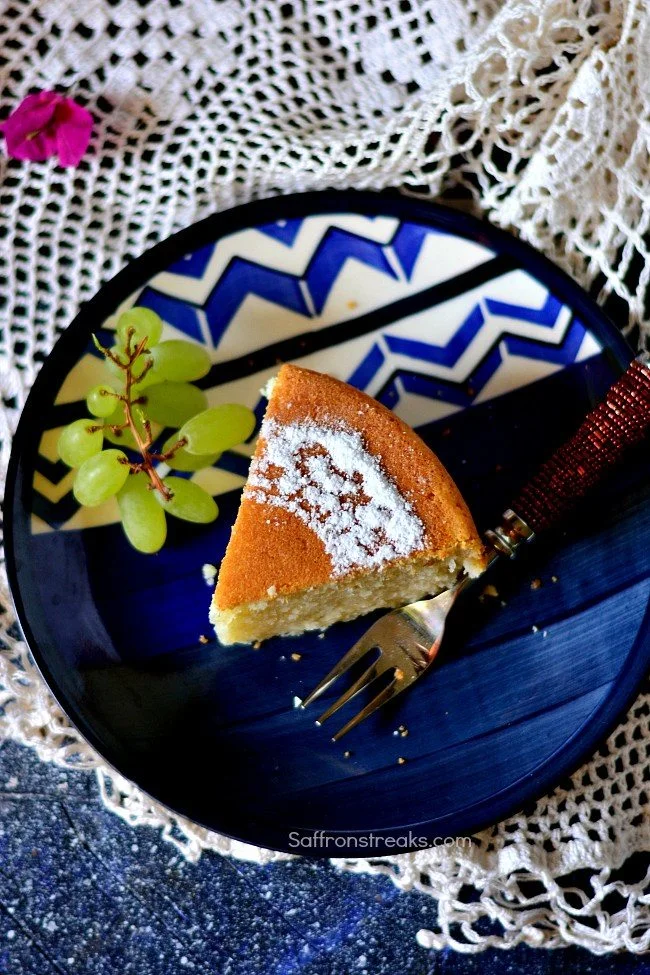 You just can't eat a mango sponge cake silently , you need to talk about it too. Especially when that mango cake promises you a slice of heaven, specks of that golden sunshine we dream often, light and feathery like soft cotton summer clouds with exuberance of rich and intense mango flavours.
The golden sunshine of pure love, deep, intense and heady aromas of mangoes that marks the Indian Summers. Mangoes are like eternal love, a deep bond that share many memories wrapped in time… Priceless. Stories that had never failed us to amuse us, stories that had been kept repeating for umpteenth time so that they become a real part of our lives in another time.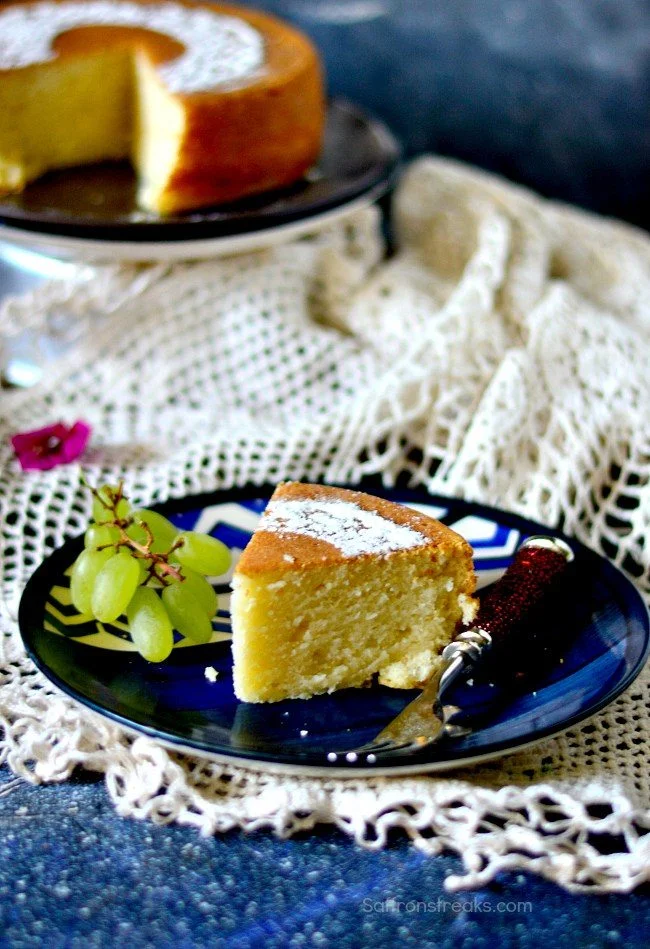 I consider myself fortunate enough for having been lived in such times, when trees bore fruits only in seasons . We waited patiently for summers to shine through for mangoes and jamuns and autumns and winters for apples and citruses. The tastes were pure and real and not enhanced ones. No forced ripening through carbides, no cold storage preservation techniques. But with time as the basic equilibrium of demand and supply disturbed, we find numerous ways to increase the shelf life of fruits and vegetables, compromising on the basics – the nutritions. After all, we eat food for its nutritional values.
Real, pure, juicy and sweet mangoes are becoming rarer day by days, so when I spotted few very good quality kesar mangoes in a farmer's market, I bought couple of kilos. Desserts are my weakness, but this time instead of making mango flan, mango kulfi or mango sandesh, I had tried something new for the first time, simple mango cake which was soon fortified with a killer mango buttercream frosting, recipe of which I will be sharing with you all soon.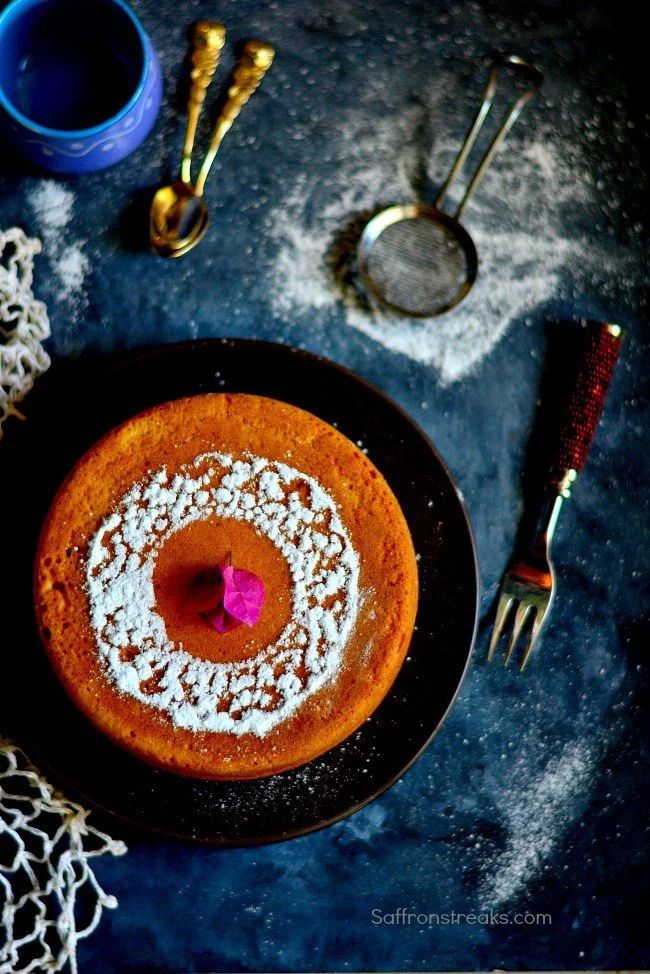 See Also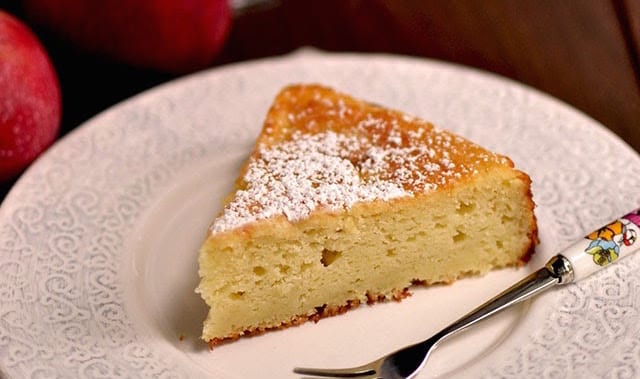 Eggless cakes usually really scare me off, because eggs imparts airiness or sponginess in cake, and to maintain a spongy texture in eggless cakes were quite difficult for me, until a week back, I was able to nail the ratio and ingredients perfectly. The best substitutions for eggs in eggless cakes are always yogurt (I emphasize on homemade plain yogurt, without any flavours). This recipe uses both baking powder and baking soda. Both are leavening agent but in recipes where eggs are not in use and substituted by yogurt, baking soda plays a major role in imparting a spongy texture to the cake. Yogurt reacts with baking soda and encourage leavening while baking powder helps the cakes to rise during baking.
Also please note that while using yogurt, strain the whey first and also pulp the mangoes without water.
This cake will stay good at room temperature for 3-4 days, provided you wrapped it in a cling film or slice them and keep them in a box, not airtight.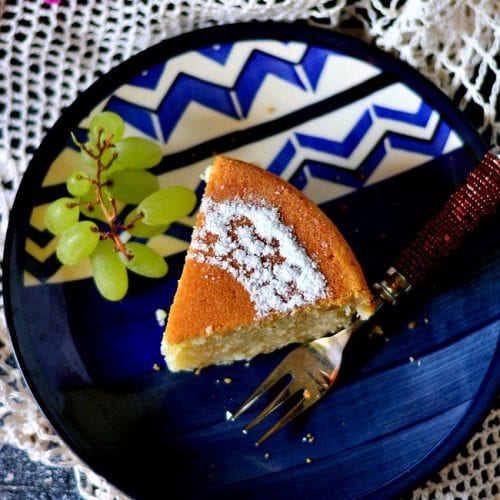 Summer Mango Sponge Cake
Sukanya Ghosh
Ingredients
All purpose flour

sifted thrice: 1½ cup

Yogurt

Homemade and plain : 3/4 cup

Mango puree : ½ cup

Powdered Sugar : ½ cup +

Oil

without any flavour : 1/4 cup

Baking powder : 2 tsp

Baking Soda: ½ tsp

Salt : 1/4 tsp
Instructions
Preheat the oven to 160 C. (For sponge cake any temperature range between 150- 170 C is fine).

Sift the flour thrice and then measure it. Sifting the flour will ensure the airiness in the cake.

Add salt and baking powder to the flour and mix it. Leave aside.

Whip the yogurt (take a big bowl) till creamy and smooth. Add the powdered sugar to the yogurt and mix it.

Add baking soda to the yogurt-sugar mixture and leave for couple of minutes.

Grease and flour a 6 inch deep cake pan.

Whisk lightly the oil into the yogurt bowl. Divide the flour into three-four portions. Add each portion of flour into the yogurt bowl one at a time by sifting the flour directly into the yogurt bowl.

Fold the flour with a gentle hand (using a spatula, do not use whisk) till it is well incorporated into the mixture.

Then followed by second and third portion of flour and remember to fold the flour gently each time before proceeding with next portion of flour.

Stir in the mango puree.

Pour the cake batter into the prepared pan. The batter will flow smoothly in ribbon shapes.

Bake in the preheated oven at 160 C for 25-30 minute till done or a cake skewer inserted comes out clean.
Notes
If the batter is little lumpy or you feel that it need more liquid, then add 2 tbsp milk to get the right consistency.
If you feel that batter is too runny, you can add 1 tbsp flour (sifted) to get the right consistency.
Do not change the measure of ingredients, specially yogurt, oil and baking soda.
Sukanya Ghosh
Sukanya writes the blog Saffronstreaks, a food and travel blog where she experiments in the kitchen spiced up with interesting food stories and gourmet travelogues. She loves to cook with fresh produce, enjoy both spicy and sweet and her many dining out experiences become cherished memories. Sukanya is from India but now lives in North Carolina, USA.