PARTNER POST: Dive into the 120 days of summer with Santa Rita wines that pair perfectly with the foods of the season, straight off the grill.
This is the dish to take to the next backyard party. Made with sweet summer corn, spinach, provolone and spices, it's the perfect way to honor the golden ear of the season.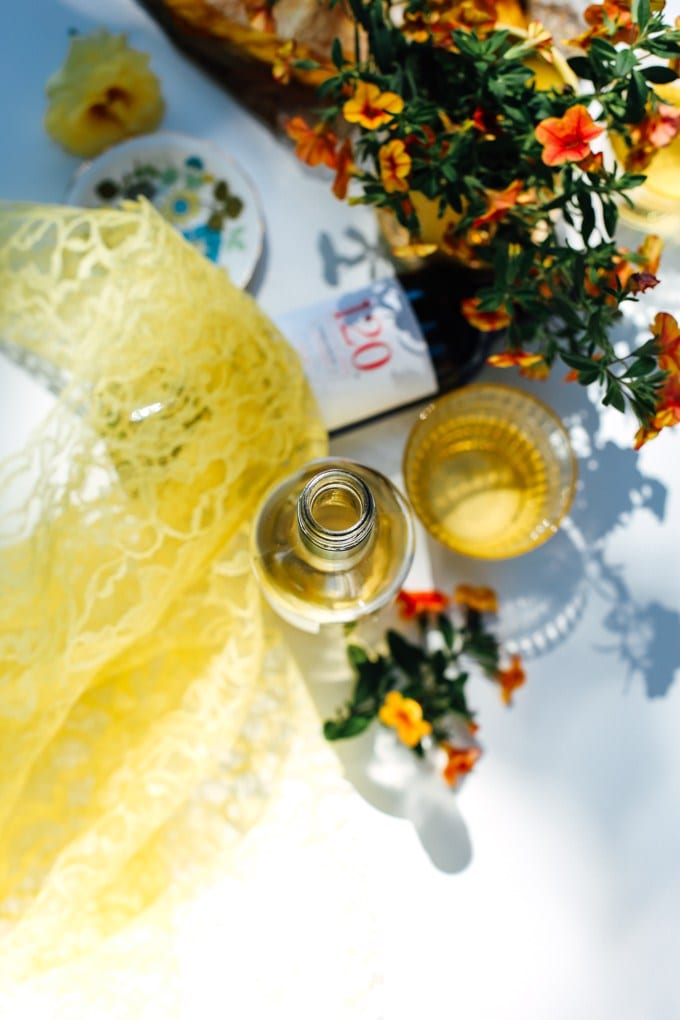 When I think of this season, I think of the color yellow. It's in the sunshine-y afternoons, the golden hue of the wheat fields down the road from my house, the crisp, cool glasses of white wine resting on the dinner table, and the ever-present bags of fresh sweet corn in my garage. Sweet corn is by the far the most requested menu item when we have company visiting from out of town; people go crazy for it.
The majority of the time I roll the ears in a good salted butter and let everyone have at them, but as of late I've been experimenting with more complex preparations. This sweet corn spinach gratin is a result of those experiments. The base of the gratin is a béchamel sauce, flavored with Badia Complete Seasoning. I've made this recipe using just about every green from my garden, and while I like the mild flavor of spinach best, both kale and rainbow chard worked as well, so please feel free to experiment.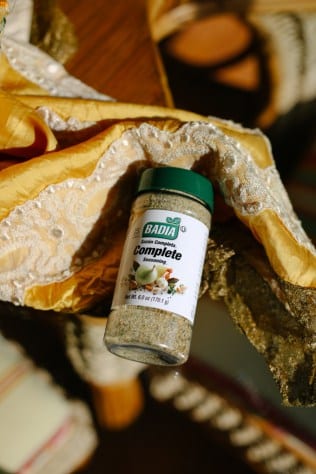 I served the gratin at a family party this weekend, and it was a huge hit. It paired extremely well with the bottle of Santa Rita 120 Sauvignon Blanc we had popped, which was also a key component of our meal. In fact, there wasn't a dish on our table that didn't either incorporate the Badia spices or the wine, in some capacity.
We started dinner with a grilled romaine salad that I topped with a homemade spice-enhanced ranch dressing. I added a sprinkle of the Badia mix to my not-so-secret barbecue sauce recipe, then slathered that on chicken thighs, and served them with the gratin. We finished with peaches poached in the white wine, butter and vanilla beans, which we poured over shortcakes. All of those things might sound fancy, but truthfully, they couldn't have been simpler to plate, as most of the (minimal) prep can be done ahead of time.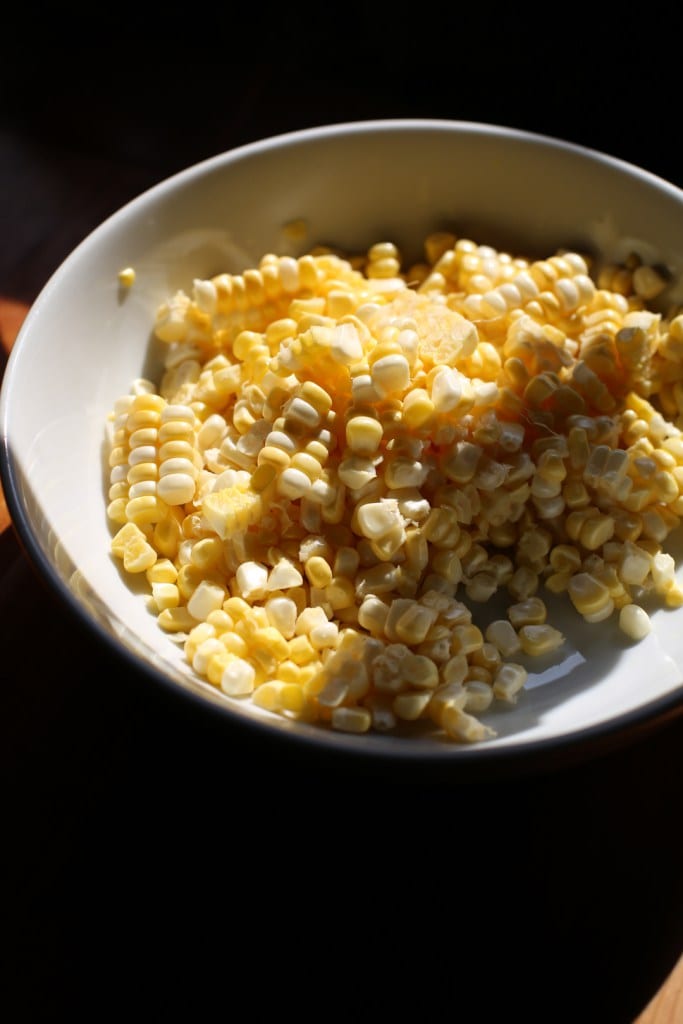 The gratin travels pretty well too. You can make it to the point of baking and throw it in the oven once you reach your destination. Alternately, opt out of the baking altogether and heat it on the grill or over a campfire until the filling is bubbly. You can eat it hot or at room temperature. I have a feeling that once you try it, you'll be seeing yellow all summer long!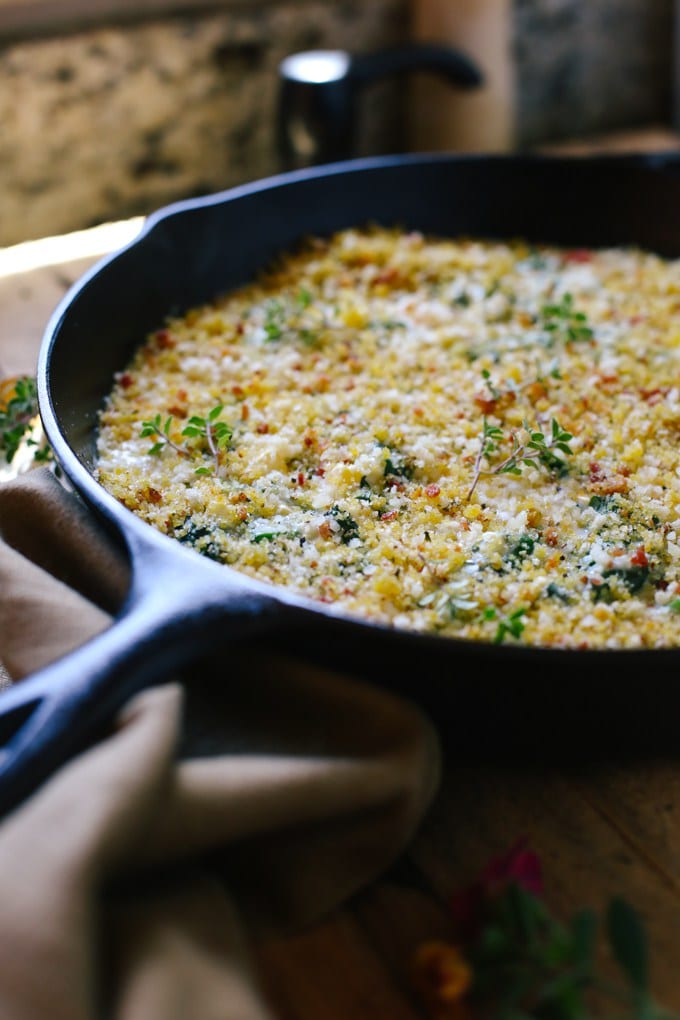 See Also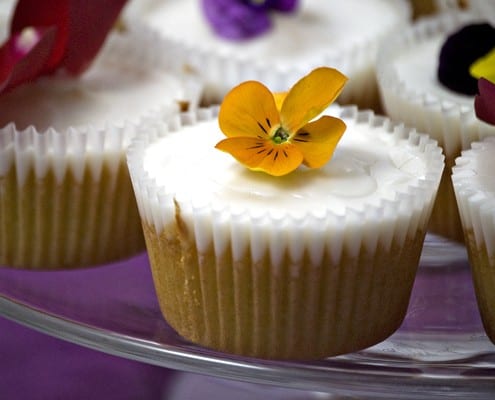 For more grilling inspiration with Santa Rita, check out this grilled Chilean chicken and pebre sauce.



d
Print

---
Author:

Carlynn Woolsey

Yield:

6

-

8

servings

1

x
4

packed cups spinach (with stems removed and loosely chopped)

1 teaspoon

olive oil

4

slices thick-cut bacon

2 tablespoons

butter

2

shallots (diced)

2

garlic cloves (minced)

2 tablespoons

all-purpose flour

2 cups

whole milk

¼ cup

heavy cream
Leaves from

4

sprigs fresh thyme

½ teaspoon

Badia Complete Seasoning

1 cup

shredded Provolone cheese

4 cups

fresh sweet corn removed from the cob (from

3

–

4

ears)

1 cup

fresh cornbread crumbs*

½ cup

plain Panko breadcrumbs
Additional pinch of Badia Complete Seasoning (and drizzle of olive oil)
---
Instructions
Preheat your oven to 400 degrees.
Heat the teaspoon of olive oil in a pan set over medium-high heat. Add the spinach (or greens of your choice) to the pan and quickly toss. Continue tossing for approximately 2-3 minutes, just until all of the spinach has wilted and any water has evaporated. Set aside.
Heat a separate pan to medium-high. Carefully add the bacon to the pan, and cook turning occasionally, until browned. Remove from the pan, and set on a paper-towel-lined plate to remove any excess grease.
Lower the heat to medium-low, and add the butter to the pan. Add the shallots and garlic, and stir. Cook the shallots and garlic for a minute or so. Add the flour to the pan, and whisk, cooking for an additional minute, until the flour is a light golden brown.
Working in ½ cup increments, slowly pour the milk into the pan, while whisking. Repeat until all of the milk has been added. Add the cream, thyme and Badia Complete Seasoning to the milk mixture and whisk again. Simmer until warm and barely bubbling, approximately 5-7 minutes. Remove from the heat and whisk in half of the Provolone cheese.
Once the cheese has melted into the sauce, stir in the reserved spinach and sweet corn. Set aside.
Place the cornbread crumbs and Panko breadcrumbs on a foil-lined sheet pan. Add a pinch of the Badia Complete Seasoning and a drizzle of olive oil. Place in the warm oven for approximately 2-3 minutes, until lightly toasted. (You can also do this while the milk mixture is simmering, to save time.)
Crumble the reserved bacon. Top the gratin with the bacon crumbles, the toasted breadcrumbs and the reserved cheese. Bake for 20-25 minutes until hot and bubbly. Remove from the oven and allow to cool for at least 5 minutes before serving. Pair with Santa Rita 120 Sauvignon Blanc for an exceptional treat!
Notes
* I like the sweetness that cornbread crumbs add to the gratin, but by all means, use fresh white (or even wheat) breadcrumbs if you don't have any cornbread, or don't want to go the trouble of making a batch of it just for this.
Carlynn Woolsey
JJBegonia is a silly nickname that my equally silly Dad gave me when I was a little girl. Needless to say, it stuck. My real name is Carlynn and I started my blog in September of 2012 to chronicle all of the things I love, and the things that inspire me, in one place. Over the course of the past ten years, I have lived in Boston, New York City, and L.A., and am currently in Upstate New York [where I grew up]. I graduated from Boston College with a double major in English and Psychology, and later returned to BC to obtain an MBA in Brand Management. My professional background is in Magazine Publishing/Advertising Sales, however I have always had a creative streak which is the driving force behind my blog. I am heavily influenced by food primarily because I love to eat (!), but also because I grew up in the restaurant industry. While I write and showcase many recipes, I adore sharing my favorite products, best style finds, and my life in general.