Summer Cocktail – Herbed Citrus Radler
The more flavorful your beer the stronger you may want the lemonade to be. Or not. In general you can play with the ratios as you like, using more/less citrus or sugar or beer or water as you like.
By Bowen Close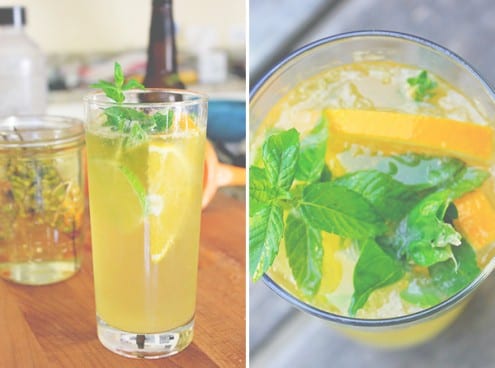 I hope I haven't been holding out on you. I've talked about radlers before, right? I'm sure I have. I must have. In our house (I suppose I should say "house," these days) it's a pretty clear line from the first hints of warm weather to a glass filled with lemonade and beer.

Summer Cocktail - Herbed Citrus Radler
The more flavorful your beer the more strong you may want the lemonade to be. Or not. In general you can play with the ratios as you like, using more/less citrus or sugar or beer or water as you like.
Ingredients
3 oz. (6 Tbsp.) double-strength herb citrus syrup (recipe below)
3 oz. (6 Tbsp.) citrus juice, about 1 lemon with a bit of orange and lime (see note below – if you don't have orange and lime, just lemon would be fine)
24 oz. (2 average-size bottles) beer, preferably something light and fizzy, like a pilsner or lager
14 oz. soda water (still water will do if necessary)
Fresh herb sprigs and orange, lemon, and/or lime slices for garnish
Syrup
2 cups sugar
1 cup water
Small handful of fresh herb sprigs (see note below – the amount in the picture above was for a double batch of syrup)
A few small strips of orange, lemon, and lime zest, made with a vegetable peeler (if you don't have orange or lime, just lemon would be fine)
Instructions
Syrup
Make simple syrup: Combine sugar and water in a small pan and heat over medium heat, stirring occasionally, until sugar is dissolved. Remove from the heat.
Infuse:
Plunge the herbs and strips of zest into the syrup and cover. Let steep for at least 15 minutes. If it's cool enough, taste to make sure there's herb and citrus flavor to your liking. When the syrup is cool enough to handle, strain or scoop out the zest and herbs and pour into an airtight container (I like to use canning jars). Heartier herbs like thyme and rosemary can stay in the syrup to continue to add flavor.
Drink
Combine ingredients: First combine the herb citrus syrup and citrus juice in a bowl or liquid measuring cup, stir until well integrated. For each radler, combine 6 ounces (1/2 bottle) beer, 1½ ounces (3 Tbsp.) of the syrup/juice mixture, and around 3.5 ounces (a little less than ½ cup) soda water in a tall glass. Stir once or twice with a spoon or stirrer.
Garnish:
Add citrus slices and herb sprigs to the glass.
Bowen Close
Bowen Close believes that food should make people happy and healthy, and loves bringing together people with creative, delicious food made from the heart. She loves making farm-inspired, flavorful dishes with sustainable ingredients - whether that's a big plate of roasted veggies, a towering chocolate layer cake, or a cocktail utilizing backyard ingredients - and collects recipes and other food-related stories on her website, Bowen Appétit. She is a chef, cooking instructor, and food writer living in Southern California with her husband and fully stocked pantry.