Jessie Chien recounts a recent trip to Mexico City, and the unplanned taco that made her visit worth the while.
By Jessie Chien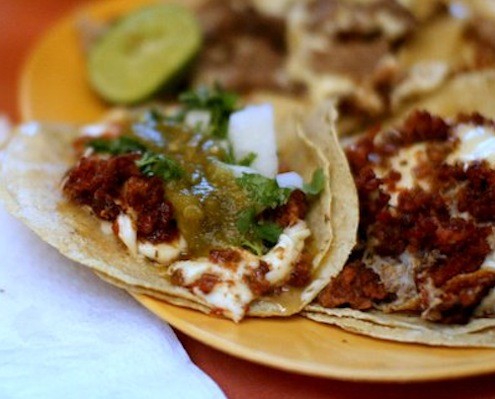 I wish I could say I scoured all of Mexico City for the best culinary delights in the one week I was there. I wish I could say I ate at hotspots like Pujol or Izote and visited amazing outdoor markets like this one, or went into the home of an abuela and learned to make mole.
There are often grand plans for the vacations we take and sometimes, the vacation part seems to get in the way.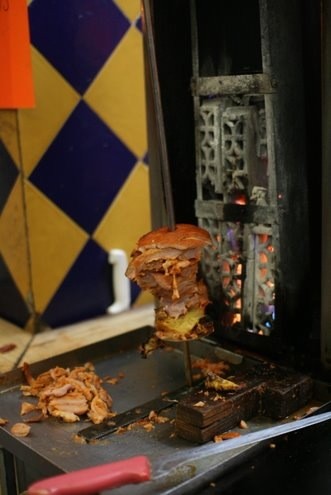 On a cool and rainy weeknight, amidst vacationing while on vacation, my family and I walked around the posh area of Mexico City that is Polanco. Passing the glow of many an upscale restaurant's windows, we approached a dilapidated rotisserie on the sidewalk that skewered a chunk of al pastor meat, at which I looked past the open griddle and taco counter behind it, focusing on the small cluster of formica fold-out tables and flimsy plastic school chairs. 'Here!' I exclaimed to my family.
I don't know if it's living in Asia that's changed my notion of quality dining experiences, but those formica tabletops really did set off some sensory nerve in my brain, alerting my food memory banks for the potential of a great meal to be had. Though Polanco's array of posh hotels, clicking of well-dressed women in heels, and stunning architectural gems certainly provided quite an appeal, THIS is what had enticed me about Mexico, this is what I had been waiting for since we arrived in the city of 15 million- the satisfaction of my humble desire to eat a good taco.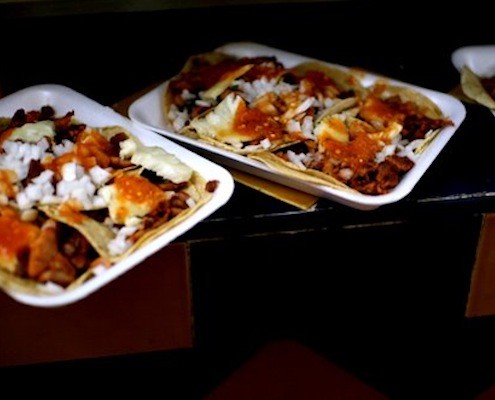 When I spotted the takeout orders in trays waiting to go out to hungry customers, then caught a whiff of the spicy meat and fragrant onions, I knew for certain we were in the right place. Montezuma's revenge be damned, I was getting a taco here.
Kitchen in the front and seating in the back is a layout often seen in small hole-in-the-wall eateries abroad, where Health Inspection does not reign supreme. It's a change of pace that is quite welcome in my book, for the displayed kitchen serves as a demo booth for the heart and soul of the menu.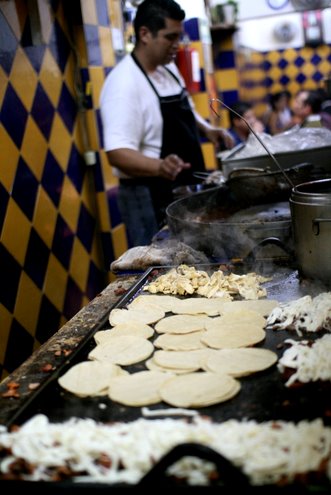 Clearly, the heart and soul of this 'restaurant' was tacos. Tacos with chicken, tacos with al pastor, tacos with steak, with cheese, without cheese, so many options for tacos! Equipped with a griddle, two chopping stations and an antiquated cash register, the him-and-her duo took orders (her) and cooked tacos (him) with automated frenzy. Many of their customers ate their orders perched on the narrow wooden "bar" across from the griddle, others took their tacos to go, with many a taco quickly disappearing as soon as they stepped onto the street.
A few clientele, mostly off-shift workers from neighboring restaurants and old Mexican men who seemed to be reminiscing of their youth over several bottles of beer each (and then, there was us), chose to sit in the rear of the restaurant, at the aforementioned cluster of formica tables.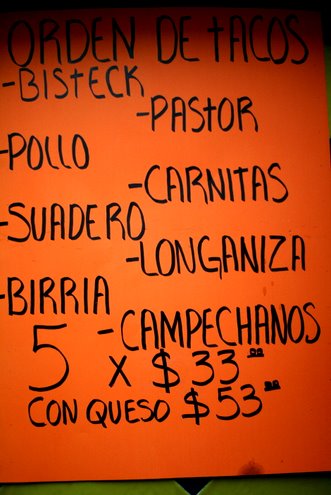 Posted on the wall were large, bright pieces of cardstock that acted as menus, in addition to flimsy laminated and bound menus that were informally distributed to the table. Foregoing what was put in front of us, my group was mostly drawn to the bright orange display featuring the Orden de Tacos, five tacos of our choosing for $33 pesos (about $2.50USD). With cheese, a modest $53 ($4USD).
A revelation was had when I asked about the Campechanos, a mix of chorizo and steak. Consider my epicurean mind blown.
See Also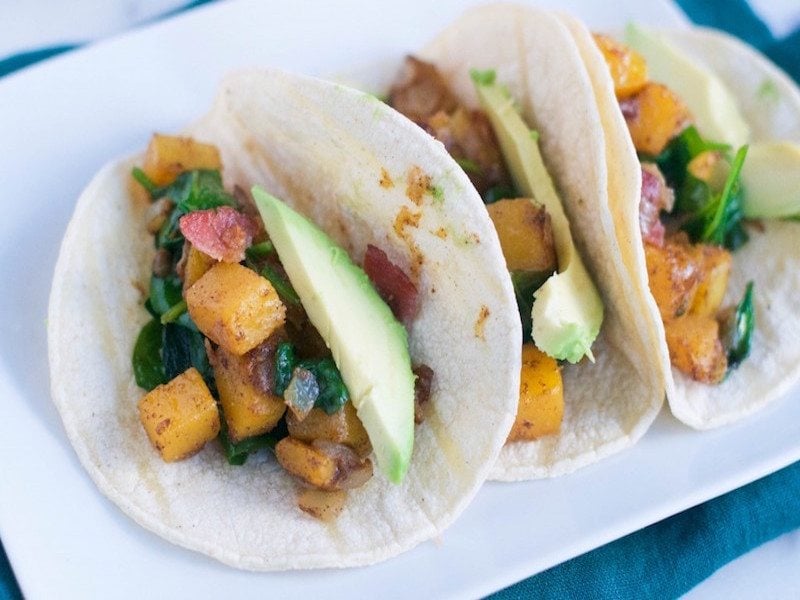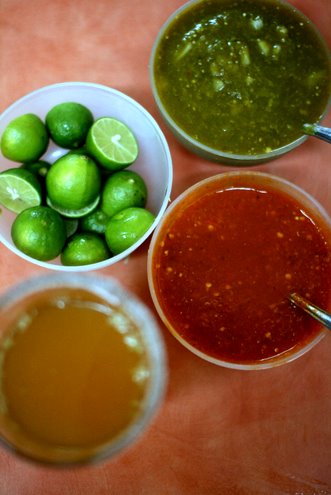 In total, the five of us splurged on five Orden de Tacos along with an order of Birria– all supplemented by the homemade green and red salsas, a bottomless supply of limes, and a large bowl of chopped onion and cilantro.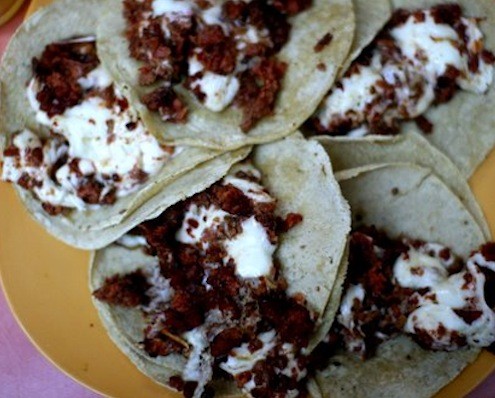 The tacos arrived at the table, double corn tortillas generously piled with seasoned meat and cheese, one piled atop the other barely accommodated on a regular-sized plate. Our orders of tacos con queso were topped with a griddle-melted pile of Mexican cheese, not unlike a less-salty version of Mozzarella. Then the Birria arrived, an oily, fragrant stew of mystery meat waiting to be stuffed into their own little tortilla pockets, a lovely milder, warm, and soupy counterpart to the tacos.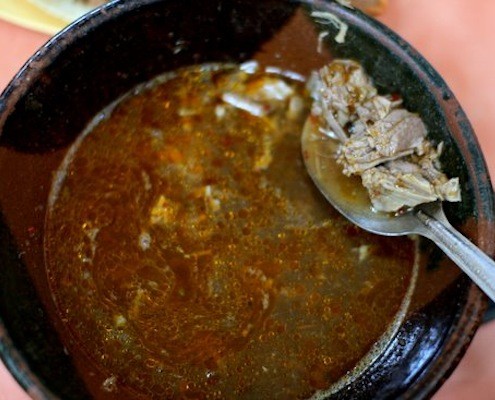 What ensued was what often happens when simple, good food is placed in front of individuals- a chorus of munching and grunts of approval, the swapping of plates and exchanging of tacos (one chorizo/steak for one pollo? Deal.), some swooning and even rolling of eyes due to gastronomical delight, and definitely the most minimal of conversation. If my fellow diners hadn't known it before, as I surely had, this was definitely a meal that we had all been waiting for.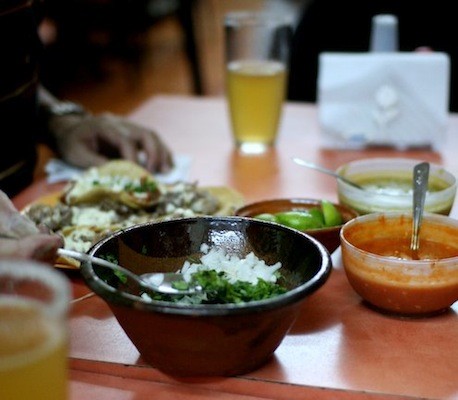 I recount my taco adventure fondly not really to persuade anyone to visit this particular taco joint, or even of a trip to Mexico City in general (although, there's hardly an argument for that). Rather, it's to highlight the simplicity and joy of eating at a foreign city's zero-star dining establishment- you know, those establishments that can't even muster up the tablecloths to garner any stars. The tale of the taco is an easy reminder that while on vacation, there doesn't always have to be a reservation in order to eat something you've been craving the whole time.
Jessie Chien Bryson
Jessie Chien Bryson grew up spending sunny California Thanksgivings eating 20lb. free-range turkeys along with sides of Chow Mein, which is what she thinks cemented her insatiable interest of food cultures and sustainable methods as an adult. She recently spent two years in Guangzhou, China, where the locals were said to eat anything with four legs but a table and anything that flies but a plane. She's now on the other side of the world in Dar es Salaam, Tanzania, where she keeps a diary of food, travel, and expat adventures at www.jessbopeep.com